Movie Reviews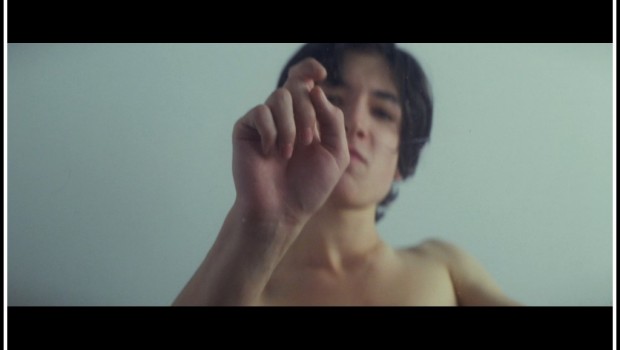 Published on March 9th, 2012 | by dvdpinson
0
Do We Need to Talk About Kevin? Alright but let's make it quick…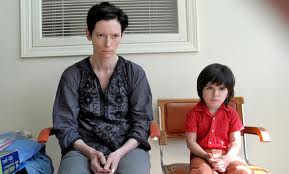 "We Need to Talk About Kevin" is perfectly titled. While the film has some positives, (great cinematography, a fascinating score and a raw performance from Tilda Swinton that churns your guts) it is the character of Kevin that hits the highest sour note and sends the rest of the story tumbling. We really do need to have a serious talk about Kevin and how he ruined an otherwise stellar little movie.
It takes three different kids to bring Kevin to life at various ages; one toddler Kevin (Rock Duer), Kevin between the ages of 6 and 8 (Jasper Newell) and the teenage monster-Kevin (Ezra Miller). Each performance is one-note as each different Kevin spend the movie scowling for no particular reason. This is the character that is central to the story, the creator of the conflict and he is completely mishandled.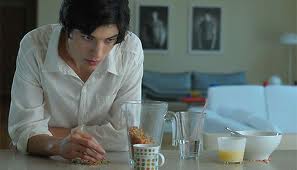 You see, Kevin will do something horrible at his local high school as in "murdering innocent schoolmates" horrible. Therefore it is important that you care about or, at least, understand the little bastard. The narrative is actually told through the eyes of his tortured mother, Eva (Swinton). When terrible things like this in real life it is commonly said that the cause of the problem is with the parents and we get to see this determination in full force. After the massacre, Eva is reviled by the townspeople. We first meet her in her little run down house that is covered in splashes of red paint, a form of hate-filled vandalism.
In fact, red is everywhere, a not-very-subtle metaphor for the death and guilt that surrounds Eva. Eva is a modern day Lady Macbeth trying to get rid of that damned spot. The plot is revealed in parallel with what went on before the catastrophe as well as the catastrophe itself. This way we gradually see just how deep that spot is stained into Eva's soul.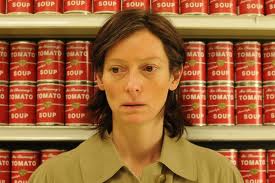 Eva was once a free spirit, running and laughing in the rain and dreaming of going to France to eat cheese and drink wine.
Then she meets Franklin (John C. Reilly who is near-invisible in the role and not in good way) and as we all know after love comes marriage which is followed by a baby in a baby carriage (or so the song goes). Unfortunately, that baby is a demon-troll named Kevin who hates poor Eva from day one. She, of course, has a little animosity towards little Kevin as well, what with the destruction of the "Moving to France for the wine and cheese" dream but his reaction is pretty severe. Maybe he's autistic? Maybe he's mentally handicapped? He does go no. 2 in a diaper until he's eight… so maybe we should really talk about this. Of course, Eva and Franklin do not and all hell breaks loose.
This is Miss Swinton's Oscar Bait project that didn't get her the nomination. These films are always a little awkward to watch, an "Also-Ran" movie that never fully realized its goal. There are plenty of reasons why this one failed to get any gold statues and most of the blame falls at the feet of the director, Lynn Ramsey. All the qualms about the Kevin character can be traced back to Ramsey's heavy hand. The use of red as a symbol is too blatant and the film lacks any nuance or subtly. The movie looks good and Swinton emotes proper but there is just too much wrong with the film that had a lot of potential.