The George A. Romero: Between Night and Dawn Blu-ray/DVD combo release from Arrow Video will be available for purchase (www.arrowvideo.com – www.facebook.com/ArrowVideo/) on November 14th.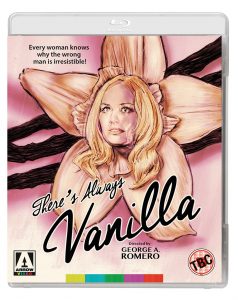 After the breakout success of Night of the Living Dead (1968), director George A. Romero found himself in quite a spot… how to top one of the biggest independent features and horror film hits in history. For the director, the answer was to move in a completely different direction. Arrow Video is releasing George A Romero: Between Night and Dawn, an impressive limited edition Blu-ray/DVD combo box set featuring three of his three lesser known follow-ups to the classic zombie title.
For those unfamiliar with Romero, the filmmaker worked in Pittsburgh as a commercial director with an advertising firm called The Latent Image. The group pooled together enough resources to make Night of the Living Dead in their own backyard, which turned out to be a surprise smash (although due to a legal oversight, the group themselves didn't end up seeing much profit from it personally). However, the company had all caught the feature film bug and hoped to start a movie-making industry in their own backyard.
There's Always Vanilla (1971), involves a model named Lynn (Judith Ridley) who encounters charming session musician/free-spirit Chris (Raymond Laine) after he arrives back in Pittsburgh to visit his father. Despite very different outlooks on career and their lives, they begin a relationship. Lynn is focused on her professional life, while Chris isn't concerned about his future, preferring to relax and take things as they come. Even though the both have deep affection for one another, tensions rise as the pair's different motivations and ideals start to splinter the connection.
To be fair, it's easy to see why the movie struggled to find the same kind of success as the director's previous entry. Seemingly informed by the work of John Cassavettes and early Woody Allen, this is a chatty character piece about two modern people attempting to make a relationship work and the difficulties they encounter. While the movie does have its plusses and is certainly interesting thanks to some clever banter and an effective finale, it doesn't exactly measure up to the work of those previously mentioned filmmakers.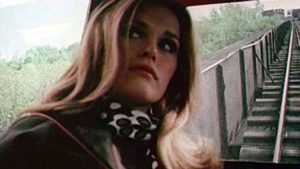 Pacing seems to be a bit of a problem, as early parts of the movie meander and try to fill viewers in on their lives. That's all well and good and there is some drama or strong material backing it up. A commercial shoot early on has a certain authenticity to it, since it's essentially what the filmmakers were doing on a daily basis. However, it literally takes a half an hour for the two leads to even cross paths and the story to progress.
Things do improve as the two grow closer and their future is tested. These are the film's best moments, culminating in a nicely bittersweet ending filled with a sense of regret and longing. As for the meaning of the title, it comes from a comment a character makes, giving questionable advice that one may be wiser always play it safe in their life rather than take a risk on something better.
So, in terms of the actual film, it's a mixed bag. However, the image quality is outstanding. This has always been a difficult title to locate and Arrow have given it an excellent 2K restoration from the original film elements. It was shot on 16mm. and so there is a certain grain level natural to the photography, but the image looks incredibly clean and the colors really pop for the first time ever. It makes the movie work even as a historical document capturing the look and fashions of the era.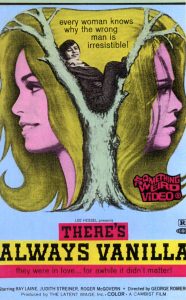 The disc comes plenty of extras, including new and informative Romero historian audio commentary as well as a 30 minute documentary on the making of the movie. There's also image galleries (including a fun video location tour) and the film's trailer. Fans will also be happy to see a 16 minute "Digging Up the Dead" archive interview. In it, the late George A. Romero discusses his feelings about There's Always Vanilla and its follow-up, Season of the Witch, aka Jack's Wife. He's particularly hard on this film, believing it to be his worst effort. Admittedly, the director is more than likely right, but there's still plenty of interesting stuff contained in the feature.
A lot of insightful information is gleaned in these bonuses and it explains a lot. The movie itself came from a 30 minute short and acting reel made for lead actor Raymond Laine… it turned out so well that it inspired the company to propose a feature. Decisions were made via committee and the director pretty much had to go along with the group decisions. Curiously enough, in the bonuses Romero insists that his short was far superior, but it was lost years ago and has never been recovered.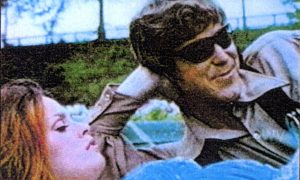 This is where the trouble seems to have arisen. Romero didn't write the feature and the man who did was difficult to work with. This screenwriter would turn in pages at an incredibly slow pace, forcing the company (who had secured financing) to shoot without a finished script. It was put together piecemeal over several months and between jobs as the pages slowly drifted in. The director recalls hating the experience. Eventually, the pages stopped arriving, forcing the filmmaker to concoct and shoot additional material, including onscreen narration in order to help tie things up.
Securing distribution was another issue and the group were forced to go with one that didn't have much confidence in the project. The stress of the shoot and its unsuccessful release resulted in the slow dissolve of the Latent Image, with numerous members leaving and Romero vowing to ensure he had more control over future projects.
It's all fascinating stuff and the various features go into great detail about the troubles experienced. In the end, There's Always Vanilla is a very interesting blip in director George A. Romero's career and is a fascinating, if flawed effort. The following two films in this set are vast improvements, but fans of the director may find plenty of sweetness to enjoy in this feature as well.