There is plenty to declare "AMAZING" about the new version of Murder on the Orient Express.
That cast? Amazing!! What a wonderful group of incredibly talented actors. A hodgepodge of who's who so very kind enough to assemble for us. Makes for a great poster!!
It's amazing how terrible Johnny Depp is these days. I used to see him as one of the most versatile actors working. Miraculously transforming himself for each role, a chameleon of modern cinema. Then he took on that dreaded Captain and now he is nothing but caricature.  His performance as a tough talking gangster is amazingly bad.
Then there's that mustache. A good 35% of Kenneth Branagh's face has been overtaken by a wonderous array of facial hair, the likes of which has never been witnessed by mankind. That 'stache is truly AMAZING!!! And very distracting. I spent most of the film's 2 hour running time watching that affront to nature move around the screen.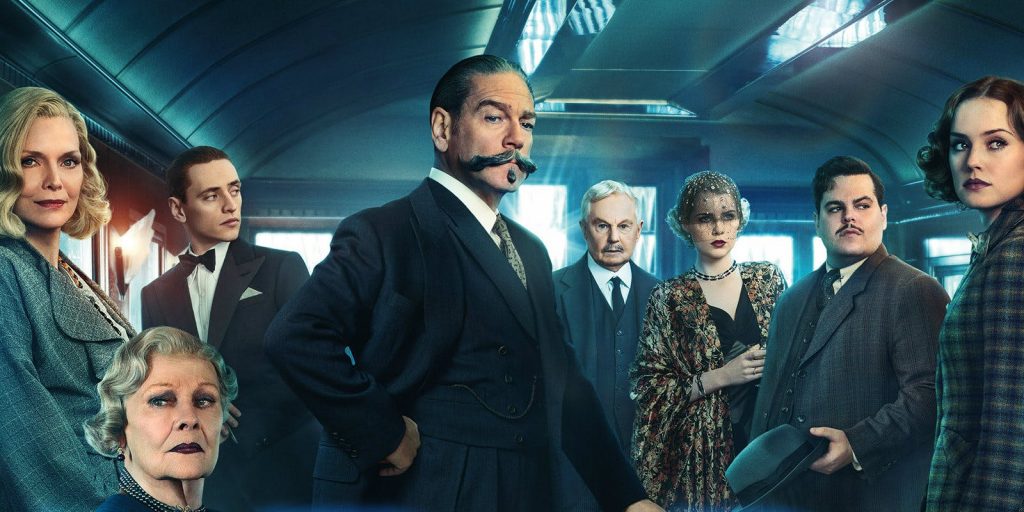 The most amazing thing going on here is a statistic involving the story's original author: Agatha Christie. The mystery novelist began writing stories in the 1920's and has been very popular ever since. But did you know that she has sold as many books as William Shakespeare?? 2 BILLION COPIES!!! Stephen King has sold about 20% of that number. The Potter books have sold about 25% of that?? And I don't own a single Christie book. I own books. I have plenty of books. I have no idea how this happened. AMAZING!!
That's about it when it comes to the amazing components of this updated version. The movie looks pretty. Good use of lovely landscapes, the movie was shot on 65mm film only to be converted to back to digital. Branagh is likable as famed detective Hercule Poirot. Adds some needed humor in spots that provides a handful of chuckles. He also approaches his Shakespearian levels of emoting at times. (Interesting: Branagh must gravitate to any author who has moved over a billion books. Can't wait to see what he does with God's The Bible….)
Everyone else if fine and serviceable. No one stands out, really. Josh Gad makes a welcomed serious turn. Judi Dench has perfected the steely bitch to the extent that she needs to change things up here soon. William Defoe seems to be shrinking; he looks very short in this film and I don't think he's such a good actor that he can "act" himself smaller. Not sure what's going on there but I'm sure he's seeing a doctor about it.
The issue with the film is an underlying issue with most coming to our multiplexes these days. Why remake this story? What's the motivation? There are over 80 Christie novels so why not make something new? Why are we only eating rehash??? That's the real mystery.