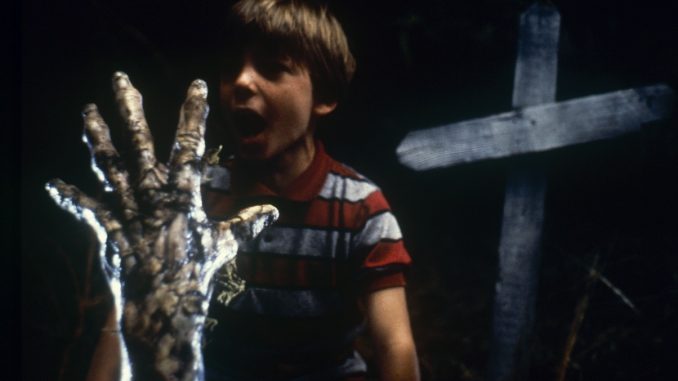 This movie is being released as part of the House: Two Stories Blu-ray Collection by Arrow Video (www.arrowvideo.com – www.facebook.com/ArrowVideo/) on April 11th, 2017.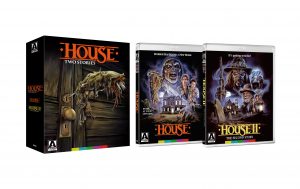 Way back in 1985, I was a kid who had only recently discovered horror movies. When the low-budget feature House opened in my part of the world, it wasn't rated for adults only – children were permitted entry. As such, I didn't have to wait for a VHS release. It was one of the few titles I could go and see at a local movie theater. Seeing the film was immensely enjoyable experience and not only for me.
The movie ended up being a surprise success at the box office. Made on a modest budget of $3 million, the film earned nearly $20 million domestically during its initial run. In the time since, the movie has become something of a cult item. While it did well upon its initial release, even more people caught up with it on VHS and during its frequent airings on cable TV. So it's easy to see why the feature has developing a strong following of viewers in my age group. For some, it even served as an early introduction to the horror genre.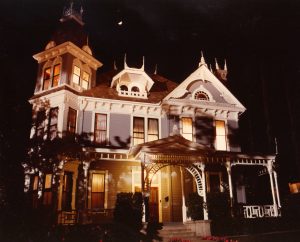 Arrow Video are going all out on their new Blu-ray release of the film. They've included it in their House: Two Stories Blu-ray set, that contains the first two movies in the series with loads of extras. In addition to a brand new 2K restoration of the flick, viewers will also find a new feature-length documentary on the production, a commentary track with director Steve Miner (Friday the 13th Part 2, Friday the 13th Part III, Lake Placid) and producer Sean S. Cunningham (the Friday the 13th series), as well as trailers, TV ads and a stills gallery. The set also includes a 60-page book on the film with critical analysis and a history of the entire House franchise. Fans of the film will certainly be pleased with the bonuses in addition to what they see on screen.
As you might have guessed, events circle around a creepy old house. Roger Cobb (William Katt) is a Los Angeles-based horror writer working on a new book about his traumatic experiences in Viet Nam. Additionally, he's processing the dissolution of his marriage after the strange disappearance of his son. When his eccentric aunt is found dead on the titular property, Cobb arrives to deal with estate issues and get some peace and quiet in order to complete work on his book. But he doesn't find any kind of tranquility. Instead, he begins hearing noises and having visions. Of course, Cobb is eventually attacked by an assortment of bizarre creatures all over the property.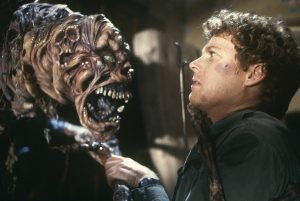 This isn't exactly high art, but as a little horror/comedy, the movie couldn't possibly work better. Katt is an extremely likable protagonist and the filmmaker do an excellent job of subtly touching on issues like Viet Nam, while giving genre fans all of the expected genre beats and jumps. Despite some of the heavier themes, there's also a great sense of dark humor to the proceedings. Viewers are made to question Cobb's sanity from the outset through the introduction of friendly neighbor Harold (George Wendt), who witnesses the lead's strange behavior and is eventually drawn into events. There's some great banter between the two as well as some amusing reactions when Cobb attempts to fight back (including an entertaining fist-pump after he vanquishes his first monster).
Even the impressively crafted beasts have an element of goofiness built in. Their appearance is somewhat rubbery (apparently, they were designed to resemble figures from EC horror comic books), keeping the tone of the film light and amusing. This isn't a graphic or particularly disturbing movie, but the make-up effects on a skeletal villain during the film's climax remain very impressive.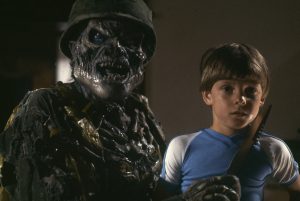 As mentioned, the film has been newly transferred and it looks better here than it ever has before. I'm quite certain it looks sharper than it ever did in the theater, making the upgrade quite remarkable. While it still retains a filmic appearance, the image looks sharp and clean. There's an excellent and lengthy documentary that includes interviews featuring almost all of the cast and crew, with the exception of actor Richard Moll.
Story-writer Fred Dekker (who wrote and directed Night of the Creeps and is also the scribe of the upcoming Predator sequel) explains how he came up with the idea and how it evolved. Director Miner describes how excited he was to take on a feature that would show he could handle other genres like comedy (he was exclusively a horror film director at this point in his career). They also go into why they believe the movie was so successful, surmising that the equal amount of laughs and jump-scares consistently surprised viewers. Katt also offers insights into his interpretation of the written role and Wendt comments about how, despite it being a B-movie, the feature remains one of his favorite and most popular onscreen appearances.
House is a low-budget popcorn monster movie, but an effective one that maintains a sense of fun throughout. The transfer to Blu-ray is a stellar one that will certainly please the film's many enthusiasts. For fans, it's a great package well worth picking up – I was very impressed with it. To read more about the other movie in the set, check out a review of House II: The Second Story (1987) here.