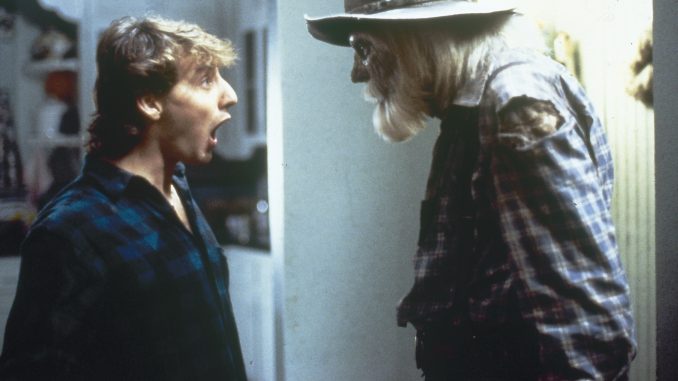 This movie is being released as part of the House: Two Stories Blu-ray Collection by Arrow Video (www.arrowvideo.com – www.facebook.com/ArrowVideo/) on April 11th, 2017.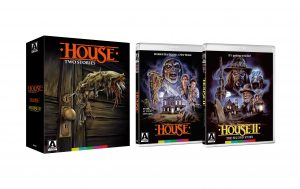 The 1985 horror/comedy House was a surprise hit for New World Pictures. So much so that it didn't seem as though anyone was really ready for it. But its immediate success had necessitated a sequel from the studio, if one could be put together. Unfortunately, with the same allotted budget for the follow-up, producer Sean S. Cunningham found that he couldn't afford to bring back any of the original cast. So, what to do?
Instead, it was decided that an anthology-like approach would be taken with the franchise. An entirely new story with new characters set around another supernatural residence. The results were House II: The Second Story. Alas, the movie didn't set the world on fire like the original. However, as time has passed it has also developed its own following. As a result, Arrow Video are including it with the first House in their new Blu-ray set, House: Two Stories.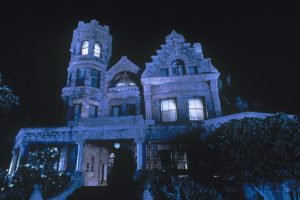 Inspired by the western genre, this take involves a valuable crystal skull that possesses special powers (what those are aren't ever all that clear). When Jesse (Arye Gross) inherits the house and moves in with his girlfriend (Lar Park Lincoln), he not only finds the ancient artifact, but is introduced to his undead grandfather (Royal Dano). "Gramps" explains that the house was build upon a Mayan ruin and contains time and space portals. Jesse and his best friend Charlie (Jonathan Stark) are tasked with keeping gem safe from evil forces, including an evil gunslinger named Slim who killed Jesse's parents.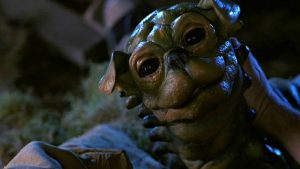 It's clear that this effort skewed to a much younger audience than the original film. The story jumps around in an episodic fashion, with the characters traveling to various environments and even befriending two cute creatures – a baby pterodactyl and a cater-puppy (which looks exactly like you'd imagine). They also encounter a Mayan woman (Devin DeVasquez) about to be sacrificed and absorb her into their new family unit. It's an odd structure for a movie, as the characters get themselves comedic situations without much drama or serious threat. In fact, besides the opening, Slim only shows up during the climax of the feature.
The movie does, however, briefly spring to life with the appearance of Bill (John Ratzenberger), a blunt, unflappable electrician/adventurer. His comic timing and the sheer absurdity of this story tangent is hilarious and almost salvages the entire experience. As for the rest of the cast, Gross and Stark have a couple of amusing comments and reactions, although they aren't given nearly as much good material to play-off of in this follow-up. Dano is also enjoyable as "Gramps" and Amy Yasbeck offers a laugh or two as an aspiring singer. Other plusses include the make-up effects on the cowboy villain.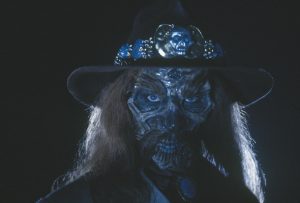 In way, the numerous bonus features on the Blu-ray are the real benefit. The new and lengthy documentary on the movie answers a lot of nagging questions. Writer/director Ethan Wiley explains that he leveraged for the directing gig as a result of his screenplay work on the original. However, he was only given two weeks to write the follow-up. He admits in retrospect that he would have appreciated more time to do a few extra passes on the screenplay in order to punch it up.
Perhaps the most notable bit of trivia involves actor Ratzenberger. Most have assumed that his appearance in the sequel was a nod to his Cheers co-star George Wendt (who appeared in the original House). Nope, it was actually a complete coincidence. Ratzenberger came in and auditioned; the classically trained actor had swordplay experience and was able to do the fighting/stunt work without any training. With this being a low-budget production, he was the obvious and immediate choice.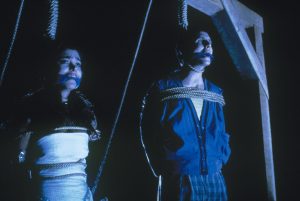 When I originally saw House II: The Second Story, I didn't much care for it. Personally, I still think it's a weak film, although I certainly did appreciate a few moments here and there. Interestingly, the flick has still developed a fan base. Apparently, it spoke to children who were around the age of 10 during its release and they still remember it fondly. These viewers will be happy to learn that the disc itself looks fantastic, featuring a new upgrade of visual specs. This movie starts with some flashbacks that are intentionally soft but impressive, and the rest of the film looks remarkably sharp.
Alas, the sequel didn't fare as well at the box office, only bringing in $7.8 million against its $3 million dollar budget. Cunningham did attempt another House film, although it took a left turn and was a serious, grim and graphic horror venture. It was so different in tone that the title was changed and it was released in theaters as The Horror Show (1989). For curious parties, a direct-to-video sequel, House IV (1992) followed (despite that fact that in North America, due to the title change, no one was aware that there had even been a House III), ultimately finishing the franchise off.
Regardless, these are the two most notable films in the series. And this is a pretty incredible set overall with excellent transfers and great bonuses. If you're a fan of one or both of the titles features, it comes highly recommended.