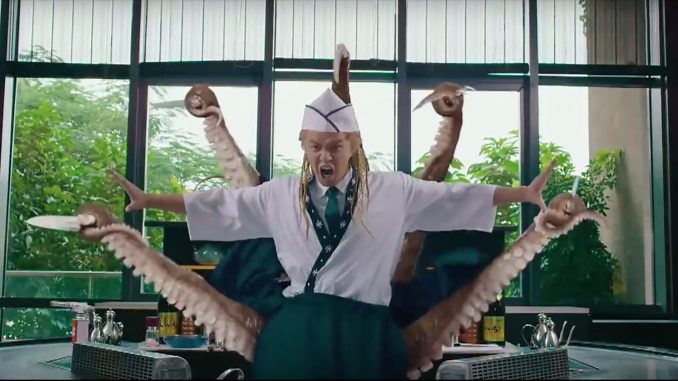 Hope you enjoyed your 4th of July weekend! We're back with another DVD/Blu-ray Roundup. There's a heap of interesting new movies arriving on DVD and Blu-ray and we've got all the highlights for you below. So if you can't make it out to the movies this week, be sure to give one of these titles a try!
Big New Releases!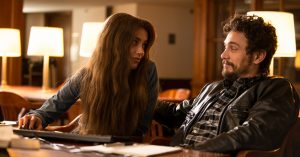 The Adderall Diaries – A journalist with substance abuse problems and other personal issues chronicles the trial of a loose acquaintance. As the case takes strange twists and turns, the writer's work gets increasingly personal and reveals his own inner troubles. This independent drama based on an actual memoir didn't fare so well with critics, who felt it all came across as a bit of a jumble and found it hard to relate to the narcissistic characters. The cast includes Amber Heard, James Franco, Christian Slater, Wilmer Valderrama, Ed Harris and Cynthia Nixon.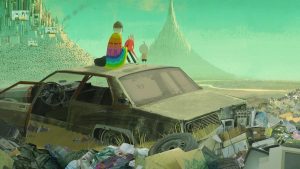 Boy & the World – This Brazilian animated film won plenty of awards at film festivals, and was even nominated for an Oscar at the last Academy Awards. Told from the point of view of a child, it involves his lengthy journey to find his father who has left home for the city. It garnered raves in the press, who called it sweet, beautiful and heartfelt, not to mention uniquely visualized. They also complimented it for addressing deeper themes like globalization. Apparently, there's a bare minimum of dialogue; Vinicius Garcia voices the title character.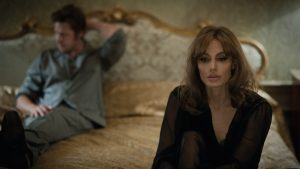 By the Sea – Inspired by introspective and interpretive art films of the 70s (specifically, the work of Michelangelo Antonioni), this pet project written and directed by Angelina Jolie stars herself and husband Brad Pitt as a couple vacationing in France. Over the course of the film, their strained relationship grows even more distant, leading to explosive conflict. Reaction generally wasn't enthusiastic. A few found it to be an interesting experimental drama with some nice location photography. However, most reviews believed the end result was austere, slow, ponderous and at several points, pretentious.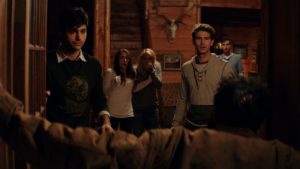 Cabin Fever – Wow, that didn't take long. The original horror film upon which this version is based was a cult success in 2002, beginning the career of director Eli Roth (Hostel, The Green Inferno). For some strange reason, this quick remake tells the very same story – five college friends contract a flesh-eating virus while hanging out for the weekend in a remote cabin. It didn't receive any positive reviews… at all. Not one. It has been called an utterly pointless, line-for-line redo that doesn't outdo the original in any way, shape or form and also lacks the gallows humor of its predecessor. It features Gage Golightly, Matthew Daddario and Samuel Davis.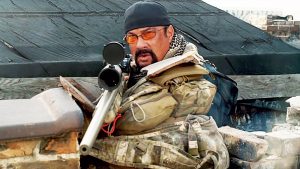 Code of Honor – This week's direct-to-DVD action flick follows a Colonel who decides to stop neighborhood crime the old fashioned way. That is by turning vigilante and wiping out drug outfits, mobsters and corrupt politicians all by himself. As he does so, an old friend from the police department attempts to find the one-man army and convince him to surrender himself. Sound like a low-rent version of The Punisher. There aren't any reviews yet, but I wouldn't expect much at all. It stars Steven Seagal, Craig Sheffer, James Russo and Louis Mandylor.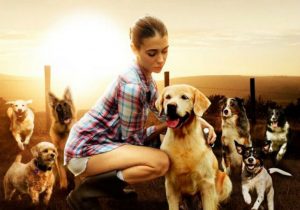 The Dog Lover – Premiering in theaters and on demand the same day as its DVD release, this independent drama comes from a new company focused on making "inspirational" films. Not to get all political on you, but a word of warning… one of the financiers is the head of Lucas Oil, who funds Protect the Harvest, an organization devoted to stopping "special interest groups" that promote animal welfare. This plot is about a United Animal Protection Agency employee who goes undercover at a suspected "puppy mill". Finding the owners to be swell, all-around decent people, she sets out to stop those who want to prosecute them. Yep, this is for real. So watch out… you can expect an ultra-conservative bias from this flick. It stars Allison Paige, James Remar and Lea Thompson.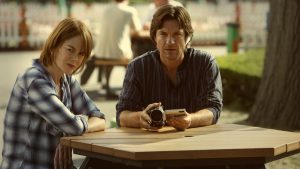 The Family Fang – Actor Jason Bateman's second directorial effort after Bad Words (2013) follows two siblings who return to their family home after their eccentric performance artists/hoax-pulling parents suddenly go missing. The independent comedy/drama received good reviews from various members of the press. While many admitted it was a bit uneven and choppy in spots, most found the story unique and the leads charismatic enough to earn it enough laughs. Besides Bateman, the film also features Nicole Kidman, Christopher Walken, Maryann Plunkett and Kathryn Hahn.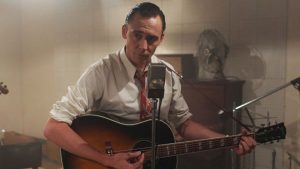 I Saw the Light – Country singer Hank Williams is the subject of this biopic that depicts his rise to fame in the music industry and the personal havoc and challenges success wreaked upon his life. Reaction was mixed to poor for the final result. Just about every write-up gave top marks to Tom Hiddleston for his performance as the performing legend. However, many stated that the story itself didn't do much to help us understand the man or provide insight; instead it focuses on straight-forward, generic and far less interesting plotting. The cast includes Elizabeth Olsen as Williams' wife.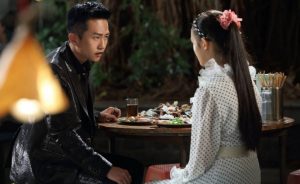 The Mermaid – This title (known as Mei Ren Yu) may not be familiar to western audiences, but it's the all-time biggest box-office success ever in China. The movie grossed over $550 million dollars abroad earlier in the year. It's a wacky comedy from Stephen Chow (Shaolin Soccer, Kung Fu Hustle) about a rich real estate developer planning to reclaim and tear apart the ocean for a new project. He soon falls for a mermaid sent to assassinate him and begins to rethink his ways. Reviews were strong, calling it a goofy and ridiculous romp with a heartfelt environmentalist message hidden amidst the silliness. Chow stays behind the camera and leaves the pratfalling to Chao Deng and Yun Lin.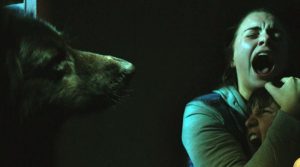 The Pack – A pack of wild dogs attack a family at their farmhouse in the remote Australian wilderness. With little help around and presumably no ALPO on the shelves, the clan must battle for survival. Notices for this independent horror flick were mixed. Some wrote that after an impressive opening the story became too formulaic, while others suggested the pacing was good and the picture delivered the necessary thrills and chills. Beside a whole group of nasty, drooling dogs, the cast includes Anna Lise Phillips, Katie Moore and Jack Campbell.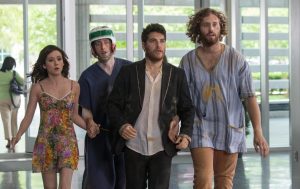 Search Party – A man about to be married has his wedding sabotaged by his pal, who is convinced that his best friend is making a terrible mistake. Determined to make things right, the groom chases the bride to Mexico, but has to call his buddy for help after being carjacked and left penniless. This comedy follows their wild misadventures as they try to find the bride and make their way home. Notices were flat out awful for this feature, stating that the characters were too dimwitted, the gags overly repetitive and the end result completely unfunny. If you want to give it a chance anyway, it stars Adam Pally, T.J. Miller, Alison Brie, J.B. Smooth and Krysten Ritter.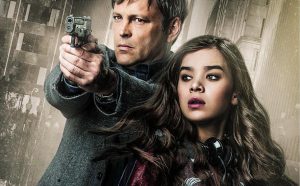 Term Life – Here's a really weird one that only hit cinemas a month ago (albeit in limited release). It's an action/thriller starring Vince Vaughn (?!) as a crooked businessman with various hit men out to assassinate him. He takes out a large life insurance policy payable to his estranged daughter, but learns he has to survive the next three weeks before it takes effect. Naturally, his child gets caught up in the big chase. Critics unanimously panned the flick, criticizing the movie for wasting a good cast and decent premise with its dull and pedestrian execution. It also features Hailee Steinfeld, Annabeth Gish, Jon Favreau, Taraji P. Henson, Jonathan Banks, Bill Paxton, Terrence Howard and Mike Epps.
Blasts From the Past!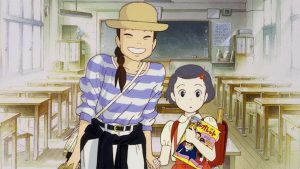 Universal Pictures are putting out a new 25th Anniversary edition of Only Yesterday (1991), the critically acclaimed animated feature from Studio Ghibli (My Neighbor Totoro, Spirited Away and many, many others). The Japanese production, about a city girl who returns to her hometown to reminisce on her childhood, was recently re-released in theaters with Daisy Ridley and Dev Patel providing the voices. Now fans of the animation house can own it on Blu-ray or DVD. The disc comes with a making of documentary, storyboards and interviews with the English language voice cast.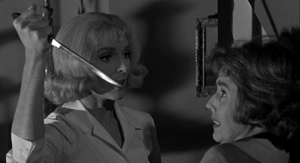 Like classic B-movie horror? Mill Creek Entertainment have a pair of inexpensive Double Feature Blu-rays featuring the work of producer/director William Castle. The first contains the original 13 Ghosts (1960) and 13 Frightened Girls! (1963). As for the second release, it includes the enjoyable Psycho knock-off, Homicidal (1961) as well as Dr. Sardonicus (1961). These are really entertaining titles that certainly don't qualify as great cinema, but are a whole lot of pulpy fun to watch.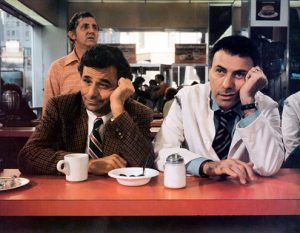 The In-Laws (1979) is a wild comedy that earned plenty of praise during its original run. Criterion are now distributing it on Blu-ray. Starring Alan Arkin and Peter Falk, the story involves a mild-mannered dentist readying for his daughter's wedding. He's introduced to the groom's father, an unstable man who claims to be a secret agent. The dentist is soon taken with his new acquaintance on a wild chase through New York and into Central America. Besides a new 2K high definition transfer, extras include a director/cast commentary track, an interview with Arkin, a trailer and a lengthy television piece in which various celebrities express their admiration for the feature.
Kino have a couple of Blu-ray coming as well. Absolution (1978) is a British thriller set at a Catholic school in which a student begins telling wild tales of murder during confession. After investigating the claims, the strict headmaster wants to expel the child but is bound by the rules of confession that forbid him to publicly expose the undergrad. Tension rises when people really do start disappearing. It stars Richard Burton and Billy Connolly.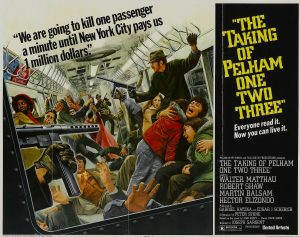 The Taking of Pelham One Two Three (1974) is a great little thriller about a big time heist on a Manhattan subway train. It features an incredible cast that includes Walter Matthau, Robert Shaw, Martin Balsam and Hector Elizondo. There are plenty of thrills and near misses as mistakes are made and all parties are forced to improvise. It also features a fantastic score – the theme is difficult to forget once you've heard it. This version is far superior to the remake that came about in 2009. If you've never seen it, check it out.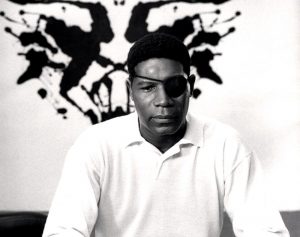 Arrow have a varied trio of films arriving in Blu-ray/DVD packages as well. Blood and Black Lace (1964) is a classic Italian horror effort the involves models being stalked by a masked killer. Made by cult film director Mario Bava, it's a bit trashy, but shot with incredible style. The movie is also considered one of, if not the first, "giallo" horror thrillers that would become a staple of future filmmakers like Dario Argento. The bonuses on this release are so numerous that there isn't enough space to list them all here.
Arrow also have the cheesy comedy The Swinging Cheerleaders (1974) starring Colleen Camp and the well regarded, low-budget, black and white, cult neo-noir thriller Suture (1993), featuring Dennis Haysbert.
You Know, For Kids!
If you like the original Ghostbusters animated series or want to share it with your kids, this is your lucky day. Other than that, Elmo's the only major title this week for children.
The Real Ghostbusters: The Animated Series (5 individual volumes also available separately)
Sesame Street: Elmo's Favorite Stories
On the Tube!
And here are the highlights of TV-related releases.
Beverly Lewis' The Reckoning (Hallmark TV movie)
Death in Paradise: Season 4
House of Cards: Season 4
The Memory Book (Hallmark TV movie)
Murder, She Baked: A Chocolate Chip Cookie Mystery (Hallmark TV movie)
NATURE: American Eagle (PBS)
NATURE: Cloud: Challenge of the Stallions (PBS)
NATURE: Dogs That Changed the World (PBS)
The Real Ghostbusters: The Animated Series (5 individual volumes also available separately)
The Rockford Files: Season 1
The Rockford Files: Season 2
Saving Hope: Season 2
Wedding Planner Mystery (Hallmark TV movie)