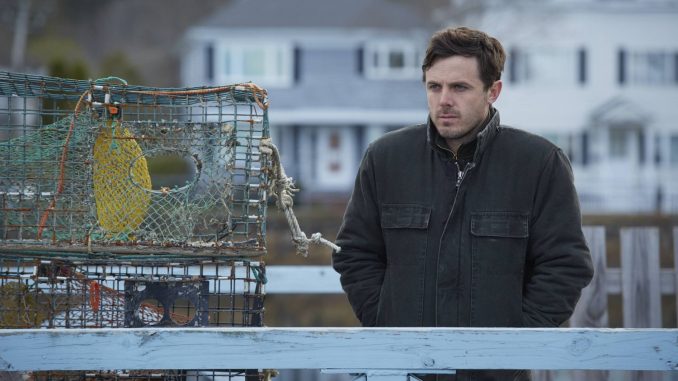 Welcome back to another look at highlights arriving on DVD and Blu-ray. It's another busy edition with plenty of interesting releases both new and old. As always, be sure to click on any links to read more about them. So if you can't make it out to the movies this week, be sure to give one of these titles a try!
Big New Releases!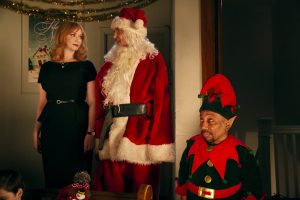 Bad Santa 2 – The lovably crude department store Santa returns in this follow-up to the 2003 cult success. This time out, the protagonist teams up with his old friend to rob a charitable foundation on Christmas Eve. Despite his nasty attitude, one of his old acquaintances with a sweet nature begins to draw out the sensitive side in the curmudgeon. Critics were not impressed with this sequel, complaining that the jokes were tired, crude and unfunny and that the entire exercise seemed like nothing more than a cash-in on the original feature's oddball charms. It features Billy Bob Thornton, Kathy Bates, Tony Cox, Christina Hendricks and Brett Kelly.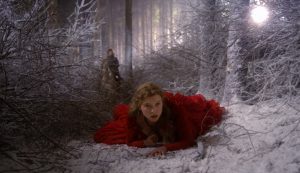 Beauty and the Beast – The famous fairy tale gets a lavish update in this French feature from Christoph Gnas (Brotherhood of the Wolf). A merchant is sentenced to death for stealing a rose, but his daughter agrees to stay and act as a servant to save her dad's life. Time passes and the Beast begins to develop feelings for the young woman. The press didn't think much of this adaptation of the classic tale. They complained that while it looked spectacular, there was no chemistry between the leads, sinking the film. It stars Vincent Cassel, Lea Seydoux, Andre Dousollier and Eduardo Noriega.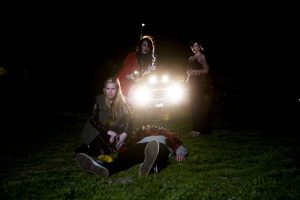 Black Widows – In this dark comedy, three woman must contend with the abusive men in their lives. When one of them is date-raped, the others decide to help out by enacting a revenge prank on the perpetrator. However, events spiral out of control very quickly, leaving the friends with a few dead bodies to deal with. This small film has played a few festivals but is making its premiere on DVD. As such, there aren't any reviews available out there to read as of yet. It stars Jordan Elizabeth, Brigitte Graham, Shelby Kocee, Michele Scarabelli and Terri Treas.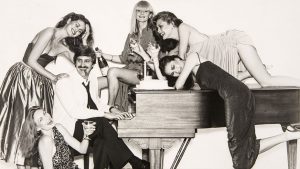 Casablancas: The Man Who Loved Women – This French documentary follows the career of John Casablancas. Specifically, his time founding the Elite modeling agency, which has ended up representing many of the most famous catwalk walkers, including Cindy Crawford, Naomi Campbell, Linda Evangelista, Gisele Bundchen and many others. Using a lengthy interview with the late founder and cutting in personal archives and clips on the job, one gets the story of how it all came to pass. Film festival audiences enjoyed the subject and his frankness, so if you have an interest in modeling, it may be worth a look.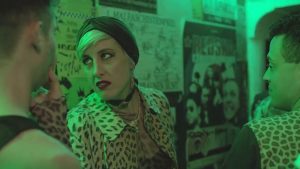 Desire Will Set You Free – An American writer falls for a Russian hustler in the LGBT community of Berlin in this drama. The men travel and party through the subculture landscape, getting to know one another on a deeper level as they more from locale to locale. This German production played at a few film festivals but hasn't been officially reviewed yet. If it is of interest, you'll just have to go in blind and take a chance on the film. The cast includes Yony Leyser, Tim Fabian Hoffman, Chloe Griffin and Amber Benson.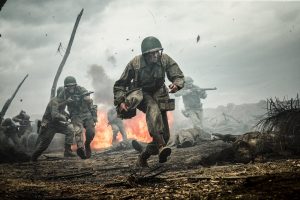 Hacksaw Ridge – This true story recounts the tale of a Army Medic in WWII who saved 75 men in battle without raising or firing a weapon. This biopic starts with the young man enlisting and follows him to Okinawa and the site of a violent and bloody conflict between US and Japanese forces. Reviewers liked the movie overall. A few found it a little melodramatic, but most were impressed with the well shot and staged battle sequences. It stars Andrew Garfield, Sam Worthington, Luke Bracey, Hugo Weaving, Rachel Griffiths, Teresa Palmer and Vince Vaughn. To read a full review, click here.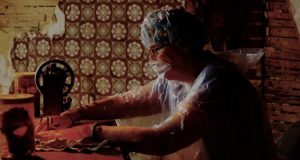 Kill, Granny, Kill! – A young woman answers an ad to help out a senior living in a remote farmhouse in this very low-budget horror/dark comedy. When the home worker skirts her care-taking duties, meets up with her boyfriend and gets inebriated, the old grandmother takes offense and sets out to terrorize the pair. Apparently, the elderly woman has some nasty, flesh-eating friends who get called in to assist. This effort is headed straight-to-DVD, so there currently aren't any write-ups available. It stars Kayla Perkins, Kristine Renee Farley and Dale Miller.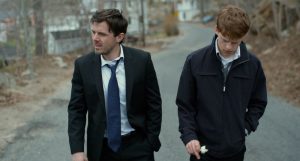 Manchester By the Sea – A depressed Bostonian receives word that his brother has died and makes the trek to the title seaside town to make funeral arrangements. After arriving, the lead learns that against his wishes, his sibling has named him legal guardian of his son. The two try to deal with grief and the complications associated with losing a family member. This drama earned raves from critics who praised the exceptional acting, particularly the work of Casey Affleck. The movie has been nominated for several Academy Awards including Best Picture and many feel the actor is a lock to take home Best Actor. Also featured is Michelle Williams, Kyle Chandler, Lucas Hedges and Gretchen Mol. To read a detailed write-up of the movie, click here.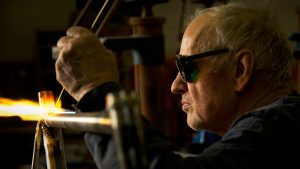 Marinoni: The Fire in the Frame – This documentary follows cyclist Guiseppe Marinoni, who transitioned from a noted rider to a note bike technician. At 75, he attempts to break a world record using a bike he built 40 years previous. The documentary received strong word from reviewers, and also won awards at the various film festivals where it played. There were a few naysayers who complained that the subject came across as an obsessive madman, but overall it has been described as an interesting portrait of a motivated eccentric.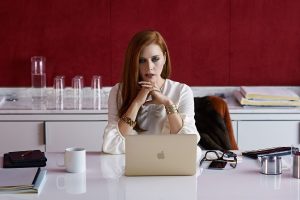 Nocturnal Animals – Here's a creepy thriller/drama that wowed many members of the press late last year. This crime story tells of a divorced art gallery manager who receives a book manuscript in the mail from her ex-husband. It's a dark a violent thriller, and as she begins reading it, she recalls her past relationship with the author. As mentioned, this one received generally strong notices. There were a segment who found the movie too eccentric and strange to connect to, but more were wowed by the impressive cinematography and memorable performances. Some even ranked it among the best of the year. It stars Amy Adams, Jake Gyllenhaal, Michael Shannon, Aaron Taylor-Johnson and Isla Fisher. To read a full review, click here.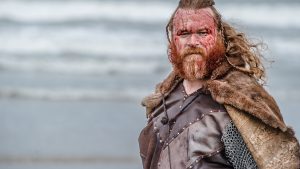 Viking Legacy – This week's direct-to-DVD title is a low-budget, independent Viking film. The plot involves seven sacred and powerful scrolls that give incredible prosperity to its owner. An evil King plots to take the papers and goes on a murdering spree to reach his goal. Meanwhile a noble King's daughter waits in hiding to help the kingdom. There currently aren't any write-ups available for this one, which doesn't exactly bode well for it, quality wise. The cast includes Hollie Burrows, James Cooke, Liam Dascombe and Daren Elliott Holmes.
Blasts From the Past!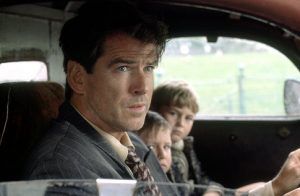 It's another busy week for older features and cult releases. Olive Films have some notable hard-to-get items arriving on Blu-ray. Evelyn (2002) is a well-regarded drama starring Pierce Brosnan. It's set in the 50s and involves an Irish father fighting an uphill battle for custody of his three children after their mother abandons them.
Those with a taste for cheesy, B-movie action may get a kick out of the remake of King Solomon's Mines (1985). Produced by Cannon Films, everything about this Indiana Jones knock-off is second-rate, adding plenty of unintentional laughs to the proceedings. It stars Richard Chamberlain and a very young Sharon Stone. You can read all about it right here.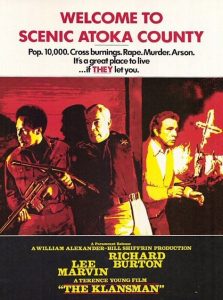 They also have the hard-edged drama, The Klansman (1974) from director Terrence Young (Dr. No, From Russia With Love, Wait Until Dark). Based on a Pulitzer Prize winning novel, this tale is set in Alabama and involves conflict between liberal-minded townspeople and a local Klu Klux Klan outfit after a black man in the area is falsely accused of rape. Word has it that this a curiously flawed adaptation, in part because stars Richard Burton and Lee Marvin were struggling with alcoholism at the time and were consistently inebriated behind the scenes (which might actually be appealing to some viewers).
The Last Best Year (1990) is a drama about a woman who is diagnosed with a terminal illness and the psychologist who helps her confront it. It stars Jane Murray and Mary Tyler Moore. Panther Girl of the Kongo (1955) is an Republic Films serial about a heroic jungle lady who swings from vines, rides elephants and attempts to stop a mad science from taking over the world with a crayfish monster of his own making. Finally, Police (1985) is a French drama about a hard-nosed cop working the streets of Paris and attempting to foil a drug ring. Gerard Depardieu plays the title role and you can read all about it here.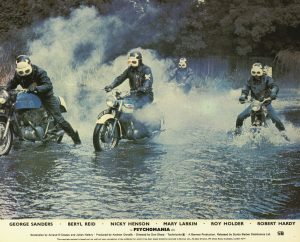 Arrow Video have a fantastic Blu-ray/DVD combo coming your way featuring a notable cult item. Psychomania (1973) aka The Death Wheelers is a nutty slice of psychedelic horror from the UK. The story involves a gang of bikers who use supernatural rituals to give them life-after-death. After dying, they return as zombies on wheels to torment and threaten locals, not to mention perform some pretty crazy motorcycle stunts. It's an enjoyably goofy little midnight movie filled with plenty of stunts and laughs. This release includes a 2K restoration of the feature from preservation negatives, original 1.0 mono audio (uncompressed on the Blu-ray) and a brand-new interview with star Nicky Henson. You'll get an archive featurette containing interviews with actors Mary Larkin, Denis Gilmore, Roy Holder and Rocky Taylor, a short on the sound of Psychomania with composer John Cameron, an archive interview with Riding Free singer Harvey Andrews, a brand-new featurette on the company who supplied the film s costumes, a look at the film s restoration from the original 35mm black and white separation masters and the theatrical trailer. Looks like a great package for horror fans.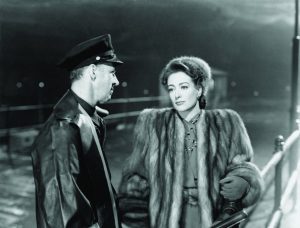 Criterion have a couple of big Blu-ray releases as well. Mildred Pierce (1945) is a classic from director Michael Curtiz (The Walking Dead, The Adventures of Robin Hood, Casablanca, White Christmas) starring Joan Collins as a woman who attempts to start her own restaurant and raise her two daughters on her own. Events become complicated after her ex-husband is murdered. This release comes with a new 4K picture restoration, a conversation with film critics about the film's importance, a 1970 TV interview with Collins, a Q&A with cast member Ann Blyth, a trailer, a 1969 Today show interview with the novelist behind the tale and an essay on the movie.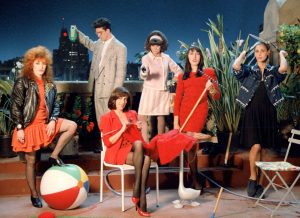 They also have Women on the Verge of a Nervous Breakdown (1988) arriving in high-definition. This comedy from Pedro Almodovar (Tie Me Up! Tie Me Down, The Skin I Live In) was nominated for Best Foreign Language Film and tells the story of a suicidal woman whose death wish is interrupted by a series of strange, comical and chaotic events. The Blu-ray has plenty of bonuses that include a new restoration, new interview with the filmmaker and cast members, a discussion on the film's importance from Spanish film scholars and theatrical trailers.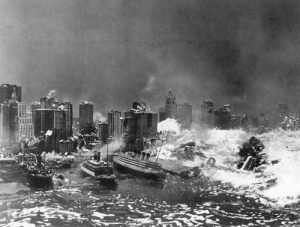 Kino have a couple of interesting Blu-ray arrivals too. Deluge (1933) is one of the very first disaster films ever made. It's about an earthquake that takes out the west coast and results in a massive tidal wave that threatens to submerge the entire eastern seaboard. Like most films of its genre, there's also a love story amidst all of the death and destruction. This title featured groundbreaking special effects for its day and was lost for many decades before being discovered and restored in the late 80s. Now disaster movie fans can own the feature in high definition.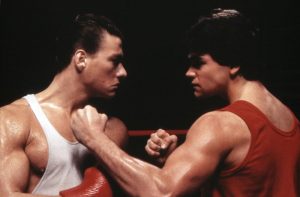 On the action front, they also have No Retreat, No Surrender (1986). This features an early appearance by Jean-Claude Van Damme. It's about a Bruce Lee fan who trains with the ghost of the famous martial artist. He must use his newfound skills to fight off the powerful martial artist (played by Van Damme) of a Seattle crime syndicate.
Additionally, Warner Archive are making some movies available via their made-to-order service. Curious parties can visit their website, browse their catalog and special order whatever title they choose. I've used it in the past and found it to be a good way to pick up out-of-print and hard-to-find movies.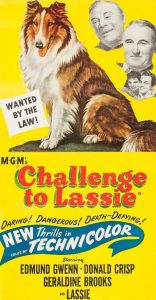 This week's new releases include a Blu-ray of The Boy Friend (1971). This oddball musical from director Ken Russell (The Devils, Tommy) involves a musical understudy who is thrust into the spotlight after the show's leading lady sprains her ankle. Naturally, her success causes some conflict.
On the DVD front, Warner Archives have the teen comedy Big Girls Don't Cry… They Get Even (1991), the George Segal comedy/drama Blume in Love (1973) and the heroic canine family flick, Challenge to Lassie (1949). Also arriving on DVD is the Dennis Quaid period drama Everybody's All American (1988) and the musical/drama, A Lady's Morals (1930). They also have the Mel Gibson/Diane Keaton effort, Mrs. Soffel (1984), as well as the crime film, Whistling in the Dark (1933) and the romance, Woman Against Woman (1938). Gotta love that original poster for the Lassie movie, which advertises the dog as a fugitive from the law!
You Know, For Kids!
Here are a few titles youngster might find interesting.
Dinosaur Train: What's at the Center of the Earth?
LEGO Friends: Vol. 3
Transformers: Rescue Bots: Protect and Explore
On the Tube!
And here are the week's TV-themed releases, along with some trailers of films featured in the Blasts From the Past! section.
American Masters: Maya Angelou: And Still I Rise (PBS)
Doctor Who: The Return of Doctor
Grace & Frankie: Season 2
The Level: Series 1
Lou Grant: Season 4
Nashville: Season 4