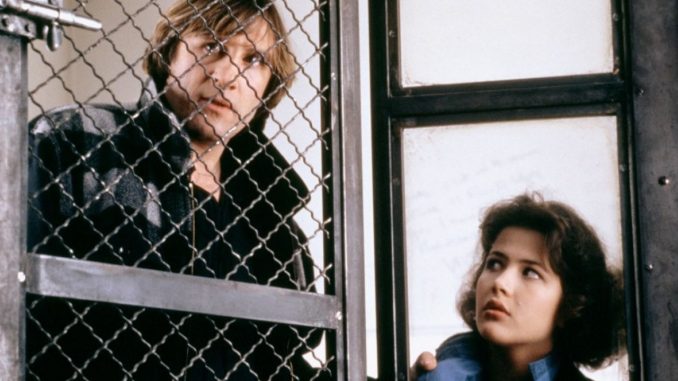 This movie is being released on Blu-ray by Olive Films (www.olivefilms.com – www.facebook.com/olivefilms) on February 21st, 2017.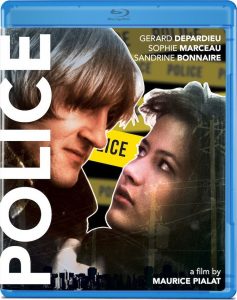 This week, Olive Films also have an interesting foreign-language effort premiering in high definition. It's a detective drama called Police. Even though it's a cop movie, it is one that pays more attention to its characters than any criminal plot. Directed by Maurice Pialat (A nos amours, Van Gogh), the feature earned Cesar nominations (which are essentially the French Oscars) for Best Actor and Best Editing. The movie also won Best Actor at the Venice Film Festival. Impressive honors, to be sure.
The story involves moody, hard-nosed Parisian cop Louis Mangin (Gerard Depardieu). He certainly doesn't exude charm, smacking around suspects while interrogating them, making sexist comments to coworkers and treating people pretty dismissively. His latest case involves breaking up a Tunisian drug ring with in conjunction with the Marseille department. In order to turn up the heat on the operation, Louis not only arrests a suspect named Simon (Jonathan Leina), but holds and questions his girlfriend Noria (Sophie Marceau) as well in the hopes that she will spill the beans. However, he begins to develop feelings for the woman, slowly opening up about his personal life and eventually hoping to run away with her. But is she as innocent as she claims to be?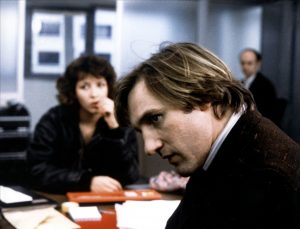 As mentioned, this isn't an action picture, but instead is very small and intimate. Louis lives a pretty harsh existence and the screenplay is far more interested in exploring the reasons behind his brutish behavior than it is with crime movie thrills. Thankfully, Depardieu is excellent in the role. This protagonist isn't a very likable character, but the actor embodies the role with enough charisma to make us want to continue watching, even if we don't agree with the actions being taken.
There's an excellent scene early on where, over a period of several minutes, he slowly uses various interviewing techniques to twist the desired information out of a suspect. And as the film progresses and he opens up, we see a curious friendship between himself and a defense lawyer named Lambert (Richard Anconina). The cop makes it clear that he's only doing his job and hold no grudges when he's off the clock, even going out with some of those (including a prostitute) whom he has previously arrested.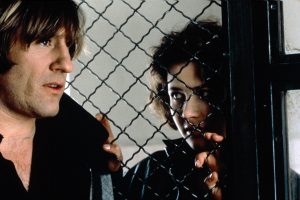 The developing relationship between Louis and Noria is also curious. Initially, it's difficult to tell whether she really is an innocent party being unnecessarily dragged into the investigation or if she has some influence within the criminal organization. While they the two leads are understandably antagonistic at the beginning, it's intriguing to see their cold interactions begin break down as they reveal more to one another about their pasts. It all comes to a head when a large sum of money disappears and Noria is blamed by the outfit for stealing it. Louis is forced to choose whether or not to believe her claims of innocence and decide if and how he should help her. It results in finale that is more about the emotional states of the characters being laid bare than action. This is an art film and there are no shoot-outs here, just realizations on the part of the characters about their lives and work.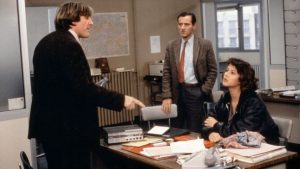 So yes, the movie itself is quite good. As for the Blu-ray, the image quality on the disc is phenomenal. This movie may be more than thirty years old (the neon lights and hairstyles certainly give it away), but there isn't a speck on the print. Every shot in this transfer looks clean and without any dirt or tears on the frame. It's also an extremely sharp picture. This is honestly a striking disc and it's hard to imagine a better transfer existing anywhere. No doubt the visuals will impress both newcomers, as well as those familiar with the film.
The international success of Police led star Depardieu to some even bigger and more notable projects, including Jean de Florette (1986) and Cyrano de Bergerac (1990). It was then that he made his mark in Hollywood with titles like Green Card (1990), 1492: Conquest of Paradise (1992) and The Man in the Iron Mask (1998). This disc shows a very young actor making his mark in cinema and delivering an impressive performance along the way. It's wonderful that audiences in this part of the world can now enjoy this well-regarded effort in their own homes.