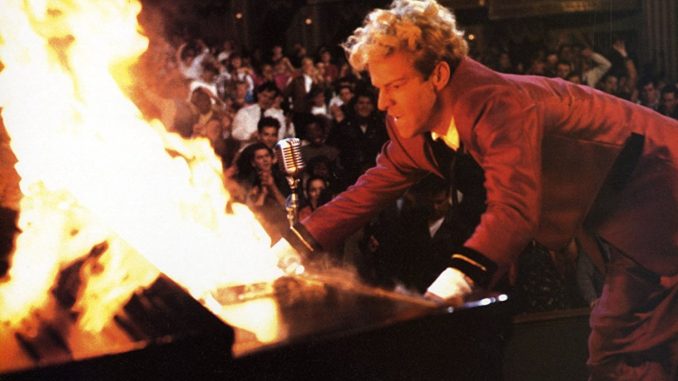 This title is currently available on Blu-ray from Olive Films (www.olivefilms.com – www.facebook.com/olivefilms).
Singer-songwriter Jerry Lee Lewis was considered by many to be the first wild man of rock n' roll. Famous for his stage antics and even more chaotic personal life in the 1950s, it's actually a surprise that it took so long for someone to attempt a biopic. Great Balls of Fire! didn't end up making a big splash at the box office and earned only mixed reviews during its initial release. Admittedly, it isn't Oscar material, zipping through the events of his life in rapid succession. However, the movie does feature excellent performances and manages to capture the media circus and high-energy persona of Lewis.
The movie stars Dennis Quaid as the legendary performer and re-teams the actor with director Jim McBride (who has previously worked together on The Big Easy). It charts the beginnings of the musical career of the 23-year-old with Sun Records, as well as the development and success of his over-the-top, boastful stage persona. Of course, it also details his relationship and marriage to Myra Gale Brown (Winona Ryder) which ultimately derailed his success. Adding further conflict is the singer's bickering with another cousin, the future televangelist Jimmy Swaggart (Alec Baldwin).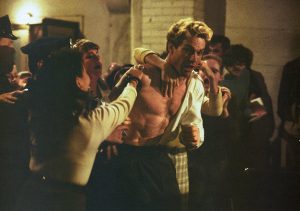 While there is plenty of material to put under the microscope, the picture appears more interested in recreating the bustling music scene in Memphis and providing a palpable sense of the excitement and energy coming from both the performers and their fans. Lewis has a grandiose, larger-than-life personality on stage and Quaid, as well as the rest of the film, don't hold back in their depictions. In a couple of instances, the playing of a new single results in almost musical like numbers from the public reacting to the tune on the streets. Viewers will also be entertained by Lewis's on stage shenanigans and how he managed upstage Chuck Berry after being scheduled to appear before the guitarist. These scenes are enormously entertaining.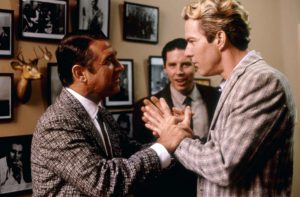 Arrogant as he might be, the lead is also made likable as it becomes clear that just about everyone around wanted a piece of the artist's success. Lewis's managers at Sun Records, desperate to make a buck and reeling after losing Elvis Presley to another label, try to exert influence into his act. Cousin/bass player and father of Myra allows his eccentric relation a lot of leeway because of the money being brought in. By trying to keep the singer out of trouble and in his home, he unintentionally helps foster the romance between Lewis and the star-struck, 13-year-old Myra. And Swaggart's played as just as big of a hypocrite, spouting biblical verse but being more than happy to receive expensive gifts from the celebrity.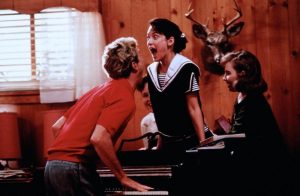 Ryder is also excellent in an unusual role as the singer's girlfriend/wife, effectively giving some sense of how the personal connection between the pair developed. There's a quick comment or two about the questionable reasoning behind their inappropriate actions, but the movie prefers to keep moving and simply depict what happened. Additionally, certain events are skimmed over with a minimal amount of detail (a streak of heavy drinking and abusive behavior is summed up using a quick montage).This means that it doesn't possess the kind of emotional depth and insight that it might, but it sure is zippy to watch.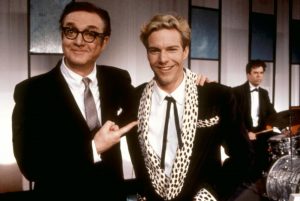 The film was released on DVD 15 years ago, and now is finally getting a Blu-ray upgrade courtesy of Olive Films. While there is a bit of natural film grain present (particularly during the opening credits), this is certainly a big upgrade, boasting a sharper picture and brighter colors. Concert scenes filled with shrieking, dancing extras really pop with a lot of energy. And as success hits, Lewis's new home also looks bright, vibrant and almost neon-tinged. The stereo sound is also a little cleaner than in the previous version, adding some audio oomph to the presentation. The disc also includes a theatrical trailer.
While it isn't high art and gives a fairly simple read on Jerry Lee Lewis, the movie flies by quickly and accurately conveys the thrills, excitement and effect that brand new music could have on others. I quite enjoyed revisiting Great Balls of Fire! and those out there who appreciate the movie's merits, as well as its vivaciousness, will certainly find this new release to be the highest quality version available.