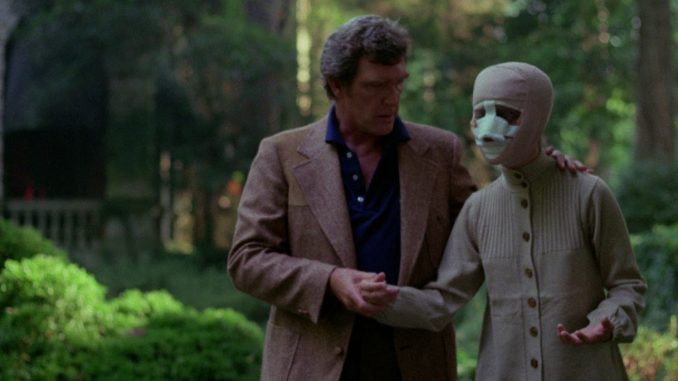 This release from Arrow Video is now available for purchase (www.arrowvideo.com – www.facebook.com/ArrowVideo/).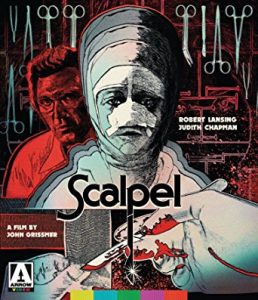 Arrow Video aka Arrow Films are well known for putting out various fright and cult films on Blu-ray and DVD. Often packed with extras, this distributor has released so much excellent product that now I consider them the horror equivalent of the Criterion Collection. In fact, they have even created a second line, Arrow Academy, to distribute more avant-garde fare. Arrow Video's latest Blu-ray release is for Scalpel, an independently produced thriller that fell between the cracks during its original run and only began to find a following some years later on VHS and cable.
This title probably falls somewhere in between scare-fare and art film. It definitely wouldn't qualify as horror, but it has plenty of elements that should please fright fans. Personally, I had never seen the film before and was pleasantly surprised. While it isn't a masterwork, this is a very good feature that rises above many others of its ilk thanks to excellent performances and exceptional cinematography from Ed Lachman (this was his first 35mm film as director of photography, before he went on to shoot titles like True Stories, The Virgin Suicides, Far From Heaven, Carol and Wonderstruck).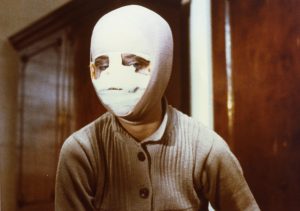 Set in Atlanta, the plot involves an arrogant plastic surgeon named Dr. Phillip Reynolds (Robert Lansing). Widower Reynolds has lost all contact with his daughter, Heather (Judith Chapman), who left home and disappeared more than a year ago after witnessing her father in a brutal altercation. When the family patriarch dies, the surgeon and his brother Bradley (Arlen Dean Snyder) are shocked to learn that their father left nothing for them. Instead, $5 million dollars has been bequeathed to Heather.
While out commiserating, the pair happen upon a severely beaten dancer. Unable to find any ID, she is given the moniker Jane Doe (also played by Chapman). Seizing the opportunity, Reynolds decides to rebuild the victim's face to look identical to his daughter. When she recovers, he proposes a scheme to take control the family inheritance. But the pair will have to convince family members and friends like Dr. Robert Dean (David Scarroll) that Jane is actually Heather. Events are further complicated by a very unexpected arrival at the homestead.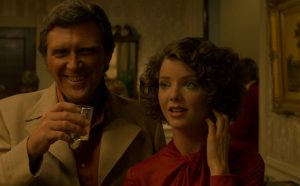 As mentioned, the movie is a low-budget affair relying solely on the characters and their relationships. Thankfully, the performers cast are all well above average. Lansing manages to be a surprisingly charismatic villain who somehow exudes a strange charm, even while committing horrible crimes and behaving in a privileged and intellectually superior manner to those around him.
And as for Chapman, she is incredible in a dual role as Heather and Jane. The actress is forced to share the screen with herself via split-screen (when body doubles aren't used) and is remarkable in both parts. It actually all looks seamless and there is a clear differentiation between the two women; one is prim and from an upper class home, the other from humble surroundings with a blunt manner of speaking. When Reynolds and Jane begin a romantic relationship, events take an even creepier and more disturbing turn.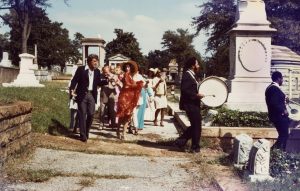 It culminates in a series of reveals and double-crosses that maintain viewer interest throughout. Truthfully, all the characters are at each other's throats at different points and while we're supposed to sympathize with both Heather and her copy, it's far easier to relate to Jane due to the horrific actions taken on her by the surgeon. The score, while pretty, can be over-the-top at times. Since this is a low-budget film, the climax can't involve much in the way of elaborate action (there's one tense scene towards the end with Jane that needs clarification as to what ultimately transpired after the camera cuts away). Still, thanks to the great performances, the actions and events are still twisted fun to witness.
This disc's image quality is quite remarkable, looking incredibly clean for an almost lost film that is over 40 years old. I was struck by a great deal of the striking imagery, like the various house exteriors and nearby environments, as well as nighttime shots that boast a lot of shimmering color from the streets. Other parts of the film have a warm, soft yet slightly eerie quality that still look crisp. There doesn't appear to be a fleck or speckle of dirt on the print itself.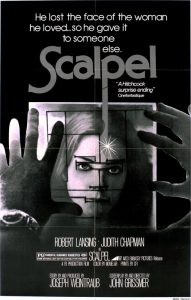 The extras are great as well. This Blu-ray seemingly contains a first; two different color grades of the feature. Apparently, Arrow obtained the best master they could find from a color reversal print, cleaned it up and were preparing to release it. When Ed Lachman got wind of this, he asked to see it and noted that much of the gels and filters used for the negative to create a Southern Gothic film had faded from the print. He was allowed to re-grade the color, highlighting yellows, greens and flesh tones. Both versions are included, but Lachman's color-corrected version is far more impressive and suits the story much more. There's also an interview where the director of photography explains the process and goes over his career.
There are also interviews with the writer/director and Chapman, who reminisce about their experiences while working on the project. Additionally, you'll find a film historian commentary track that gives out trivia about the performers and locations used, providing plenty of extra information for those who might be interested in minutia. And the movie's trailer is also included.
Scalpel is an entertaining little suspense picture that rising above its budgetary restraints due to the hard work and diligence of the cast and crew. Arrow have gone out of their way to give the feature the respect it deserves with a great new transfer including a version that was color-timed by the cinematographer himself to replicate how it would have looked in cinemas. It's hard to imagine such a little known movie getting such incredible treatment in high definition, but Arrow have impressed once again.