DVD/Blu Ray Reviews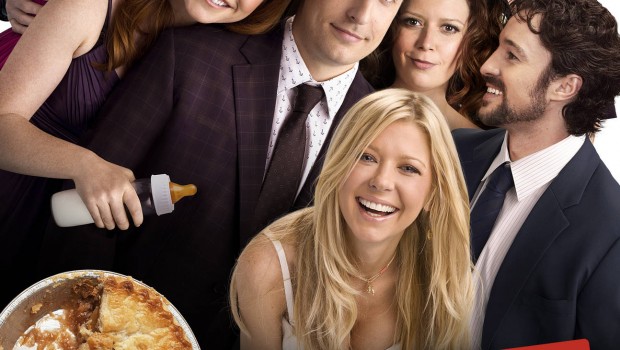 Published on July 9th, 2012 | by dvdpinson
0
American Reunion Available on Blu-ray/DVD July 10th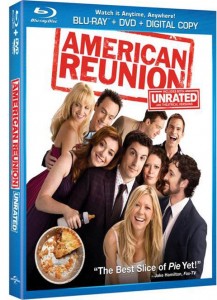 The question is: How do you make a Teenage Sex Comedy that centers on a bunch of people in their thirties? The concept doesn't make much sense and it is a major dilemma that the filmmakers behind "American Reunion" faced as they sat down to cobble together this 4th install of the "American Pie" series. Turns out there isn't very much funny to be found in a grown man awkwardly making love to a sweat sock as his two-year-old son looks on.
So then the answer is: You shouldn't make a Teenage Sex Comedy that centers on a bunch of people in their thirties because the entire purpose of a Teenage Sex Comedy is to exploit the mystery and inexperience of a teenager as they discover sex. An 18 year-old kid mounting an apple pie is funny; a 30 year-old man doing it is just sad.
Not that Jim (Jason Biggs) mounts a pie this time around but he does almost mount an 18 year-old….
It has been 13 years since the boys graduated East Great Falls High way back in 1999 and it is time for a reunion. Why a 13 year reunion? It is safe to say that the sole excuse is that there wasn't enough foresight to get this movie made back in 2009 so now we just have another layer of implausibility slathered on.
We get to catch up with everyone: Jim and Michelle (Alyson Hannigan) are still married and now have a kid. Their sex life isn't doing so well though. Oz (Chris Klein) is a sports commentator on television whose sex life is doing fine as he is sleeping with a vapid, ecstasy-chewing model. Finch (Eddie Kaye Thomas) has been traveling the world; Kevin (Thomas Ian Nicholas) is happily married while Stifler (Sean William Scott) is still a giant tool who hasn't mentally aged a single day.
Writing that last sentence has really driven home how much I miss the "3 First Names as an Actor's Name" phenom that was so popular in the 90's. I should change my name to David Timmy Tom Jimmy and try to start a "4 First Names as an Writer's Name" thing… I shall ponder this.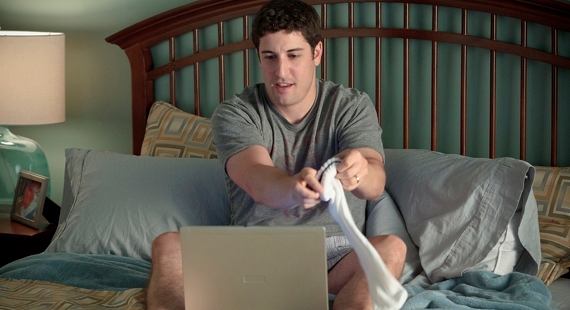 Also the ladies from the old films make it back and we find that Heather (Mena Suvari) is now a doctor, Stifler's Mom (Jennifer Coolidge) is about the same and Vicky (Tara Reid) has been skipping her acting lessons. Actually many in the cast haven't been doing much work the last few years and a general stiffness in the performances plague the entire project. The exception is Eugene Levy, of course. There will be no negative words for Mr. Levy found here.
The men behind "American Reunion" are the writing/directing duo that brought us the horrid "Harold and Kumar Escape from Guantanamo Bay" and their sensibilities haven't improved much. There is an effort made to make the dialogue between the comedy bits a little weighty and topical about issues that face early thirty-somethings but it all comes off as bad Soap Opera. None of the characters are well-crafted enough to invest in any of these "real" moments and "American Reunion" gets bogged down and boring for long stretches.
There are a handful of chuckle moments, most involving Stifler and his inability to be decent but even that falters after time. The film ends at the reunion, of course, and it is truly one of the most uneventful finales that you will ever see. By the end credits you will understand why Jim and the boys skipped their ten-year reunion.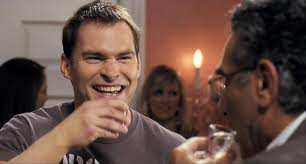 Bonus Features:
The "Out of Control" track
Extended scenes
Alternate takes
The best of Biggs: hangin' with Jason B.
Lake bake
Dancing with the Oz
American reunion yearbook
Deleted scenes
Gag reel
Jim's dad
Ouch! my balls!
The "reunion" reunion: re-launching the series
Feature commentary