Movie Reviews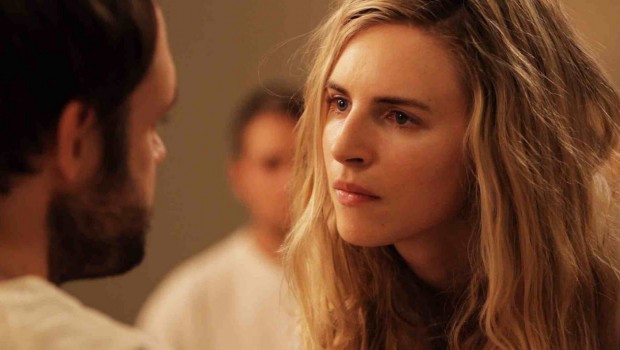 Published on May 3rd, 2012 | by dvdpinson
0
You should Listen to the Sound of My Voice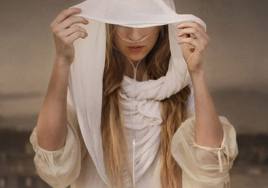 "Sound of My Voice" throws a fistful of questions up in the air and only gives you vague answers to a few of them, leaving the rest dangling in the ether. While these sorts of films can be infuriating, (Let's call them "Closure Free Cinema"- Recent examples being "Martha Marcy May Marlene" and the hollow "Sleeping Beauty") the questions left behind make "Sound of My Voice" more engaging as I was left mulling over the details days after viewing.
The decision makers over at Fox Searchlight sure seem to believe in the film. There has been a strong online campaign behind the project with weekly videos posted on YouTube meant to be recruitment videos for the cult that is featured in the film.
Best of all, you can watch film's first 12 minutes which gives a good idea of what to expect from the film. Go here to watch the first 12 minutes and find the links for the viral campaign.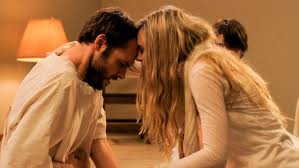 If you do not have the time to spare to watch the first chapter, I shall summarize. Peter (Christopher Denham) and Lorna (Nicole Vicius) are a cute hipster L.A. couple that try to infiltrate a secret cult with plans to make an unauthorized documentary chronicling there findings. They are taken to the basement of an undisclosed location where, after performing an intricate secret handshake, they meet Maggie (Brit Marling). Hooked up to oxygen tanks and blood transfusion machines while being shrouded in white veils, Maggie is an enigma and the leader of this band of sheep.
What seems on the surface as your average, everyday meeting of lost souls that evokes memories of the Heaven's Gate followers (the group that committed mass suicide with the hope of catching a passing comet to take them to Heaven. I still remember those brand new Nikes sticking out from beneath the sheets) turns interesting once Maggie claims that she is from the future and she has the tiny ankle tattoo to prove it.
"Sound of My Voice" is really just an excuse to watch Brit Marling give a mesmerizing performance. Much like last year's "Another Earth," Marling co-wrote "Voice" with the film's director Zal Barmanglij and she has created a perfect vehicle to let her shine. Maggie is a complicated and nuisanced character who can be both inviting and sinister at the same time. Best of all, you can see why people would follow her and want to believe her ridiculous stories. The role isn't flashy, contrary actually, but Marling is captivating.
The film covers our need to belong and be accepted and shows a realistic portrait of how someone could be led to joining such a group. While Lorna remains skeptical, Peter begins to put on the blinders. Maybe its Maggie's pretty face that helps this along but Peter becomes more and more involved and invested, showing the psychology behind the brainwashing.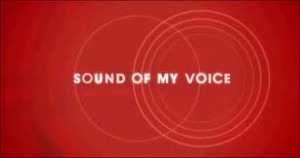 The "Sound of My Voice" will not be for everyone and there are glimpses of amateur acting that hurt the film. Nicole Vicius as Lorna hits a few sour notes and most of the peripheral actors are stiff and distracting. The music by Rostam Batmanglij (who might be related to the director. Just a guess though) is a perfect fit with its ambient beats that constantly shift and pulse. But its is the silent moments, when the music drops and we are left with the sound of Maggie's voice telling us our (possible) future that the film comes alive. Where do I sign up?