DVD/Blu Ray Reviews
Published on January 9th, 2012 | by Tom Andrew
0
What's Your Number? Blu-ray/DVD Review


What's Your Number is available on Blu-ray/DVD January 10th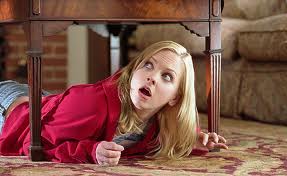 How many more movies are we going to have to see where the older sister of the bride has no one, is made fun of because of that, and who is treated badly by her mother?
Apparently novelist Karyn Bosnak and screenwriters Gabrielle Allan and Jennifer Crittenden think this premise is fresh and new. It's not and neither is "What's Your Number".
Anna Faris plays Ally Darling, older sister of soon-to-be bride Ari Darling (Ari Graynor). On the day of her sisters engagement party she breaks up with the guy she is currently seeing, gets fired from her job and on her way home sees an article in the magazine "Marie Claire" that says the average number of men women sleep with is ten.
Having slept with 19 men herself she finds that hard to believe, but is proven wrong when she later finds out that her sister and none of her friends have slept with more than ten.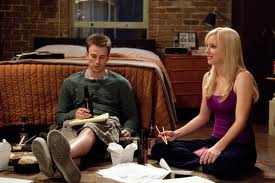 The article also states that if you've slept with more than 20 men you're sure to live a partner-less life.
So, Ally decides that the next man she sleeps with will have to be her future husband, but she gets incredibly drunk at her sister's after party, runs into the boss who fired her (Joel McHale) and, yes, sleeps with him.
Hitting the 20 men mark Ally makes yet another decision; to locate the 19 men she has slept with, as long as they don't live so far away, and see if time has made them husband material so she won't go past that mark and live a partner-less life.
Sound convoluted? Well it is. This decision, and the real reason for the film takes at least 25 minutes to get to.
Chris Evans plays her bad boy/amateur detective/slacker musician next-door neighbor, Colin, who goes through women as if they were disposable contact lenses. Their first meeting occurs when he decides to sheepishly hide in her apartment until the woman he's just slept with leaves.
Of course Ally finds him disgusting, and reprehensible, and of course he offers to sleep with her and of course, she declines. However, she does ask him to help her locate all the men she has slept with and offers her apartment as a safe haven for him in exchange. He accepts.
The rest of the film is no more than her locating all the losers who dumped her, and how she and Colin grow closer.
Can you guess what happens then?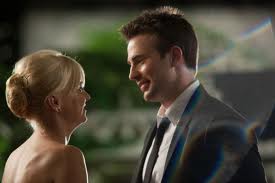 "What's Your Number?" only works after the first hour when she and Colin obviously start to fall for each other. The dialogue goes from sophomoric dribble to a passable adult dramatic comedy, but by then it's too late.
Faris ("Scary Movie," "House Bunny") is clearly ready to graduate on to better films, but this hybrid will not be the one to do it. Watching her go from the "over-the-top" slapstick chick to the meaningful "I-finally-get-life-now" girl is awkward and forced.
Evans ("Captain America," "Fantastic Four") is funny and engaging, but apparently director Mark Mylod isn't convinced of his acting talents, because he has him practically naked in every scene.
The cast is actually filled with talent; wasted talent. Blythe Danner, Ed Begley Jr., Heather Burns, Joel McHale, Zachary Quinto, and David Annable have all been in better projects, but their talents can't save this film, or the bad dialogue.