Movie Reviews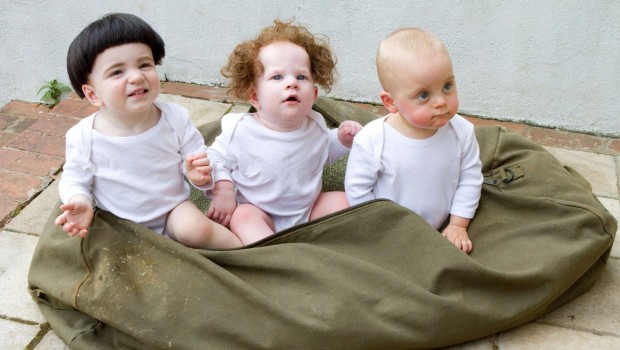 Published on April 12th, 2012 | by dvdpinson
0
The Three Stooges: As much fun as a Fake Slap in the Face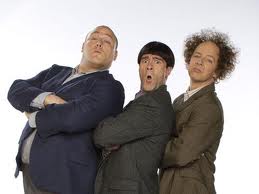 While the actual Three Stooges starred in numerous feature length films during their careers there is a reason they are only remembered for their nearly 200 shorts. It's because The Three Stooges brand of hyper-cartoon-violence is best kept in small doses, otherwise the constant smacking and slapping becomes soul-numbing. And that was when the masters were swinging the rubber mallets.
Now imagine what its like when Three Chumps pretend to be The Three Stooges for 90 minutes… soul-numbing doesn't even touch it.
Not that the actors tapped to play the fake Stooges are terrible at imitation. The one redeeming feature of "The Three Stooges" is that Chris Diamantopoulous, Will Sasso and Sean Hayes do an admirable job but never really get past presenting caricatures of Moe, Curly and Larry. They sure know how to faux poke some eyeballs though.
Maybe there would have been some hope if they had given the dupes something creative to do but instead of riffing on the concept like "The Brady Bunch Movie" or the recent "21 Jump Street" did, the plot stays impossibly clichéd.


Thanks to a brief and flimsy origin plotline, we find out that when the boys were babies they were thrown from a car and abandoned at an orphanage. Funny, huh? It is at the orphanage that surprisingly unfunny nuns played by the usually hilarious Jane Lynch and Larry David raised them. Years pass and now the terrorizing young Stooges have become the terrorizing adult Stooges that our grandparents knew and love.
Now here's the rub: The orphanage is going to close down unless our heroes can raise $830,000. John Belushi is rolling in his grave. Hell, Moe, Curly and Larry might even be doing somersaults in the Afterlife. Or at least the Curly Shuffle….
This becomes typical "fish out of water" fare as the Stooges smash and bumble their way through the modern world. They get mixed up with the gorgeous but surprisingly unfunny Sofia Vergara (who is so good in "Modern Family" but tries her hand at being a villain here and fails. Versatility is not a noun that shall be used in a sentence regarding Miss Vergara's acting prowess) while Moe has a brief stint on "The Jersey Shore". Two things on this point: 1) This is a ridiculous move as "The Three Stooges" is going to seem incredibly dated (even more than it already is) in just a couple of years when "The Jersey Shore" is a happily forgotten memory. And 2) If you are going to put a Stooge on a popular MTV show, why not "Jackass"!!? At least what Knoxville and his merry band do to each other on camera owes a debt to the real Stooges. It's as if the minds behind this debacle refuse to get anything right.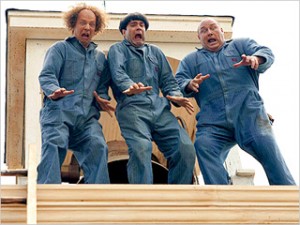 We have the writing/directing team, The Farrelly Brothers, to thank for this lazy film. They started their career so brilliantly with "There's Something about Mary" and "Kingpin" back in the 90's but in recent years their work has been getting regressively worse as "The Heartbreak Kid" begat "Hall Pass" which is followed by this junk. Can we now declare them creatively tapped out and move on? I think a sad, thoughtless movie like "The Three Stooges" is evidence enough.