The Shape of Water is everything you wanted to know about Guillermo del Toro but were petrified to ask. Petrified because the dude is warped. Once he pulls back a curtain, you don't know what could be waiting for you. Here, del Toro puts his "everything" together, making The Shape of Water a masterwork.
You get a little bit of whatever you want. It's an old fashion horror film, something he has dabbled in before (Crimson Peak, Mimic). It's a fun-loving action flick  (Hellboy, Blade II). A period piece (Just about every film he makes takes place in the past or future). It's even a little stupid (Pacific Rim and that terrible dialogue??) Most importantly, however, The Shape of Water is a Guillermo del Toro film. The type of film he can make when he hits on all cylinders. Pan's Labyrinth and Chronos. Signature del Toro. Haunting and beautiful stories that stick with you. The only thing missing that would make this the penultimate del Toro experience is a good child death. He loves killing kids but has spared us this time. Probably a good thing.
(I should have said SPOILER ALERT!! SPOILER ALERT: NO KIDS DIE IN THIS MOVIE. Sorry.)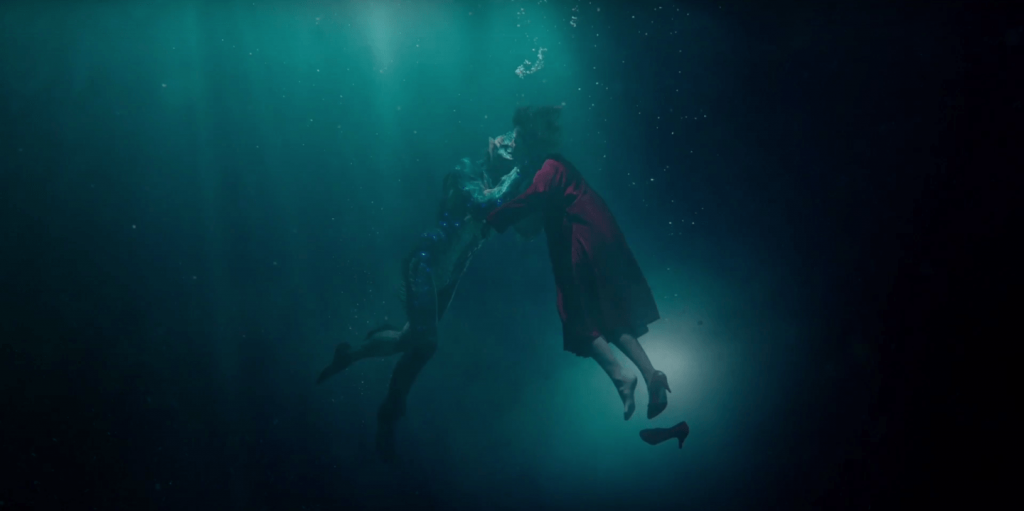 Despite all the bells and whistles, the movie is really about the characters. And what an amazing cast!! Sally Hawkins is immediately endearing Elisa Esposito, a mute woman stuck in pattern and looking for meaning. Octavia Spencer does all the talking for her as her co-worker Zelda. The film touches on social unrest, because it takes place in 1962, Baltimore. Zelda is a strong black woman that represents that turmoil but, unfortunately, she takes a backseat once the frog/princess love story starts to take shape.
Michael Shannon brings the brilliant bad guy once again. He is wonderful, but it is something we've seen from him before and will see again. The two that steal the show are Richard Jenkins and Doug Jones. Jenkins is Giles, Elisa's artist neighbor who becomes a reluctant ally. He is the star here, a fully formed character that brings levity while remaining pure human. He will win awards for this and deservedly so. Jones plays the monster (He always plays the monster. Might as well let him play all the monsters) but he does something new here. He's been del Toro's beast muse before, playing both the Faun and the Pale Man in Pan's Labyrinth among many others. He is a master at physical acting, telling story with nothing but movement. But in the past, he would frequently over-embellish. His performances would be exaggerated and theatrical. But here with his Amphibian Man, Mr. Jones does nothing flashy. He keeps it grounded and subtle. Weird as it sounds, his giant frog man is a natural performance, expertly delivered.
The one cause for concern is how the film shifts gears in tone. I was perfectly fine with it, took as part of the del Toro messing of all he knows and loves but it may throw some people. Things go from cute and light-hearted to gruesome and violent, quick and jolting. The violence is heightened by this shift making it shocking and unsettling. This is by design but may limit audience. Or slap those looking for a fun night out right in the face. I would argue that del Toro is absolutely fine with that.