Movie Reviews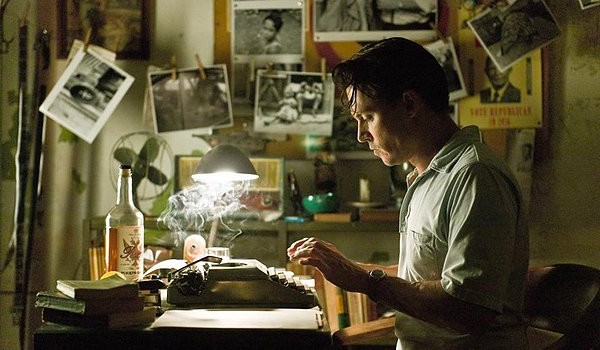 Published on October 28th, 2011 | by dvdpinson
0
The Rum Diary Review


There was a time early in his career when Hunter S. Thompson was not yet familiar with the smell of bastards. "The Rum Diary" presents the period before the drugs began to take hold. This booze soaked story, based on Thompson's second novel, takes place before Nixon and the Hell's Angels, before Las Vegas and gonzo journalism. And while Thompson had already tapped into the fear around him (nothing pre-dates the fear), "The Rum Diary" shows us how the Great American writer began to loathe it.
It is 1960 and we meet up with a hung-over journalist named Paul Kemp. Kemp acts as Thompson's alter ego in this pseudo-auto-biographical tale and is played by Thompson's professional doppelganger, Johnny Depp. As he is known to do, Thompson pulled from real life events and liberally sprinkled fiction throughout. While Kemp moves from New York to San Juan, Puerto Rico to write for the San Juan Star, Thompson traveled to San Juan, Puerto Rico from New York to write for a failing sports newspaper. Facts mixed with various degrees of inebriation makes up the twisted narrative.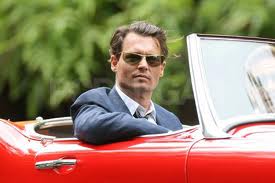 Once in Puerto Rico, Kemp makes quick friends with a fellow beat journalist, Sala (Michael Rispoli) and is given the tough assignments like cobbling together the daily horoscope and covering vacationing schlubs at the local bowling alley. It becomes clear that Kemp is supposed to stay clear of any hard hitting topics and paint a serene picture of a vacation getaway. When industrious blowhard, Sanderson (Aaron Eckhart), proposes Kemp work with him on a spin campaign that borders on illegal deceit, Kemp begins to see the dark underbelly of the American Dream. It is this realization, weaved together with copious amounts of liquor and a nice touch of heartache involving a pin-up pretty named Chenault (Amber Heard), that sends Kemp on his path of scathing cynicism.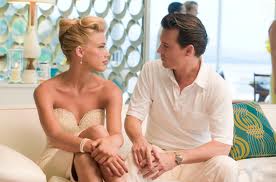 Depp is, in essence, returning to the madman character he made popular in "Fear and Loathing in Las Vegas". That film is set over a decade after this in the early '70s, with Depp as Raoul Duke (another Thompson double) rumbling and mumbling his way through the sinful city. Depp's Kemp is not nearly as far out there but shows glimpses and the beauty of his performance are the little flashes of the man that was to come. Here Thompson was on the precipice, with a light drinking problem and tendency to observe more than participate. He hadn't taken up arms yet and was only just figuring out who his enemies were. Nixon makes a cameo, shown debating JFK in what would be a losing attempt at the presidency, and Kemp calls him a liar and a fraud. This is just the beginning as Thompson would eventually name "Tricky Dick" as his arch enemy and follow him as a political commentator for the counter culture in his novel "Fear and Loathing on the Campaign Trail '72". The two would eventually meet, only to discuss football in a limo on the way to an airport.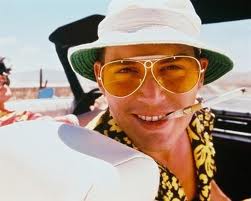 It is inevitable to compare "The Rum Diary" to "Fear and Loathing in Las Vegas" as the two are companion pieces. "Diary" does not have the spirit and sense of adventure that "Vegas" has, playing more like a dramatic travelogue than a circus sideshow. Both films suffer from being episodic, with hit and miss elements found in either. Director Terry Gilliam was a perfect match for the visual and twisting world that Thompson made for himself after the Summer of Love. In "The Rum Diary," Bruce Robinson takes a straighter, pedestrian approach that fits the burgeoning writer. Many stretches are filmed with a handheld camera that sticks you directly into the situation and the film bears faded colors that give it a definite '60s feeling. The antics are slight but have a wonderful playfulness; "The Rum Diary" just isn't nearly as quotable and energetic as "Vegas" and probably won't find the cult status that film enjoys.
Themes are shared as Thompson's gist in both stories was his constant search for the elusive American Dream. Every time he went looking, he always found something sad and sinister waiting. "The Rum Diary" shows us the beginning of this realization that would send Thompson on his insane and wonderful trip. Fans of the man will not be disappointed but everybody else might have issue.