DVD/Blu Ray Reviews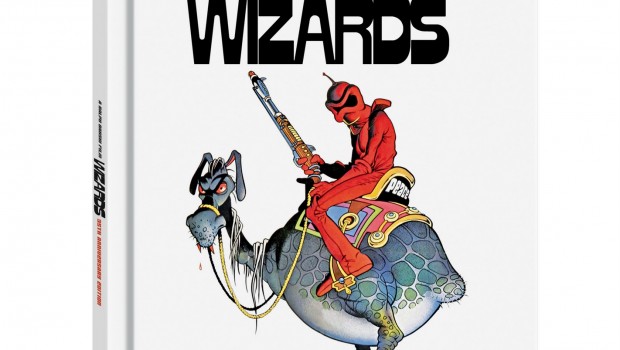 Published on March 13th, 2012 | by dvdpinson
0
The 35th Anniversary of "Wizards" Available on Blu-ray March 13th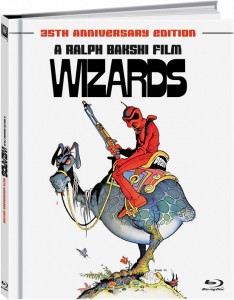 While watching "Wizards" think to yourself "Thirty-five years ago, this is what a PG rated movie for kids looked like." The high Fantasy Sci-Fi flick features fratricide, loads of violence and a half-fairy princess nearly falling out of what little clothes she has draped over her voluptuous body. And the Conservatives don't think they're winning…? Now you get a PG-13 if you light up a cigarette.
Of course this is a kid's movie made by the famed Ralph Bakshi, the auteur who directed "Fritz the Cat," the counter-culture cult classic that bears the distinction of being the first animated film to be given an X rating. "Wizards" holds a few distinctions of its own as it was the first animated to be released by Fox Studios and was produced on the lot in 1976 along side another high Fantasy Sci-Fi flick called "Star Wars". In fact Mark Hamill, a.k.a Luke Skywalker, lends his voice to "Wizards" as the scrappy leader of the fairies named Sean.
All of this information can be found in the 24 beautiful pages of factoids and artwork that accompanies the 35th anniversary Blu-ray release of the film. I don't want you to think I'm some super-smart expert on 70's family films only to find out later, once you purchase "Wizards" and check out the notes for yourself, that I am a charlatan.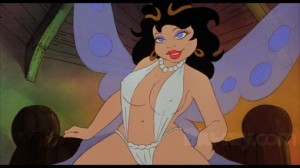 "Wizards" was Bakshi's take on the Tolkien mythology, his effort to make an American modern fairy tale with plenty of nonconformist views sprinkled in for good measure. Funny that the filmmaker riffed on Tolkien and then chose "Lord of the Rings" as his next project, which was released a year later in 1978.
The film takes place on Earth 2 million years after a nuclear war has decimated everything. From the ashes rose the ancestors of man; wizards, fairies and elves who live in the lovely land of Montagar. Meanwhile, there is an uprising in the wastelands as mutants are beginning to unearth relics from the past and learning to utilize the dread "Technology".
The final battle is between twin wizarding brothers: the kind and gentle Avatar (Bob Holt – original voice of "The Lorax") and his mutant brother, Blackwolf. There are swords and sorcery and a few bright spots of comedy, none funnier than the classic "Fritz!! They killed Fritz!" bit.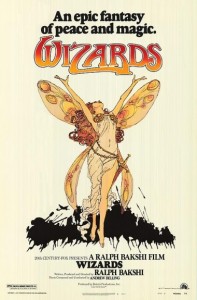 While the film feels dated and fragmented in spots it is important to remember that Ralph Bakshi made his name in Hollywood as something that could not really happen nowadays: He was a genuine Independent Animation Filmmaker. The resources needed to make a full-length cartoon film are unbelievable and he was able to make a small library of them on his own terms.
His works are subversive and challenging, the anti-Disney, and any shortcomings can easily be blamed on limitations of budget. My personal favorite is easily "American Pop," an epic drama that follows a family's blood for nearly a century and tells the story through the evolution of music.
As for "Wizards," the film isn't perfect but it is an illustration of unique and personal storytelling in a genre that usually never allows such things.
The 35th Anniversary Blu-ray features a descent transfer. The original must have some flaws because there are some fading and scratch issues throughout.
The disc also features:
24-Page Collectible Book Packaging
Commentary by Director Ralph Bakshi
Ralph Bakshi: The Wizard of Animation
Still Gallery
TV Spot and Theatrical Trailers