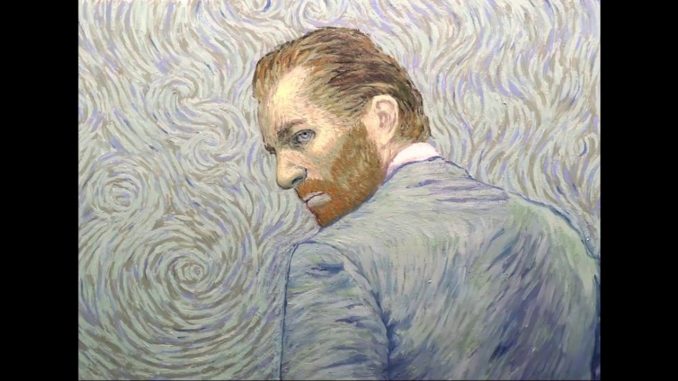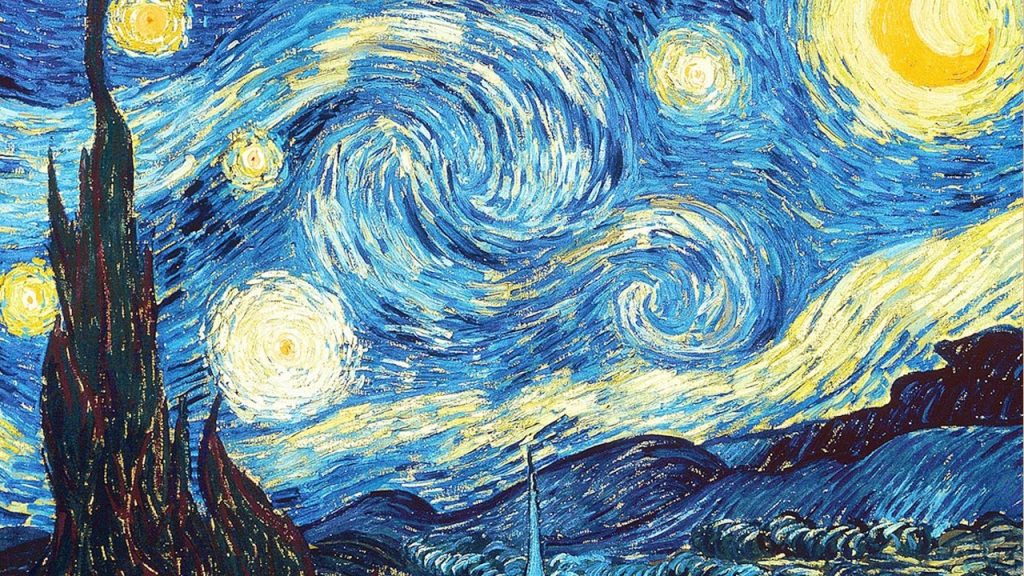 The film opens in San Diego on Friday, October 13 at the Landmark Ken Theater.
Tiffanie Mang, one the film's painters is from San Diego and will be doing a Q&A at the theatre on opening night.
The Cinemastance Review
I cannot write a standard movie review for Loving Vincent. It's not a standard film by any angle of the imagination. It is a true "Motion Picture." A work of art; unfolding on the screen. Alive and beautiful. Something to behold. And as art, it is a miracle. But as a narrative film, telling a story while suspending disbelief, its lacks finesse.
Not that it matters. You have got to see this.
The Story of how the film was made is The Story. Every frame hand-painted in the style of Vincent Van Gogh. Seamlessly hand-painted in the style of Van Gogh. Over 65,ooo paintings shown at 12 frames a second. Hundreds of actual Van Gogh paintings used as templates. It is unbelievable and unlike anything you have ever seen.
And I found the style incredibly distracting. I was never able to become unaware of what I was watching. The images, while beautiful, were often jolting and took me out of the film's story as a constant.
The story is interesting. A young man, looking to deliver a letter of the now deceased Van Gogh, pieces together the final days of the artist. What if he didn't commit suicide but was murdered? It's a compelling theory and it is completely lost by the execution of the idea. Style over substance in a most profound way.
It will be compared to the Richard Linklater's films Waking Life and A Scanner Darkly and they are cut from the same cloth. While Linklater used new technology to create a dream on the screen, Loving Vincent mixes that technology with one of the oldest forms of art there is.
It is a love letter to a master. In better hands, it could have been a masterpiece.
Loving Vincent is the world's first fully oil painted feature film.
125 painting animators worked on Loving Vincent (click for a video)to create the 65,000 frames of the film on canvas.
Loving Vincent had a 7 year production journey – director Dorota Kobiela had originally planned it as a short film.
Loving Vincent began development in 2008, and involved several years of testing and training before painting on the shots used in the final film began.
The Loving Vincent team produced 377 design paintings in the early testing stages.
5000 artists applied to work on Loving Vincent. Selected painting animators had to successfully complete a 180 hour training program to then start work.
A Kickstarter campaign was launched in 2014 to fund part of the painters training process.
Loving Vincent was first shot as a live action film with actors who worked on sets specially constructed to look like Van Gogh paintings, or against green-screens. Then this reference footage was used to hand-paint the film frame-by-frame in oils.
125 painters, 65,000 frames, 6,500 tubes and 1,300 liters of Royal Talens paint were used in the making of the movie.
The team decided to make Loving Vincent in the Academy ratio as it is closer to the composition of most of Van Gogh's paintings.
12 frames of individual oil paintings make up each second of Loving Vincent, with 65,000 paintings forming the entire film.
The painters spent up to 10 days painting one second of film.
Each frame was painted 67cm by 49cm on canvas and was recorded with a Canon 6D digital stills camera at 6k resolution.
The majority of the painting animators worked in a studio in Gdańsk (Poland), but there were also smaller teams of painters in Wrocław in Poland and in Athens, Greece.
Each painter worked inside a Painting Animation Work Stations (PAWS) designed especially for the project. There were 97 PAWS in 3 studios in 2 countries.
Vincent van Gogh created over 860 oil paintings and 1000+ drawings in just 9 years, and 120 of them were incorporated into the film.
For some scenes in the film, like Vincent's early life, there obviously weren't any paintings of his painters could draw from. So the team decided to paint these flashbacks in black and white, in the style of photographs from the era.
Vincent van Gogh wrote over 800 letters during his lifetime, and many direct quotes from them are included in the film.
Vincent van Gogh only decided to become an artist aged 28. He died aged 37.
Van Gogh's Wikipedia page is among the most edited Wiki pages of 2016, with 3,551 edits
Vincent van Gogh cut off his ear in 1888 after a fight with his artist friend Paul Gauguin, who was living with him in Arles at the Yellow House.
While in Arles, Van Gogh completed nearly 200 paintings in just 15 months, many of which are now among his most recognizable images today.
Loving Vincent's Dorota Kobiela was named as one of Variety's 2017 '10 Animators to Watch'.
Before they began writing the script, Dorota Kobiela and Hugh Welchman read 40 different publications about Vincent and visited 19 museums in 6 countries to view around 400 Van Gogh paintings.
The opening shot of the film, descending through Van Gogh's The Starry Night, contains over 600 paintings and took three painters a combined total of 14 months to paint.