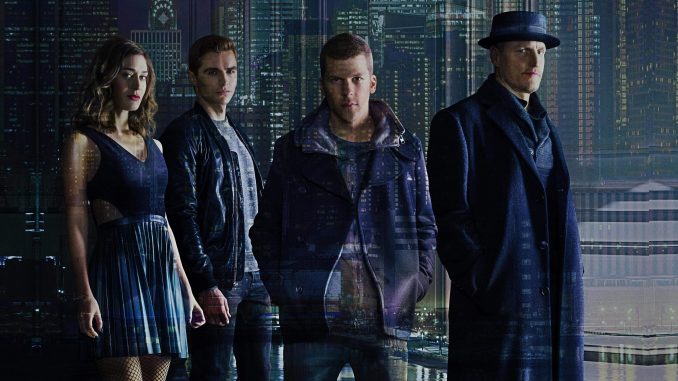 Oh boy, oh boy. This is among the busiest weeks I've ever had to write about – there are more than 20 new releases arriving in a wide variety of genres. It's exhausting, but I'll do my best to summarize what is coming your way. As always, click on any links to read more about some of the titles. So if you can't make it out to the movies this week, be sure to give one of these titles a try!
Big New Releases!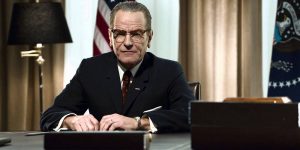 All the Way – While technically an HBO made-for-cable movie, this recent effort features an all-star cast and garnered critical raves that make it worthy of a mention here. Based on an award-winning play, this is a biopic about US President Lyndon B. Johnson and his early days in the White House after the Kennedy assassination. It has been called a powerful and well-acted drama with some interesting historical insights on its subject. It features Bryan Cranston as Johnson, as well as Anthony Mackie, Melissa Leo, Bradley Whitford, Aisha Hinds, Frank Langella and Stephen Root.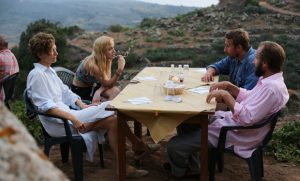 A Bigger Splash – This independent arthouse film follows a rock musician vacationing with her partner in Italy. Complications arise when a record producer/old boyfriend arrives with his daughter and romantic sparks are reignited. Reviews were good overall for this drama/thriller. While some didn't think the performances or dramatic tones meshed particularly well, the majority were captivated by the charismatic lead performances; most felt the actors were strong enough to earn the movie a recommendation. The cast includes Tilda Swinton, Ralph Fiennes, Matthias Schoenaerts and Dakota Johnson.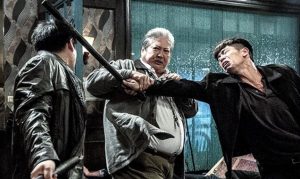 The Bodyguard – If you've ever watched old Hong Kong kung-fu movies from the 80s, then the name Sammo Hung is likely familiar… he's appeared in many of the genre's best efforts. He returns to the big screen to star in and direct this tale of an elderly bodyguard suffering from dementia. When he befriends a young girl targeted by the mafia, the retiree struggles to regain his fighting skills and save the day. While many members of the press were happy to see Hung back on camera, most felt that the story wasn't up to snuff and found the editing choppy; the performer's fans may be disappointed with the end result.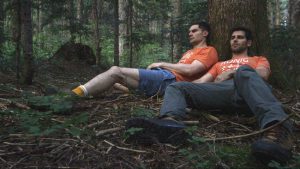 Buddymoon – After being left at the alter by his bride-to-be, a groom decides to go on his planned honeymoon with his best man instead. Together, they backpack through the mountains of Oregon, encountering unusual strangers while trying to sort out how his relationship suddenly fell apart. Notices were solid for this independent comedy; while a few wrote that the movie was too slight, more stated that it was short and zippy, featuring endearingly quirky characters and some genuine, funny moments. David Giuntoli and Flula Borg play the two buddies trekking through the wilderness.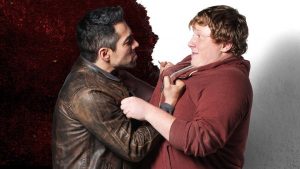 Compadres – Here's another buddy-comedy. This English-language, Mexican production involves a cop out for revenge on the crime kingpin who set him up and sent him to prison. The policeman decides to force a San Diego businessman and a teenage computer hacker to help him get the villain out in the open, leading to plenty of bickering within the group. Reviews were pretty tepid, saying that while it featured a few laughs here and there, it was overcomplicated and unnecessarily violent for a humor-filled lark. It stars Omar Chaparro, Joey Morgan, Eric Roberts, Kevin Pollack, Erick Elias and Aislinn Derbez.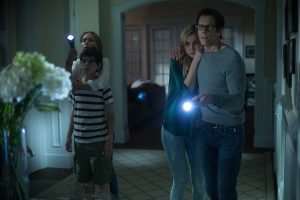 The Darkness – In this horror flick, a supernatural force residing in the Grand Canyon follows a vacationing family back home and seeks to tear their home to pieces by using their worst fears and insecurities against them. This effort comes from producer Jason Blum (the Insidious, Paranormal Activity and Purge series), but didn't make a good impression with critics. They hated it, suggesting it was a forgettable flick that borrows heavily from other ghost flicks without actually delivering any real scares. The cast includes Kevin Bacon, Radha Mitchell, Matt Walsh and Jennifer Morrison.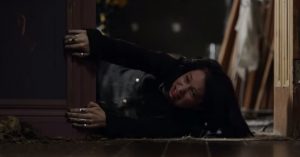 The Dead Room – Looking for more ghost tales? You can also try this chiller from New Zealand about a family who flee their home after being tormented by an evil spirit. Skeptical scientists are sent in to investigate and soon find that they should have taken the clan's claims of a haunting more seriously. There aren't any notices on this side of the ocean, but those that have popped up online haven't been complimentary – many criticized the performances as being uneven and complained that the story was routine. It features Jed Brophy, Jeffrey Thomas and Laura Petersen.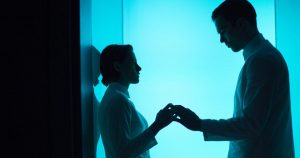 Equals – This sci-fi effort is set in a strange future world where emotions no longer exist. Two citizens come into contact with a disease that brings their sentiments and passions bubbling back to the surface. Unfortunately, write-ups were quite poor for this dramatic effort. Most acknowledged that the production looked impressive, but felt that it suffered from the same conditions of its characters; it was flat, bland, rather slow-moving and ponderous overall. The movie stars Kristen Stewart, Nicholas Hoult, Guy Pearce, Bel Powley, Scott Lawrence and Jacki Weaver.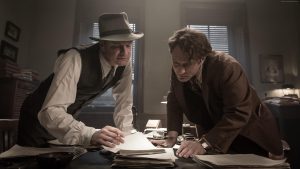 Genius – Based on the life of world-renowned book editor Maxwell Perkins (responsible for discovering authors Ernest Hemingway and F. Scott Fitzgerald), this biographical drama follows the man and his interactions with giants within the publishing world. It doesn't exactly sound like dynamic material and the results split reviewers. They found the cinematography striking and complimented the movie for bringing attention to classic literature, but admitted that the story painted its protagonist in such an angelic light that the entire enterprise becomes difficult to buy into. At least it has a great cast that includes Colin Firth, Jude Law, Nicole Kidman, Laura Linney, Guy Pearce and Dominic West.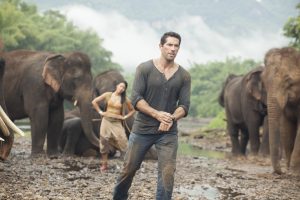 Hard Target 2 – 23 years sure is a long time to wait for a sequel. To be fair, this isn't really a direct follow-up to the Jean-Claude Van Damme action flick, just a straight-to-DVD low-budget knock-off with the same concept. This time out, a retired mixed martial arts fighter is offered a fight in Myanmar. When he shows up, he realizes he's been duped and is the human target of a group of wealthy hunters out to kill. Don't expect a whole lot from this one. At least familiar faces like Scott Adkins, Robert Knepper, Rhona Mitra and Temuera Morrison appear in the feature.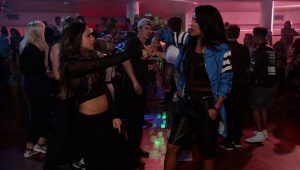 Honey 3: Dare to Dance – And here's yet another sequel that few were asking for. Again, this is a direct-to-DVD effort that is a sequel in name only to the 2003 original and features an all new cast. The plot follows a college student in Cape Town who rents a theater in order to put on a hip-hop dance show based around Shakespeare's Romeo and Juliet. Lower production values will probably result in a substandard product, but at least it won't cost much for interested parties to rent. It stars Cassie Ventura, Kenny Wormald, Dena Kaplan and Bobby Lockwood.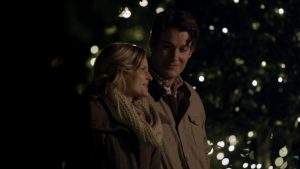 In-Lawfully Yours – A divorced woman decides to move in with her small town, widowed mother-in-law and ends up falling in love with a local pastor. As the relationship blossoms, her ex reappears in an attempt to win her back. This faith-based romance flick was also made exclusively for the DVD market, so there are no critic reviews for the picture at present. It features Marilu Henner, Corbin Bernsen, Chelsea Crisp, Philip Boyd and Joe Williamson. Co-star Bernsen is also a producer on the feature.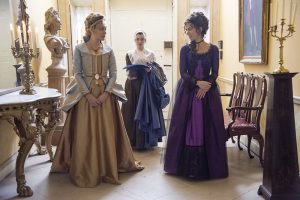 Love & Friendship – This period comedy based on the Jane Austen novella was an arthouse hit at theaters and received a fantastic reception in the press. It involves a beautiful widow and her daughter who travel through high society and attempt to set themselves up with new husbands. Naturally, they attract numerous suitors, adding various complications to the plot. The movie was uniformly praised for being an effective take on the original story that emphasizes biting humor and witty banter over passion. Kate Beckinsale, Chloe Sevigny, Xavier Samuel and Stephen Fry headline the feature.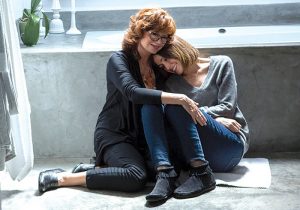 The Meddler – After her husband passes away, a mother relocates to Los Angeles to be close to her struggling screenwriter daughter. The constant attention and unsolicited advice becomes overwhelming for the offspring, leading to comic squabbling between the pair. Critics were quite positive about this indie effort. There were some write-ups that complained about abandoned subplots and a few clichés, but the majority found the cast charming and enjoyable to watch. It stars Susan Surandon, Rose Byrne, J.K. Simmons, Jerrod Carmichael and Cecily Strong.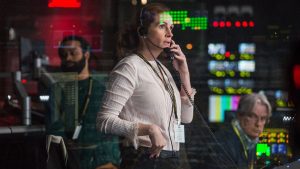 Money Monster – A Wall Street TV talk-show host finds himself in hot water when a financially ruined viewer shows up at the studio and holds everyone hostage. As the host and producer try to investigate the details of what happened, they uncover some nasty trading practices. leading to a crisis of conscience. The movie split the press, although a few more gave it a passing grade. Half found it suspenseful and the subject matter relatable. The rest concluded that it was too contrived and preposterous to take seriously. George Clooney, Julia Roberts, Jack O'Connell, Dominic West and Giancarlo Esposito take on the leading roles. To read the site's full review, click here.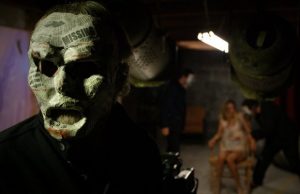 The Neighbor – This horror flick is about a young man living in the Mississippi backcountry. When his girlfriend disappears, he begins to suspect his neighbor of having kidnapped her. After breaking in, he learns the truth and must struggle to find his way out of the creepy house. There haven't been any reviews yet for this title, but it comes from the writer/director behind The Collector series, so that may add a little bit of interest for fright film fans. Cast members include Josh Stewart, Luke Edwards, Bill Engvall and Alex Essoe.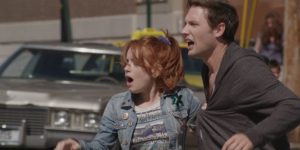 Night of the Living Deb – Zombie-themed romantic comedies don't come around too often (in fact, only a couple come to mind offhand). This addition to the subgenre tells the story of a woman who has a brief, drunken fling with a stranger; her walk home the next morning is complicated by a full-on undead apocalypse. Apparently, the screenplay won the second season of Project Greenlight. Notices were reasonable, calling it a sweet if somewhat slight effort that provides a few effective gags here and there. It features Maria Thayer, Michael Cassidy, Ray Wise and Chris Marquette.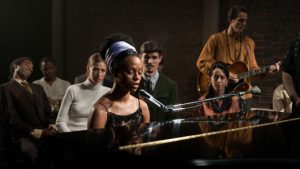 Nina – Last week saw the release of a very notable documentary about the life of musician and activist Nina Simone. This week, a narrative biopic arrives with big names in its cast. The plot focuses on the woman, as well as her bouts with depression and alcohol abuse. It also emphasizes her relationship with a manager, who helped the performer overcome adversity. Unfortunately, the movie was widely panned and despite being filmed in 2012 only received a limited release just a few months ago. It has been called an awkwardly staged, hammy and ineffective misfire. Now viewers can decide for themselves. Zoe Saldana, David Oyelowo, Mike Epps, Ella Thomas and Ella Joyce headline the feature.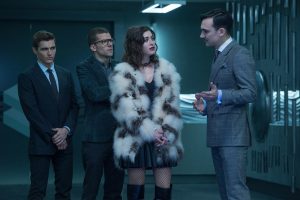 Now You See Me 2 – The biggest grossing film of the week is this summer sequel about a band of outlaw magicians (if that is such a thing) who use their stage illusions to pull off incredible feats. They meet their match in a tech prodigy who attempts to blackmail them into pulling off a big heist. While it made money, reviewers weren't wowed by the onscreen antics and the bulk of them disliked the film. Their problems appear to be the movie's increasingly ridiculous events as well as the emphasis on computer imagery instead of actual slight-of-hand magic. It stars Jesse Eisenberg, Mark Ruffalo, Woody Harrelson, Lizzy Caplan, Daniel Radcliffe, Dave Franco, Morgan Freeman and Michael Caine.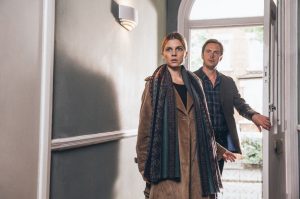 The Ones Below – Here's a little suspense film from the UK that wasn't seen by many but got some good notices from the press. It's about a couple awaiting the birth of their first child and living in a tiny apartment flat. Unfortunately, their new downstairs neighbors begin to cause them problems and psychological games ensue. While reviewers found it got a little silly towards the close, most described the movie as an effective slow-burn thriller with some nifty twists. The cast includes Clémence Poésy, David Morrissey and Stephen Campbell Moore.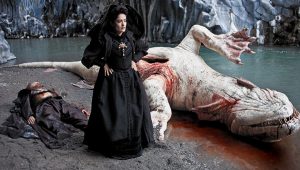 Tale of Tales – Apparently, this co-production from Italy, France and the UK looks like an elaborate storybook come to life. It's based upon the work of Italian author Giambattista Basile, the first person to collect and publish fairy tales like Rapunzel and Hansel & Gretel. The English-language production adapts three of his lesser known fables with their darker, R-rated elements left intact. While it didn't get much of a release in North America, it did earn a great deal of praise from critics in Europe. They called it visually spectacular, as well as dark and disturbing, topping most of the Hollywood fairy tale adaptations seen over the last few years. Sounds pretty interesting. It stars Salma Hayek, John C. Reilly, Toby Jones and Vincent Cassel.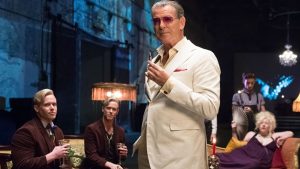 Urge – While partying at an island resort, a group of vacationers try a new designer drug that removes all inhibitions. Unfortunately, that means the group suddenly start endangering themselves and others with bizarre and even violent behavior. Sadly, the movie received terrible reviews that called it a shambles; barely coherent and populated by unlikable characters who were impossible to get behind. Some even suggested it would find itself on several critic's worst of the year lists. Pierce Brosnan, Justin Chatwin, Danny Masterson, Ashley Greene and Nick Thune are featured.
Blasts From the Past!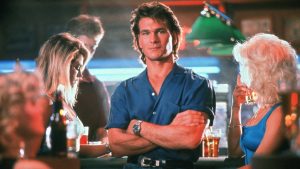 Some really fun stuff to talk about this week. Shout! Factory are bringing a heavy helping of cheese this week with their release of the Patrick Swayze cult item, Road House (1989). It's an over-the-top action flick about a bouncer who takes on a position at the meanest, nastiest bar in Missouri. He also faces off against a corrupt big shot businessman played by Ben Gazarra. Tongue-in-cheek ridiculousness, fisticuffs and monster truck mayhem ensue. Over the years, the flick has developed a devoted following and this new Collector's Edition Blu-ray has more extras than any fan could possibly hope for. Besides a brand new transfer of the film, audio commentaries from director Rowdy Herrington and avowed fan Kevin Smith, there's a second disc full of new making-of documentaries and featurettes on the production, not to mention all of the publicity material and clips from its original release. Sounds like a good time all around.
Kino have some great Blu-ray titles as well. Daddy Long Legs (1955) is a Fred Astaire romance flick that probably isn't easily available today due to its uummm, politically incorrect subject matter. The dancer plays a millionaire visiting France who falls for a young student and anonymously sponsors her schooling. When he returns to check up on her progress, the two come into contact and she falls for him… presumably, they end up dancing with each other a lot.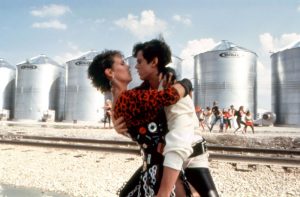 I'm more interested in a couple of smaller 80s flicks from my childhood that Kino are also putting out this week. Grandview U.S.A. (1984) is a coming-of-age film starring C. Thomas Howell. It's about a high school student who joins a demolition derby and becomes romantically involved with the owner, played by Jamie Lee Curtis. Patrick Swayze and Jennifer Jason Leigh are also featured performers in the movie. Hilariously, it also looks like they also threw a musical number into the movie, just for the heck of it.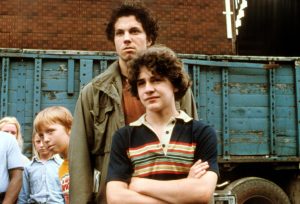 While Grandview U.S.A is certain to bring the cheesy goods, the next flick actually has a good reputation. My Bodyguard (1980) is a well-regarded effort about a awkward teenager being tormented at school by a gang. He hires the meanest, toughest loner around to act as his go-to security – naturally, events escalate and the the odd pair must examine their roles in school society. The film stars Chris Makepeace, Adam Baldwin, Matt Dillon and Joan Cusack. Personally, I'd get a kick out of revisiting these titles in high definition, so I'm sure others out there will be as excited.
With the passing of Gene Wilder last week, Kino have also bumped up the release date of two Blu-ray scheduled for the end of the month. Haunted Honeymoon (1986) is a comedy about a man set to inherit a creepy old castle. He visits and must contend with various eccentric family members, one of whom may even be a werewolf. It is one of the performer's weaker efforts, but may provide fans of the actor with a chuckle or two. The second title is the much stronger The Adventures of Sherlock Homes' Smarter Brother (1975), about the famous detective's lesser-known sibling who attempts to make a name for himself as a crime-solver.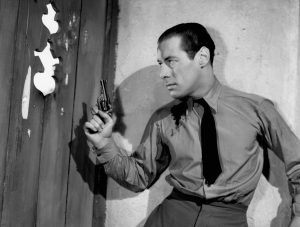 Criterion also have a Blu-ray coming your way. Night Train to Munich (1940) is a highly acclaimed thriller with a dose or dark humor that was directed by the great Carol Reed (The Third Man, Our Man in Havana). This one involves a Czech scientist and his daughter who are pursued by Nazis. After they are captured, a British spy attempts to free them while they travel to Munich on a speeding locomotive. The disc includes a new, high definition transfer an essay and a filmed conversation on the movie by scholars about its importance in cinema history and its politics (since WWII had just begun in Europe and plot elements were very contemporary at the time of release).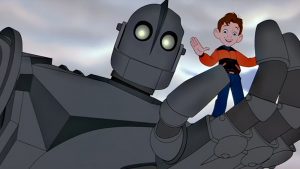 Warner Bros are releasing a Signature Edition of the beloved animated feature, The Iron Giant (1999). It's about a young boy who befriends a giant robot from outer space. The child decides to protect him from fearful and violent government agents. Harry Connick Jr., Jennifer Aniston and Vin Diesel provide some of the voices. This is a sweet and very effective feature with striking visuals. It also marks the directorial debut of Brad Bird (who would later make The Incredibles and Ratatouille for Pixar). The Blu-ray includes two cuts of the feature, an all-new documentary about the production, multiple commentaries and making-of featurettes as well as other extras. If you're a fan of animated films, this is probably a must-own.
And that's not all. Paramount have a special (and expensive) Blu-ray box set hitting store shelves this week. It's called the Star Trek 50th Anniversary Movie Collection. It includes all seasons of the original series (with William Shatner and Leonard Nimoy), the 70s animated program in its entirety, as well as the feature films with original cast members, spanning from the 1979 original to the sixth film in 1991. The set also comes with over 20 hours of bonus material, including a brand new documentary on the anniversary of the brand and its cultural impact.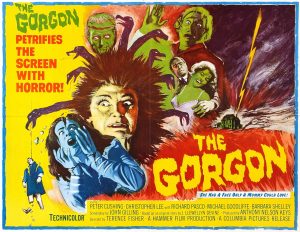 But that's not all. Mill Creek also have a nifty pair of Blu-rays. They're called the Hammer Film Double Features and each include two theatrical releases from the UK production company. One disc has The Revenge of Frankenstein (1958) & The Curse of the Mummy's Tomb (1964), while the other contains The Two Faces of Dr. Jekyll (1960) & The Gorgon (1964). These old Hammer Films are always a lot of fun and for a very low price point will provide plenty of entertainment for horror fans. Of course, look out for Peter Cushing and Christopher Lee; they pop up in a couple of the flicks.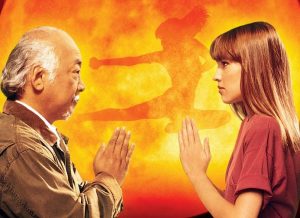 Finally, Sony have given the high definition treatment to The Karate Kid Part III (1989) and The Next Karate Kid (1994). Truthfully, The Karate Kid series was already well past its prime by this point in the late 80s and early 90s. At least the third film is more of a direct follow-up to the original, featuring one of the original bad guys returning to cause more trouble for the protagonists. As for the fourth title, it wasn't a big hit, but it does feature the first starring role for Oscar-winner Hilary Swank – she plays the title character. Fans of the series or interested parties can now enjoy these titles in high definition.
You Know, For Kids!
Here are some new releases that young children may enjoy.
The Cat in the Hat Knows a Lot About Halloween
Daniel Tiger's Neighborhood: You Are Special, Daniel Tiger!
Dennis the Menace: The Complete Series
The Iron Giant: Signature Edition (1999)
On the Tube!
Finally, there are some really interesting TV-themed titles arriving this week. As a horror fan, one can't help but be curious about the two 80s horror anthology series being re-released at a lower price. Looks like they could provide some nostalgic thrills for fans of . One can only hope Wes Craven's short-lived Nightmare Cafe (1992) will eventually get a release as well.
All the Way (HBO)
American Crime Story: The People vs. O.J. Simpson
Charlie's Angels: The Complete Series
Coach: Seasons 1 & 2 Combo
CSI: Cyber: Season 2
Dennis the Menace: The Complete Series
The Flash: Season 2
Friday the 13th: The Series: The Complete Series (aka Friday's Curse)
Friday Night Lights: Season 1
Friday Night Lights: Season 2
The Hunt (BBC Earth)
Karen Kingsbury's The Bridge: The Complete Story (Hallmark)
Limitless: Season 1
Necessary Roughness: The Complete Series
Rectify: Season 3
R.L. Stine's Mostly Ghostly: One Night in Doom House
South Park: Season 19
Supernatural: Season 11
Tales From the Darkside: The Complete Series