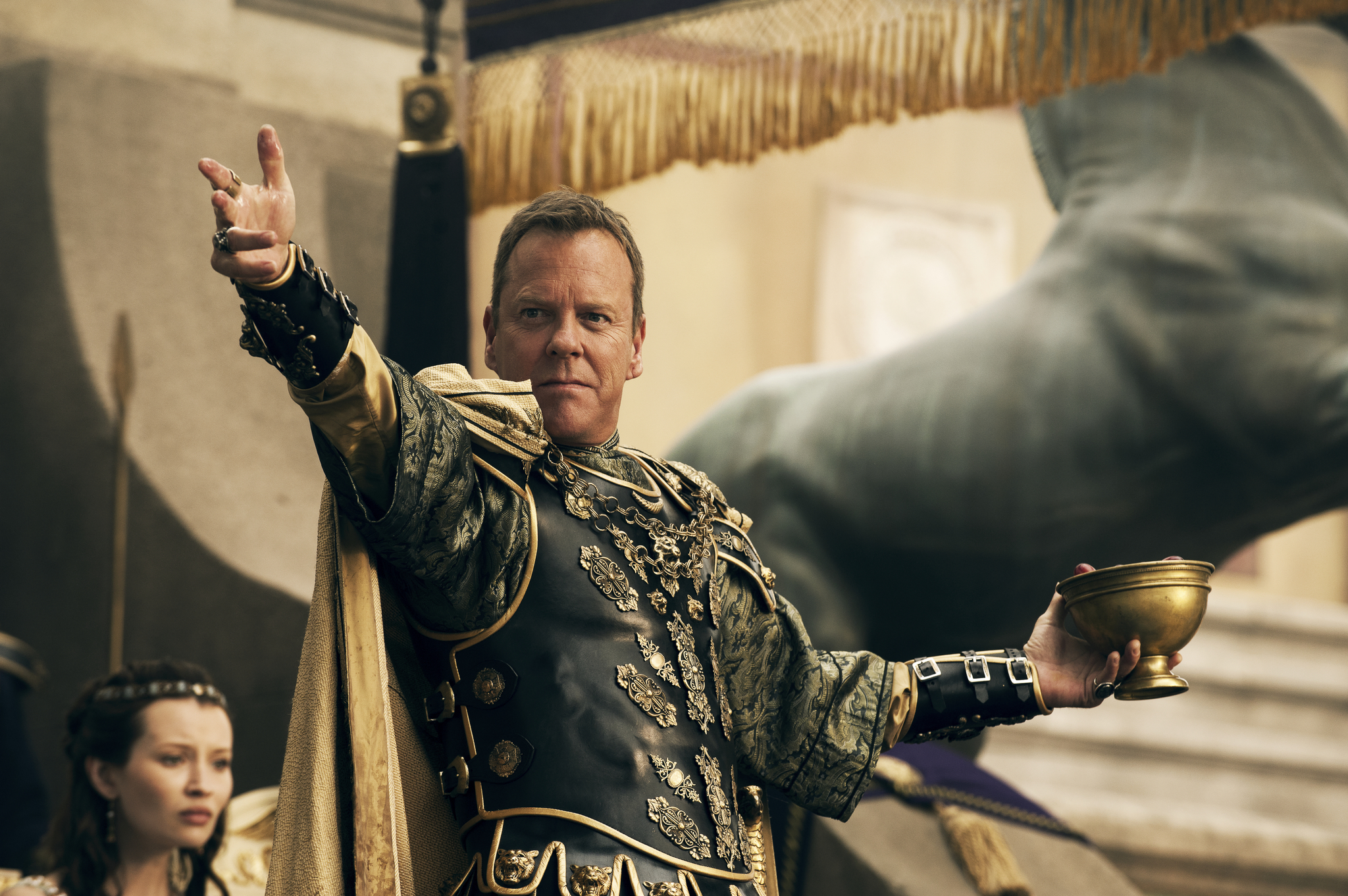 It's a very busy week on the home video front. In fact, there's no time to waste in getting to the highlights. As always, if you want to read more detailed reviews of some of the films listed, be sure to click on the links. So, if you can't make it out to the movies this week, be sure to read ahead and check out some of these efforts.
Big New Releases!
3 Days to Kill – A terminally ill CIA agent takes on one last job and attempts to repair a relationship with his teenage daughter in this action comedy that under-performed at the box office. Critics weren't all that taken with the quality of this effort either. While a few found it to be ridiculous fun with some good action thrown into the mix, most didn't find it amusing and took issue with the attempts at family drama amidst the comedy. Kevin Costner, Amber Heard, Hailee Steinfeld and Connie Nielsen star.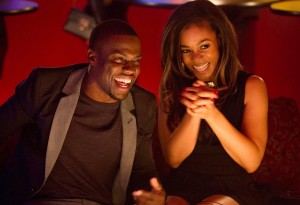 About Last Night – This romantic comedy bares little resemblance to the original 1974 play by David Mamet (Glengarry Glen Ross) or the first filmic adaptation starring Rob Lowe way back in 1986. Regardless, it found an audience and became a minor hit at movie theaters. The plot follows the ups and downs in the romantic lives of two couples. Kevin Hart, Regina Hall, Michael Ealy and Joy Bryant headline the cast. The movie received decent notices, with most reviewers suggesting that while the story was formulaic, it successfully accomplished it rom-com goals thanks to a very likable cast.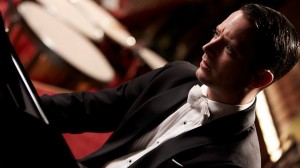 Grand Piano – Oddly enough, one the best reviewed films of the week falls under the category of horror/thriller. A pianist with stage fright realizes he picked the wrong night to attempt a comeback after receiving a message that threatens death if he hits a wrong note. This English-language Spanish flick didn't receive a wide release, but the press did seem to enjoy themselves thanks to the visual panache on display and its slick references to the work of directors Alfred Hitchcock and Brian de Palma. Looks like it could be a fun rental. It features Elijah Wood, John Cusack and Alex Winter.
In Secret – Period drama fans may enjoy this effort set in 19th century Paris, that follows a young woman trapped in a loveless marriage to her cousin. When she begins an illicit affair with her husband's friend, she discovers that her actions may have violent consequences. Elizabeth Olson, Oscar Isaac, Tom Felton and Jessica Lange headline the cast. This effort split critics with many complaining that the approach was too slow and gloomy, while others appreciated its attempt at heavy gothic melodrama.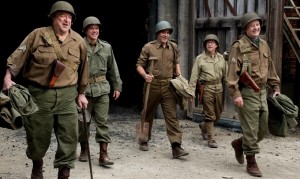 The Monuments Men – The highest profile film of the week is this drama that stars George Clooney, Matt Damon, John Goodman, Bill Murray, Cate Blanchett, Jean Dujardin, Hugh Bonneville and Bob Balaban. They play art historians tasked with retrieving stolen art during the final days of WWII. Despite the great cast, the film was poorly received, with many members of the press calling it well intentioned but unfocused and dramatically flat. Read the site's original full length review here.
Pompeii – This disaster flick follows a young gladiator who falls for a wealthy young woman from a powerful family in ancient Rome. Their love meets its greatest obstacle when the famed volcano erupts. Paul W.S. Anderson (Resident Evil) directs Kit Harington, Emily Browning, Carrie Anne Moss, Kiefer Sutherland and Jared Harris. The Blu-ray features both the 3D and 2D versions of the film. While a few did call it an efficient B-movie, the majority of reviewers described it as a schlocky mess. For this a detailed look at what this website thought, click here.
Raze – Stuntwoman Zoë Bell stars in this exploitation B-movie reminiscent of 70's "women in prison" flicks. She plays a woman who is abducted and forced to participate in a battle to the death with 50 other competitors. The movie received a more negative notices than positive ones, with many citing it as a trashy Hunger Games knock-off with dubious morals and ethics. Still, there were a few who claimed the film was attempting to address issues like the exploitation of women. Now curious viewers can make up their own minds.
The Right Kind of Wrong – This romantic comedy tells the tale of a man desperately trying to ignite a new romance, even after his ex-wife has written a popular blog detailing all of his personal faults. Directed by Jeremiah Chechik (Benny & Joon), the movie stars Ryan Kwanten, Sara Canning, Will Sasso and Catherine O'Hara. It didn't receive much love upon its limited release – critics called it perfunctory at best with others also suggesting that the actions of the hero bordered on creepy.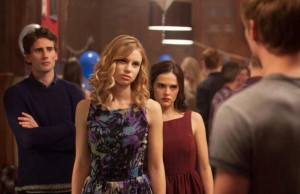 Vampire Academy – Prophecy states that a teenage girl who is half-human, half-vampire will fend off an evil clan of immortal vampires – if she can survive high school. This fantasy-drama-comedy bombed at the box office and is one of the worst reviewed films of the year thus far. The press complained that it was incredibly derivative, dramatically inert and featured terrible dialogue to boot. Ouch! Now viewers can decide for themselves. The cast includes Zoey Deutch, Lucy Fry, Olga Kurylenko and Gabriel Byrne.
Way of the Wicked – There aren't any reviews for this silly looking horror flick, but it's certainly worth a mention. When a series of bizarre killings threaten a small town, an exorcist partners with a detective to face off against the Antichrist. Christian Slater plays the priest, while Vinnie Jones essays the role of police officer. Cheesy movie fans may want to give it a try.
Blasts from the Past!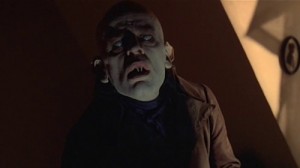 This week's highlight comes from, once again, Shout! Factory. They're bringing Werner Herzog's 1979 horror film Nosferatu: The Vampire to Blu-ray with a beautiful new transfer. The film is something of a creepy cult item that plays like a color homage to the 1922 original. It's a brooding, interpretive remake that some may find slow-moving, but it certainly features haunting imagery and a memorable performance from Klaus Kinski. The Blu-ray features English and German versions of the film and other extras including a couple of commentaries from the director, as well as a featurette. Horror fans should be pleased with the release.
Formula One enthusiasts may want to check out the DVD re-release of Weekend of a Champion. This documentary from 1972 features director Roman Polanski as an interviewer following and speaking with Scottish driver Jackie Stewart over the weekend of the Monaco Grand Prix. Reportedly, it was a very interesting and insightful documentary back in the day. This new release features a re-cut of the film that includes a lengthy 20 minute post-script reuniting Polanski and Stewart after more than 40 years.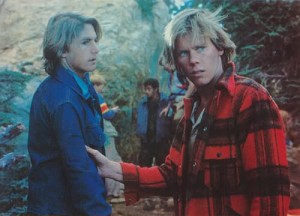 Amusingly, Sony is also releasing a Kevin Bacon Double Feature on DVD that includes the not-so-great 80's flicks Quicksilver and White Water Summer. In the former, Bacon plays a bike messenger who uncovers a murder plot and must pedal his way to safety from drug dealers. The latter features the actor playing an unhinged team-building wilderness instructor who torments a young teen (played by Sean Astin). The collection might provide some nostalgic B-movie yuks. For anyone who is exclusively a fan of Quicksilver, there's already a bare bones Blu-ray on that particular film they can pick up instead.
You Know, For Kids!
It's a little quieter in terms of releases for children, but there are a few notable titles listed below.
Chased by Dinosaurs (BBC Earth)
JLA Adventures: Trapped in Time
Mickey Mouse Clubhouse: Around the Clubhouse World
Sophia Grace & Rosies Royal Adventure
On the Tube!
There's plenty to see on TV in various genres. Perhaps most notable is the release of Season 5 of Happy Days, which features the infamous episode in which Fonzie (and the show) "jumps the shark" – for those who missed this historic landmark in television, check it out below. Be warned: the tension may or may not be palpable.
America the Beautiful: National Parks Collection
Amish Mafia: Season 1
Call the Midwife: Season 3
Dalziel & Pascoe: Season 9
Dating Guy: The Complete First Season
The Dick Van Dyke Show: The Complete First Season (Episodes Only)
Doctor Who: The Enemy of the World
Duck Dynasty: Duck Days of Summer
Facts of Life: Seasons 1 & 2
Garage Sale Mystery (Hallmark TV Movie)
Gidget: The Complete Series
Good Times: Seasons 3 & 4
Happy Days: Season 5
The Jeffersons: Seasons 1 & 2
Mountain Men: Season 2
Nikita: Season 4
Waking the Dead: Season 9
Warehouse 13: Season 5