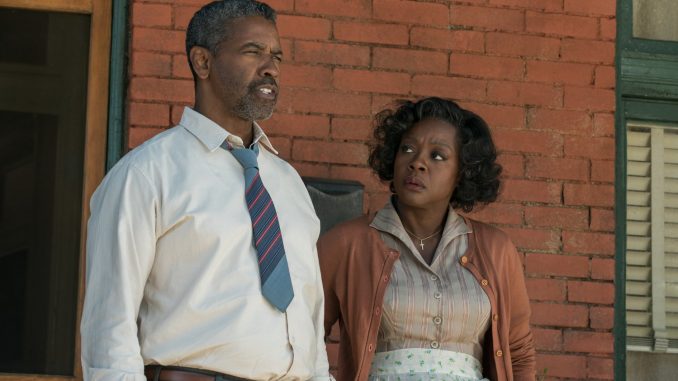 Welcome to another look at some of the highlights arriving on DVD and Blu-ray. As always, there's plenty of choose from with all sorts of features in a wide variety of genres. You can click on any links you see to read full reviews. So if you can't make it out to the movies this week, be sure to give one of these titles a try!
Big New Releases!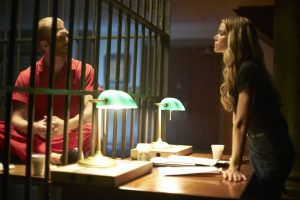 American Violence – In this independent thriller, a world renowned psychologist decides to get at the root cause of violent behavior. As an expert, he's asked to travel to a penitentiary and interview a death row inmate. When the lead learns more about the prisoner and the crime, he must decide whether or not to grant a stay of execution. This one hasn't gotten much (if any) notice, so viewers should set expectations low. It features Bruce Dern, Denise Richards, Kaiwi Lyman-Mersereau, Columbus Short, Rob Gronkowski and Michael Pare.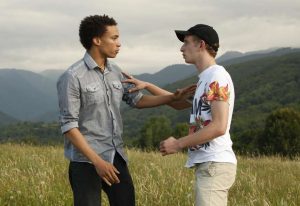 Being 17 – A gay teen living in France with his physician mother finds himself harassed by another student at a new school. Things get even more uncomfortable when the bully's mother becomes seriously ill and the mean teen is invited by the doctor to stay with the family. Reviews were good for this foreign-language feature. Some thought that the material was a bit melodramatic at times, but most felt that it suited the teenage characters and felt that the coming-of-age tale had a lot of interesting interactions between its two young leads. The cast includes Sandrine Kiberlain, Kacey Mottet Klein and Corentin Fila.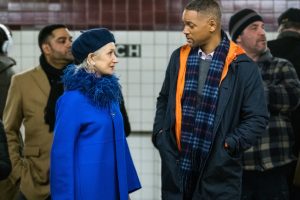 Collateral Beauty – After the tragic death of his child, a Manhattan business executive shuts down emotionally and retreats away from his business partners. In an effort to regain control of their fledgling company, his associates hire actors to pretend to be Time, Death and Love. The performers converse with the entrepreneur in an attempt to help him deal with his loss. This holiday drama ended up on a lot of "worst of the year" lists. Many beleive it completely wastes a talented cast with its bizarre and preposterous storyline – and frankly, I agree with them. The movie stars Will Smith, Edward Norton, Kate Winslet, Michael Pena, Helen Mirren, Naomi Harris and Keira Knightley.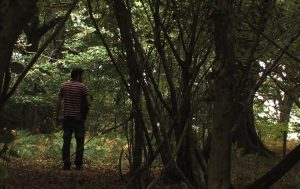 The Creeping Garden – Originally distributed in North America in 2015, this award-winning British documentary is only now making its debut on disc. The unique subject is a life-form that exists in the wood and backyards… slime moulds. Filmmakers talk to scientists about their studies on the subject and how these growths have all sorts of applications, including emergence theory and robot-engineering. It received strong notices, calling it a leisurely-paced but interesting effort with beautiful macro photography that will grow on botany fans. The release is from Arrow Academy and comes with numerous bonus features and extra shorts on the subject.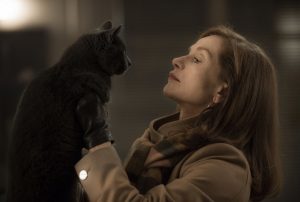 Elle – Isabelle Huppert earned a Best Actress Academy Award nomination for her work in this French thriller. She plays an icy businesswoman with a dark history who is violently raped in her home by an intruder. The woman goes back to her regular routine, but as more incidents follow her personal relationships are examined and suspicions are raised. This one isn't for everyone, but it did earn strong reviews from the majority of the press. A few noted that it was a bit long-winded, but most admired the brave lead performance and appreciated that events played out in a complex manner unlike a Hollywood production. It also features Laurent Lafitte and Anne Consigny. To read a full review click here.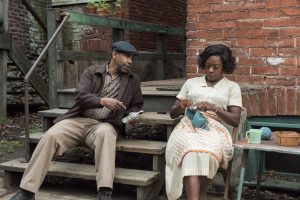 Fences – Here's another title that impressed the Academy. Based on the Pulitzer Prize winning play by August Wilson, this drama is set in Pittsburgh in the 1950s and follows the patriarch of a working class, African-American family. Over the course of conversations with friends and family members, he discusses his life and examines various aspects of it, including race relations. Critics were very positive about the feature. While they admitted that it wasn't as strong overall as its remarkable source material, many though it was a solid adaptation boasting a couple of excellent lead performances, with Viola Davis (who took home an Oscar for her work) standing out in particular. The cast also includes Denzel Washington, Stephen Henderson, Jovan Adepo, Russell Hornsby and Mykelti Williamson.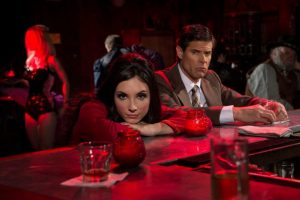 The Love Witch – Using old pulp novels and 60s melodramas as inspiration, this independent horror/thriller involves an attractive young witch searching for a companion. Unfortunately, a spell she places ends up taking effect on several men who end up pursuing her relentlessly. Things get even more complicated when she meets the man of her dreams as she fend off the others. Notices were very good. While a few commented it was overlong, almost all called it a funny, stylized and gorgeous-looking production that offers some deeper themes than one might have initially expected. Samantha Robinson, Gian Keys, Laura Waddell and Jeffrey Vincent Parise headline the feature.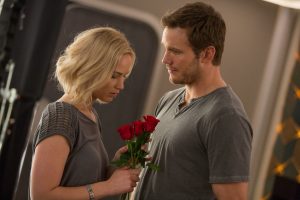 Passengers – This big-budget, sci-fi Christmas release is about a man who is accidentally awoken from hyper-sleep while on a 120 year journey across the universe. Lonely and realizing he's still about 90 years from his final destination, he considers waking another passenger to keep him company. The majority of press members didn't like the movie. There were a few who enjoyed the concept and slick production design just enough to give it a pass, but others found fault in the logic of the story and criticized the forced romance as ridiculous and, well, more than a little bit creepy. It stars Chris Pratt, Jennifer Lawrence, Michael Sheen Laurence Fishburne and Andy Garcia. To read a full review, click here.
Solace – An FBI special agent can't solve a series of homicides and decides to adopt some unique methods in this thriller. He calls an old associate who happens to possess psychic abilities and asks for his assistance. While initially resistant, the friend is compelled to join the investigation after having a vision of the hero's partner being murdered by the criminal. Too bad the filmmakers couldn't read the minds of reviewers well in advance. They panned it, calling the screenplay preposterous and suggesting that the only thing raising it to the level of mediocrity was its talented cast. Anthony Hopkins, Jeffrey Dean Morgan, Abbie Cornish and Colin Farrell play the leads.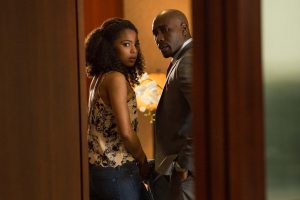 When the Bough Breaks – This suspense picture involves a couple desperate for a baby. They hire a surrogate, but clearly don't do enough in the way of a background check – as the pregnancy advances, the woman becomes psychotic and obsessive about the husband. Critics weren't very impressed by this pulpy thriller. While a few enjoyed it purely on a camp level and thought the stars did their best to make the most of the material, almost all others wrote that the story was completely predictable and that the end result played out like a silly, run-of-the-mill Lifetime TV-movie.
Blasts From the Past!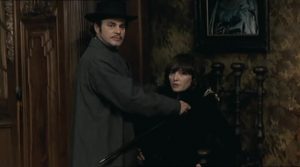 This is an incredible week for classic titles hitting high definition, with a great grouping of noteworthy films. In addition to the recent The Creeping Garden (mentioned earlier) Arrow Academy have a Blu-ray of Story of Sin (1975). This is a Polish feature about a young woman who falls for an older, married man who has been given lodging at the family home by her parents. They begin an affair and he promises to get a divorce after he returns home to Rome. She follows, leading to chaos and tragedy. The disc comes with new restoration from the original negative, shorts from director Walerian Borowczyk, an interview with the lead actor, documentaries on the director's career and other bonuses.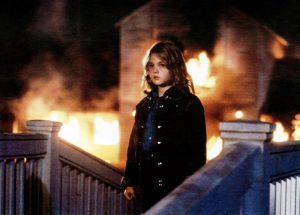 Shout! Factory have some early 80s fun arriving on Blu-ray. Firestarter (1984) is an adaptation of the popular Stephen King novel about an eight year old girl (played by Drew Barrymore) with pyrokinesis. She and her father go on the run from government forces who want to capture the kid and harness her powers. This Collector's Edition release includes a new 2K transfer of the feature, a making-of documentary, and some music-based features that contain interviews with Tangerine Dream member Johannes Schmoelling and a new performance of one of the score tracks. You'll also get publicity materials.
Also coming from the same distributor is the John Milius action picture, Red Dawn (1984). This one features several young stars, including Patrick Swayze, Charlie Sheen, Lea Thompson, C. Thomas Howell and Jennifer Grey as high school students who become guerilla soldiers after the country is invaded. The Collector's Edition Blu-ray includes a 70-minute documentary on the production, numerous archival featurettes and a theatrical trailer.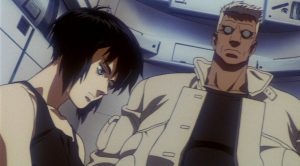 In anticipation of the upcoming live-action adaptation, Starz/Anchor Bay are releasing Ghost in the Shell (1995) on Blu-ray. This landmark animated effort from Japan involves a cyborg policewoman hunting down a hacker about to release a computer virus that could cause mass devastation. It has been released on the format before, so interested parties will have to check out the disc to see if it offers anything new or unique (details haven't been listed as of this writing).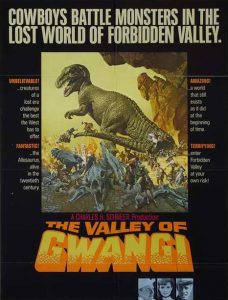 Warner Archive also have a couple of impressive Blu-ray releases. They include Demon Seed (1977), which features an organic supercomputer. The machine becomes obsessed with its creator's wife and plots against the scientist to father its own child with the woman. In addition, the monster-movie The Valley of Gwangi (1969) is also being given the high definition treatment. This one's about some cowboys who make a turn into the wrong valley and find themselves face to face with real dinosaurs. Ray Harryhausen (The Beast From 20,000 Fathoms, Clash of the Titans) created the incredible stop-motion effects.
But that's not all. Criterion have Canoa: A Shameful Memory (1976) arriving on Blu-ray. Based on a true story, this Mexican thriller follows a group of student hiking into a small village. The local priest is less than welcoming. In fact, he accuses them of being communists and rallies locals into lynching the group. The disc features a new 4K transfer of the film and conversations with filmmakers like Guillermo del Toro and Alfonso Cuaron about its importance in cinema.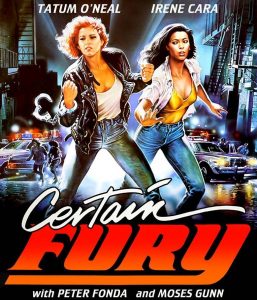 Kino have some old fashioned horror features and a bit of B-movie trashiness coming your way in high definition. Blu-ray titles include the The Bitch (1979) with Joan Collins. Based on the novel by the star's sister Jackie Collins, it's a notoriously stinky film that involves a sexually liberated woman running a trendy disco and facing off against the mob. The distributor is also putting out Certain Fury (1985), featuring Tatum O'Neil, Irene Cara and Peter Fonda. It involves a prostitute and a regular citizen who end up on the run from criminals.
On the British horror front, you can pick up Hammer's The Man Who Could Cheat Death (1959), featuring Anton Diffring and Christopher Lee. It follows a scientist who keeps his youthful appearance by surgically removing glands from his living victims. The Skull (1965) is from Amicus and stars Peter Cushing as a man who becomes possessed by the skull of the Marquis de Sade.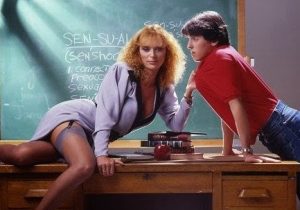 Kino have even more Joan Collins/Jackie Collins silliness with The Stud (1978). This one is just as infamous as The Bitch and involves a nymphomaniac nightclub owner who hires a new manager to satisfy both her business and personal needs. Finally, the distributor is releasing They're Playing With Fire (1984), which casts Sybil Danning as a married college professor who begins an affair with a student. Their relationship is threatened by a murder investigation at school.
Severin have a Blu-ray of the low-budget exploitation horror title, Drive-In Massacre (1976) about a pair of detectives trying to stop a sword-wielding serial killer from terrorizing a drive-in theater. It comes with a director commentary, interviews with cast and crew and a trailer. These also have an interesting Blu-ray compilation of kung fu movie trailers – it's called Return of Kung Fu Trailers of Fury.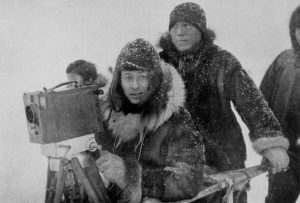 And finally, on a classier note, Icarus are releasing a DVD of A Boatload of Wild Irishmen: The Life of Robert Flaherty (2010), which details the life and career of the famed documentarian who founded the genre and is perhaps best known for the title Nanook of the North (1922). The are also putting out To Tell the Truth: Working for Change (Documenting Hard Times 1929-1941) and The Strategy of Truth (Documentary Goes to War 1933-1945).


You Know, For Kids!
Here are the week's kid-friendly releases coming your way.
Daniel Tiger's Neighborhood: Daniel Visits the Farm (PBS)
Jetsons & WWE: Robo-Wrestlemania
LEGO Ninjago: Masters of Spinjitzu: Season 6
Power Rangers S.P.D.: The Complete Series
On the Tube!
There's plenty of TV-themed releases arriving as well. Read all about them below.
As Time Goes By: Volume 2 (Remastered)
Bridal Wave (Hallmark TV-movie)
CHiPs: Season 5
C.O.P.S.: The Complete Series
Daniel Tiger's Neighborhood: Daniel Visits the Farm (PBS)
Diagnosis Murder: Seasons 6, 7 & 8
Drunk History: Season 4
Hollow Crown: Season 2
Jayce and the Wheeled Warriors: The Complete Series
LEGO Ninjago: Masters of Spinjitzu: Season 6
Marco Polo: The Complete Miniseries
The Mod Squad: The Complete Collection (5 Seasons, 123 Episodes)
Mrs. Bradley Mysteries: The Complete Series (BBC)
Nash Bridges: Season 5
Nash Bridges: Season 6
Newhart: The Final Season
Pee-Wee's Playhouse: The Complete Series
Power Rangers S.P.D.: The Complete Series
Secrets of the Six Wives (PBS)
Secrets of the Sky Tombs (PBS)
Six: Season 1
Stranded by Paradise (Hallmark TV-movie)
Twin Peaks: The Definitive Gold Box Edition
The Unbreakable Kimmy Schmidt: Season 2
Z Nation: Season 3