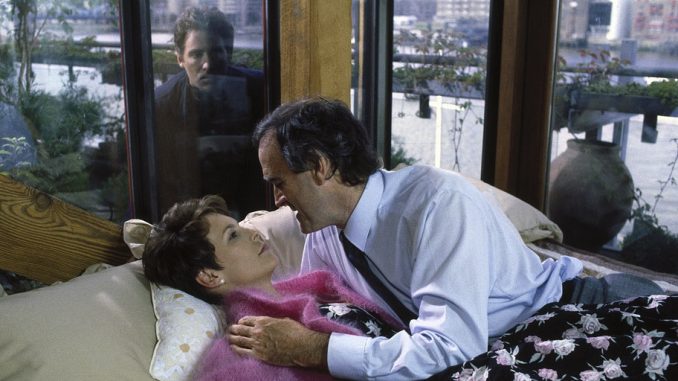 This release from Arrow Video will be available for purchase (www.arrowvideo.com – www.facebook.com/ArrowVideo/) on October 3rd.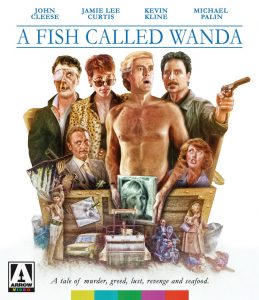 Wow, I feel old. It has been 29 years since the release of the hugely popular, Oscar-winning comedy, A Fish Called Wanda. Perhaps in honor of its upcoming anniversary, Arrow Video have provided a Blu-ray with a 4K restoration of the film from the original negative. Admittedly, the movie isn't exactly remembered for its visuals, but one can see a significantly crisper and brighter image with this new edition. It's the best the movie has looked since its original release. And, well, it's a darn funny flick as well.
For those unfamiliar, the plot involves a gang of crooks plotting a diamond heist in London. The trouble starts immediately after the robbery, when leader George (Tom Georgeson) is set up by members of his own team, leading to his arrest. It is soon revealed that Wanda (Jamie Lee Curtis) and Otto (Kevin Kline) are the responsible party. Unfortunately for them, George has already moved the goods, forcing the pair to try and coerce co-robber Ken (Michael Palin) to talk. To try and learn more, Wanda moves in on George's good-natured lawyer, Archie Leach (John Cleese). Of course, Archie ends up falling for Wanda and gets wrapped up in the crazy plot as it transpires.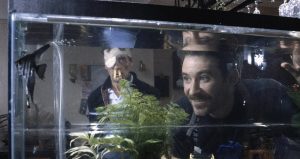 It's a very entertaining feature filled with memorable characters. This includes the crass and not-so-bright Otto, as well as the animal-loving Ken, who ends up accidentally doing horrible things that which he admires. Wanda is equally enjoyable as the true mastermind and Cleese is a very likable, bumbling protagonist. There are so many good scenes that there are almost too many highlights to mention. A lengthy bit involving an unexpected arrival at Archie's home is memorable, as is a hilarious inquisition that involves a character being grilled with chips stuck up his nose and pear in his mouth. Kevin Kline won an Oscar for his part, and Palin earned a BAFTA award for his performance.
There are a ton of extras on the disc. Cleese provides a commentary in which he mostly talks about how he approaches comedy and how the story's jokes came to be. He states that many good ideas come up, but most don't go anywhere and then goes on to describe the specific concepts that did pop up and how those were developed. There are also some nifty approaches to comedy, suggesting that while there's a tendency to write external conflict and the butting of heads between characters for laughs, he feels that internal strife and conflict adds to a situation and often results in the biggest and most relatable gags.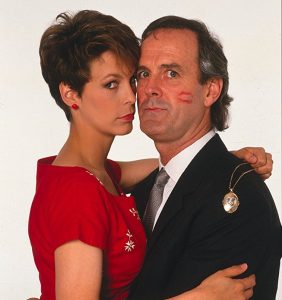 One thing this reviewer hadn't been aware of (I was a kid when I first saw it) was that the feature was directed by Ealing Studios veteran, Charles Crichton (Dead of Night, The Lavender Hill Mob). He was 77 during the production and this was his final project; when it turned out to be a massive hit, the filmmaker decided it was the right film to go out with. Cleese also shares info about how the director staged events to play out in simple, economical long takes, helping to build comedic rhythm between the characters. In addition to her comedic chops, Cleese also praises Curtis's assistance and suggestions in helping make the budding relationship between Archie and Wanda play effectively.
Additionally, there are other equally great extras. Some of these were available on previous versions, but they're all quite informative and its good to see them updated to Blu-ray with this release. There are also a whopping 24 deleted scenes. There are some good gags included, but Cleese is also on hand to explain the reasoning behind losing them. It was often because the jokes or information relayed was extraneous; alternate versions of certain events also played as too violent for audiences and they're interesting to see as well.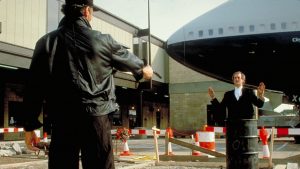 Owners will also see a new feature about the locations used in the film, a documentary on the production from the time of its original release, a retrospective doc on the film from 2003 and an amusing intro to the movie created around the time of its video release. Additionally, the disc includes a new featurette with an appreciation of the film from the British Film Institute. There's even more publicity materials and other fun bonuses included.
This is a great-looking disc for a really solid comedy. The new Blu-ray for A Fish Called Wanda from Arrow Video is a exceptional release that will please fans of the film. Let's hope this company also gets their hands on Clockwise (1986) at some point in the future, I'm dying for a high definition upgrade of that as well.