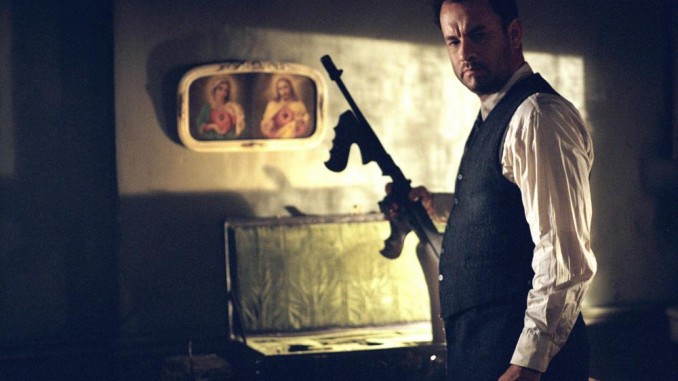 Well, with no competition this weekend, it looks as if Batman v Superman: Dawn of Justice is still the highest profile movie at cinemas. But you could stay home and check out one of these lesser known comic book adaptations – ones that you might not be even be aware were taken from the medium. Honestly, if you're an expert you may already know some of these, but I'm sure you'll find a few surprises (or be reminded of a couple) in the grouping. Here we go…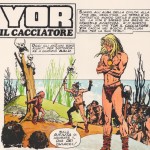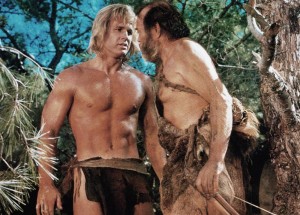 Yor, the Hunter From the Future (1983) – Based on the 70s Argentine comic book, Yor the Hunter, this Italian production cut a lot of corners for its cinematic adaptation. Directed by B-movie schlockster Antonio Margheriti (Killer Fish, Cannibal Apocalypse) the story is about a prehistoric man searching for his ancestors… he soon finds that he may have otherworldly origins. The movie awkwardly condenses the comic's story and borrows from titles like Conan and Star Wars. Just about everything from the acting to the effects is laughable, and it was later voted one of the "100 Most Enjoyably Bad Movies Ever Made" by the Golden Raspberry folks.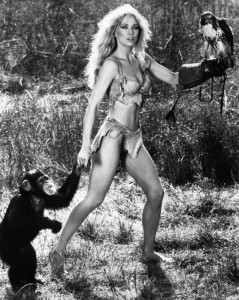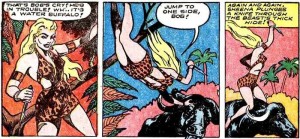 Sheena (1984) – This was an adaptation of Sheena, Queen of the Jungle, a comic strip that started running way back in the 1930s. The movie from John Guillerman (The Towering Inferno, King Kong) starred Tanya Roberts (That 70s Show) as a young girl adopted by a native tribe after an accident kills her parents. She lives in the jungle and becomes an animal telepath, using her powers to save the environment from evil strip-miners. This expensive production ($25 million) was a critical and commercial disaster upon its release and was nominated for 5 Golden Raspberry Awards.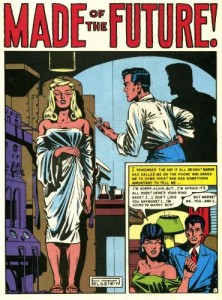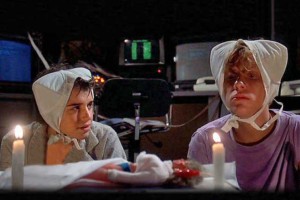 Weird Science (1985) – Yep, I kid you not, we're talking about the John Hughes comedy. Surprising as it may seem, the plot was licensed from a 1950s story appearing in Issue 5 of the EC comics' series Weird Science. The specific tale was called "Made of the Future" and was about a lonely scientist who builds a wife. This comedy obviously made some changes, switching the scientist out for two nerdy teenage boys desperate for female companionship. It was a hit (grossing nearly $40 million and remaining a cable TV staple) and remains a fondly remembered flick by many kids who grew up in the 80s.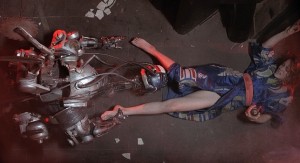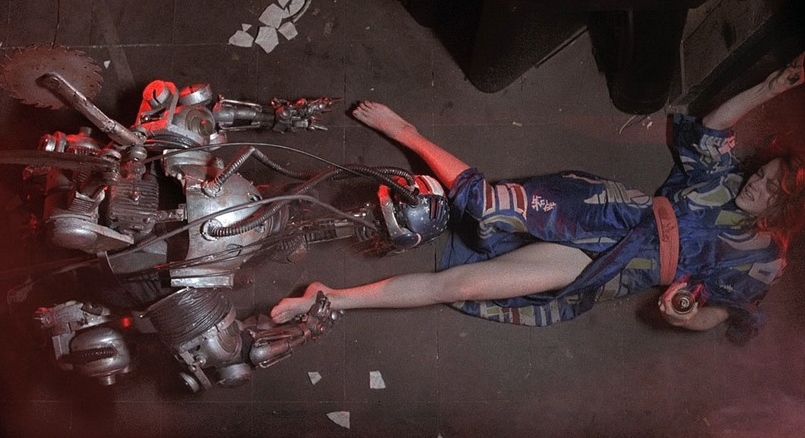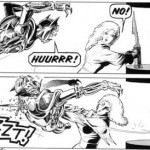 Hardware (1990) – This is a tricky one, because initially the movie wasn't based on a strip. However, its extreme similarities to a comic book resulted in a lawsuit and an added credit following its initial release. Now "Inspired" by a story called "SHOK!" in an issue of the UK comic series 2000 AD (which was also home to the character Judge Dredd), this post-apocalyptic flick involves a wasteland scavenger who finds a robot buried in the sand. Unfortunately, after bringing the pieces home, it turns out to be government issued for human genocide. Even worse, it comes to life. Whatever the inspiration, the theatrical version is an incredibly effective low-budget fright flick with great visuals – it has since become a cult film.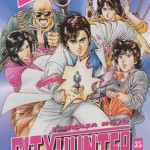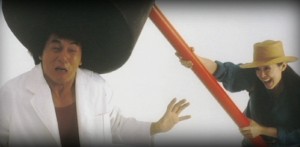 City Hunter (1993) – Based on the Manga comic of the same name, Jackie Chan stars in this bizarre oddity about a private investigator out to find a millionaire's missing daughter. While on a cruise he gets both himself and his girlfriend mixed up in a terrorist plot. This one is atypical for Chan, with less of an emphasis on stunt-work and more on slapstick gags (like a sequence with the hero being transported into an arcade game). It's weird beyond words and doesn't translate particularly well to western audiences, but appeared to be a reasonably sized hit in Hong Kong,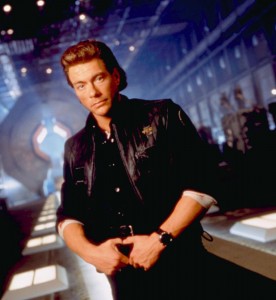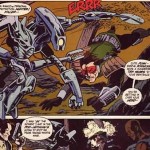 Timecop (1994) – Even Jean Claude Van Damme has taken part in a comic book adaptation. Based on the 1992 three issue run of Time Cop: "A Man Out of Time" from the Anthology series Dark Horse Comics, the feature was set in a world where time travel is possible and numerous crooks are going back in time to profit off of future events. Our hero plays a Federal Officer who attempts to stop the baddies – he's also tempted to change his own timeline in order to save his deceased wife. Reaction to the movie was mixed during its release, which was actually above average for a Van Damme picture (the movie holds up pretty well today, truth be told). Interestingly enough, it was a financial success and still stands as the actor's highest grossing film to date… at least in North America, anyway.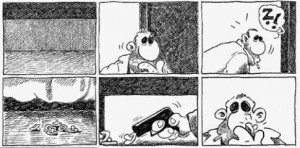 Killer Condom (1996) – Here's an unusual one. This foreign-language film (based on the German comic book of the same name) finds a gay private detective investigating a series of painful sounding incidents in a seedy New York hotel. When he becomes the victim of an attack and loses a testicle, the investigator decides to stop the evil latex creature any way he can. Troma released it in the US. Apparently, as campy exploitation flicks go, it is said to have its moments. Others have commented that the movie possesses some interesting satirical elements as well.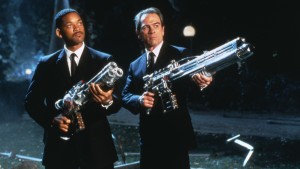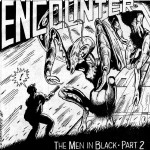 Men in Black (1997) – The widespread success of this Will Smith series actually made me forget that it was all based on a comic miniseries. Originally published by Aircel Comics (who were bought by Malibu and later taken over my Marvel), the story follows an average guy who who is recruited by mysterious group and becomes one of the title characters. They're all part of a secret organization investigating activities involving monsters, aliens and the paranormal. The amusing, slickly-produced original and its two sequels cleaned up and the box-office and fared pretty well with critics.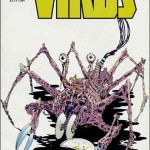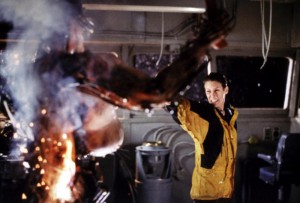 Virus (1999) – This sci-fi horror flick suffered from a troubled and expensive production, resulting in a budget that inflated to $75 million dollars before arriving and disappearing from theaters with little fanfare. Adapted from the Dark Horse comic book, it's about the crew of a tugboat who discover a large ship abandoned in the sea. After climbing on board, they learn that an intelligent life-form is using the ship's instruments to create robotic creatures to kill off humans. It wasn't a particularly strong effort (heck, I saw it and can't remember a single thing about it), and even star Jamie Lee Curtis has joked in interviews about how terrible the final product was.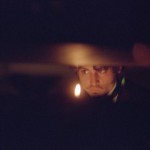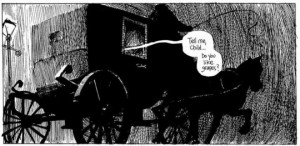 From Hell (2001) – Alan Moore is among the greatest writers the comic book industry has ever had, with so many adaptations (including V for Vendetta, The League of Extraordinary Gentlemen, Watchmen) that it's hard to keep track of them all. The film version of Moore's take on the Jack the Ripper investigation has kind of fallen off of the radar, though. Directed by The Hughes Brothers (Dead Presidents, The Book of Eli), it's a very stylish retelling with an interesting theory about the murders. Sure, it's condensed considerably from the original comic, but still stands as one of the better Jack the Ripper takes and it is definitely worthy of a little more attention.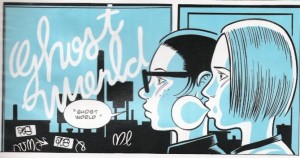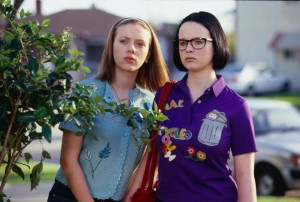 Ghost World (2001) – Daniel Clowes' comic about two pseudo-intellectual teenage girls commenting and looking down on the people of their small hometown was highly regarded in print form. Thankfully, the film adaptation received great praise as well – it eventually earned an Academy Award nomination for Best Adapted Screenplay. Starring Thora Birch, Scarlett Johansson and Steve Buscemi, it's a well-acted, funny and eccentric film that follows the leads and their very awkward transition into adulthood. If you're a fan of this movie, you may want to give Art School Confidential (2006) a shot as well – it's pretty decent title and is also based on a Clowes comic.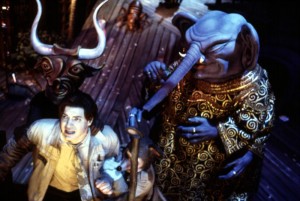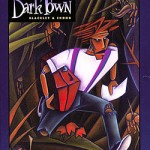 Monkeybone (2001) – Time for a very, very guilty pleasure. Based on the Mad Monkey Press' comic Dark Town, this is a story about a cartoonist whose mischievous creation comes to life and takes over the artist's body, leaving him trapped in a strange comic book netherworld. This project suffered strife behind the scenes (in particular, fights between the executive producer and director) and was recut by the studio and ended up costing $75 million before its release. For all its problems, it is a visually spectacular effort that features a few big laughs, particularly during the climax.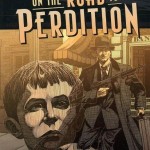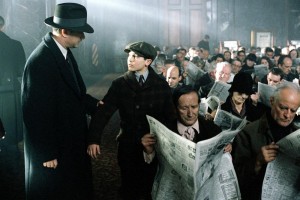 Road to Perdition (2002) – We're getting into a very strong period for comic adaptations. Paradox Press' gangland comic tale from the late 90s was called On the Road to Perdition. It got prestige Hollywood treatment by award-winning director Sam Mendes who had just come off of the massive success of American Beauty. Tom Hanks plays a mob enforcer on the run and out for revenge with his young son during the Great Depression. It's an incredible, tension-filled work with style and atmosphere to burn and one that won a well deserved Academy Award for Best Cinematography. Interestingly enough, the director would re-team with supporting player Daniel Craig on Skyfall and Spectre.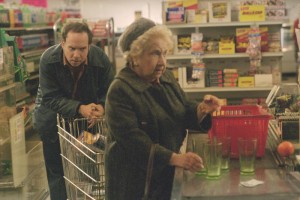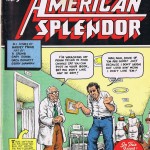 American Splendor (2003) – Based on a series of autobiographical comic books, this series by Harvey Pekar depicts his everyday life in Cleveland, Ohio. He wrote the story and hired artists like Robert Crumb to draw the books. While the material may not have initially screamed for a film adaptation, it was translated to the big screen with great success. Paul Giamatti played the moody, downcast artist brilliantly and the feature was praised for its relatable, character-based look at an everyman. The film was named one of the year's best by the AFI and was nominated for Best Adapted Screenplay at the Academy Awards.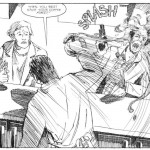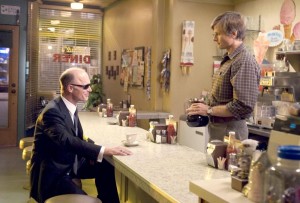 A History of Violence (2005) – Also from Paradox Press, this graphic novel follows a cafe owner and family man who lives a quiet life and attempts to stay out of the spotlight. When he stops a robbery and ends up on television, he's soon visited by members of the New York mob, who claim he killed their boss years ago and are now looking for payback. David Cronenberg (Videodrome, The Fly, Naked Lunch, EXistenZ) helmed the adaptation, which drew plenty of raves from the press. Some even called it a violent, near perfect modern film noir – the movie was justly awarded with two Oscar nominations – one for Best Adapted Screenplay and another for Best Supporting Actor (William Hurt).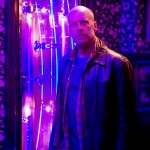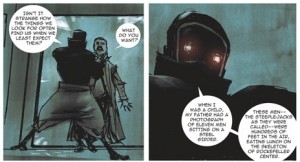 Surrogates (2009) – When this title opened, many saw it as just another in a long line of action pictures starring Bruce Willis. However, the story comes from a series called The Surrogates that was published as a limited series in 2005. The tale involves a society where people use robotic copies of themsevles to conduct daily activities – this way the user can live in shelter in safety. Willis' FBI agent investigates a plot in which surrogates are being destroyed. Reviews were mixed, with many feeling the movie didn't take full advantage of its interesting concept.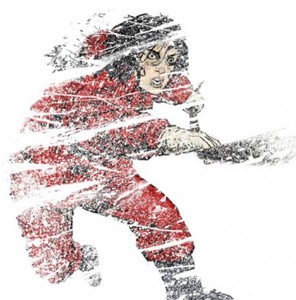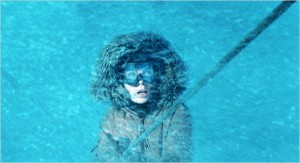 Whiteout (2009) – This was a popular crime mini-series comic published in 1998 about a US Marshall investigating a murder in Antarctica. It took more than 10 years to develop it into a feature and came at a heavy cost. Production difficulties resulted in the director abandoning the project, resulting in numerous reshoots from other filmmakers. It was over two years between principal photography and release – the comic book creator slammed the finished product, critics panned it for being generic (one gets the impression the uniqueness of the characters were toned down in the adaptation to screen) and audiences didn't show any interest either.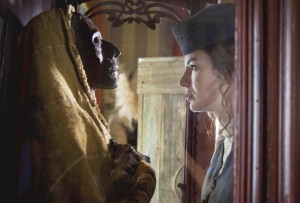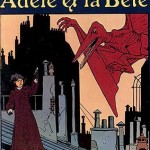 The Extraordinary Adventures of Adele Blanc-Sec (2010) – Director Luc Besson (La Femme Nikita, Leon, The Fifth Element) went back to France to direct this adaptation of the 70s Gallic comic book series. It follows the title character, a novelist turned detective living in 1910s Paris who solves crimes that more often than not possess a fantastic bent (a pterodactyl is involved in one of the books). In the film version, she travels through Egyptian tombs various other sites hoping to find a cure for her catatonic sister. Although it barely got released in these parts, it was a big hit in Europe and garnered strong critical notices for its playful tone and sense of adventure.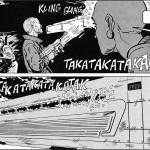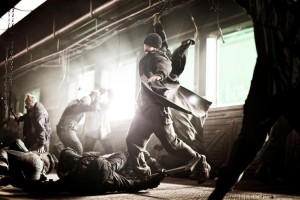 Snowpiercer (2013) – A French, post-apocalypse graphic novel from 1982 inspired this sci-fi action pic from Bong Joon-ho (The Host). Called Le Transperceneige, it tells a post-apocalyptic tale about a 1,001-car train hurtling around the Earth during a new ice age, and the attempts of a resident to stop train cars filled with friends from being released by authorities when the train begins to slow. The nail-biting adaptation was a hit around the world and featured more overt political commentary. Apparently, the content concerned its North American distributor enough to hold its release by a year. They even considered re-cutting the movie. Thankfully, it was given limited distribution in its original form. I really liked it – you can read the site's review of the movie right here.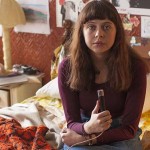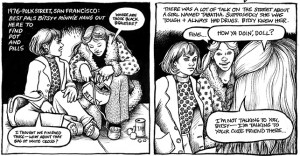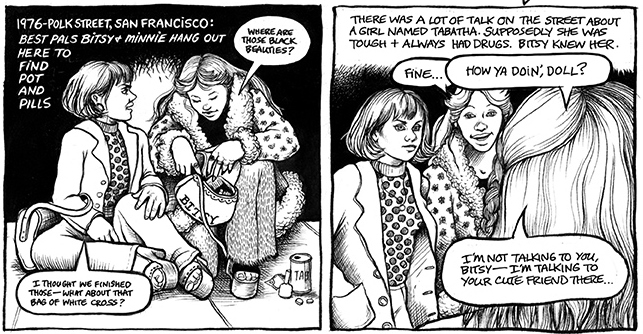 The Diary of a Teenage Girl (2015) – In the vein of American Splendor, this drama was based on the "diaristic" 2002 graphic novel The Diary of a Teenage Girl: An Account in Words and Pictures. It involves a young girl closing in on adulthood and graphically depicts her attempts to mature. Unfortunately, she soon confuses sex with love. It was considered an edgy work as was its film adaptation. Critics responded well to the feature, calling it well-acted and suggesting that it dealt frankly with serious issues related to being a young woman.
Here are a few more you might have forgotten were based on comic books – Jet Li's Black Mask (1996), Bulletproof Monk (2003), 30 Days of Night (2007), Wanted (2008), The Losers (2010), RED (2010) and Big Hero 6 (2015).