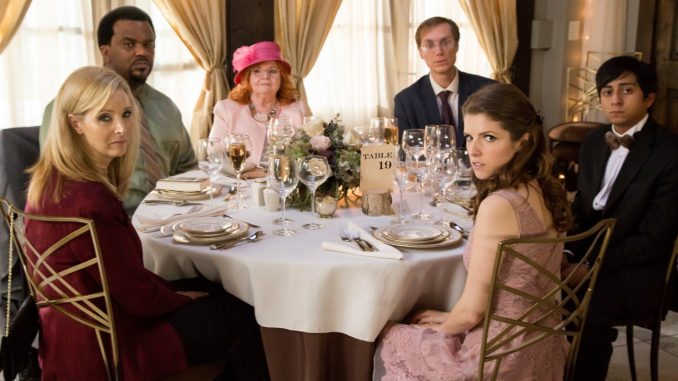 We've all encountered some awkward and uncomfortable situations while attending weddings. A single room full of loosely connected people with overlapping histories is bound to stir up feelings of nostalgia as well as old hostilities depending on the person. Perhaps that's why there are so many effective comedies based around nuptials. The latest production is Table 19, which tries to wring even more humor out of the scenario.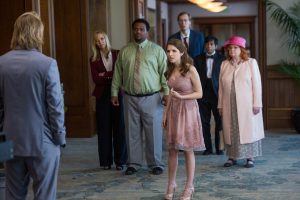 Eloise (Anna Kendrick) is in a difficult spot after deciding to attend one of her oldest friend's wedding. Despite helping in the planning, she has just broken up with the bride's Best Man and brother, Teddy (Wyatt Russell). As such, she's been moved to the far end of the reception hall, seated with an unusual group of outcasts within the wedding party. They include the shifty Walter (Stephen Merchant), bickering married couple Bina (Lisa Kudrow) and Jerry (Craig Robinson), awkward, amorous teen Rezno (Tony Revolori), and the family's retired nanny, Jo (June Squibb).
It's an impressive cast filled with remarkably talented performers, but there's something off about the execution. That isn't to say that it's a total disaster; there are a handful of jokes that do work. Merchant maximizes the impact of his character's shifty behavior, particularly when drinking Champaign and attempting to deflect questions. There's also a funny running gag involving Bina and her blazer which leads to some confusion and misidentification. Walter also has few amusing comments about his displeasure at attending. And at least the script attempts to twist the story in a different and unexpected direction (even if it doesn't ultimately work).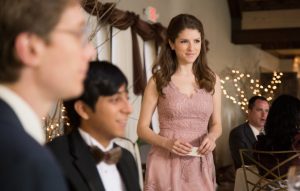 As written, the Rezno role doesn't give Revolori a whole lot to work with. The character's attempts to "get laid" and jokes involving his mother pestering him about it via cell phone are bizarre and unbelievable rather than funny. There is also strange physical comedy involving pratfalls at the end of multiple scenes that doesn't feel justified, nor does it work. By the time a second character starts fumbling and falling without much reason, it all feels out of place. Oddly enough, this is contrasted with serious drama towards the end of the second act, including issues like infidelity and mortality. In this case, it comes across as forced and the big emotions don't hit the right buttons.
Movies like these are all about the interactions between the characters and for most of the feature the tone and timing just feels wrong. The odd verbal jab works, but many punchlines land with deafening silence. Given the premise of a group of guests feeling resentment about their seating arrangement, there's a lot of potential for the characters to act out in humorous ways. But for the most part, this entire enterprise is surprisingly muted. Even a confrontation with the bride goes nowhere and contradicts everything that was reported previously. So while there's a laugh here and there, there isn't enough to build any escalating sense of hilarity.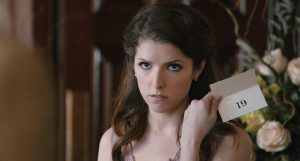 Yes, the excellent cast do manage to eke out a laugh or two from some, frankly, middling-at-best material, but it isn't enough to salvage the feature. Table 19 may provide viewers with a reasonable enough escape on Netflix or cable TV, but there's no reason to attend this event in person. If you haven't yet seen the wedding-themed features Bridesmaids, The Wedding Crashers, My Big Fat Greek Wedding, Meet the Parents, The Wedding Singer, Muriel's Wedding, Four Weddings and a Funeral and Honeymoon in Vegas (or heck, even The Corpse Bride or American Wedding), you might want to consider those instead.