DVD/Blu Ray Reviews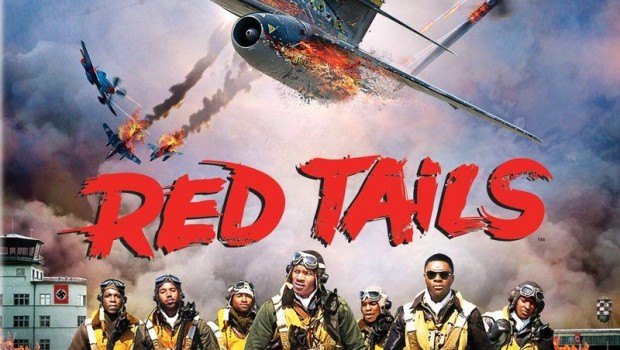 Published on May 20th, 2012 | by dvdpinson
0
Red Tails Available on Blu-ray/DVD May 22nd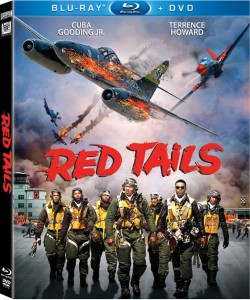 "Red Tails" is available on Blu-ray and DVD May 22nd. Amazon Link HERE. 
"Red Tails" is a WWII war pic that desperately wants to be a throwback. The movie is loaded with old fashioned patriotism; a sort of "ah shucks" mentality that would have fit stellar on the Silver Screen back in the 40's.
In fact, "Red Tails" would have worked better here in today's world had it presented in Black & White (Considering the film is about African American Fighter Pilots and the racist Caucasians that try to keep them from succeeding I feel the need to state the clichéd: No Pun Intended). This would have worked toward driving home the intended mood. Instead the film falls short and the old school, stylized dialogue plays as clunky which only allows the more-than-game cast to come off as amateur. "Red Tails" is an interesting story told 70 years too late.
The story unfolds in 1944, war-torn Italy near the end of the Second World War. The Tuskegee Airmen are a hungry group of black fighter pilots who have spent the war to date destroying parked equipment and trains hauling ammunition. Not very exciting.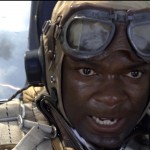 When Colonel A.J. Ballard (Terrence Howard) returns from Washington with news that the squadron will finally be able to fight. The entire crew erupts with the news and badboy, hotshot Joe "Lightning" Little (David Oyelowo) knows it is his time to prove that he can be an ace and shoot down the Jerrys. I told you this would have worked better in the 40's.
The positive here is the WW II realistic aerial dogfighting footage that was cobbled together in George Lucas' computers. "Red Tails" is the "Star Wars" guru passion project and as you see the plays zipping around in the air you see where Mr. Lucas got his inspiration for all the space battles in his sci-fi epic. The actors are likeable and try to rise to the challenge. Cuba Gooding Jr. looks especially game as he puffs his pipe and nods in approval as his boys fight the good fight.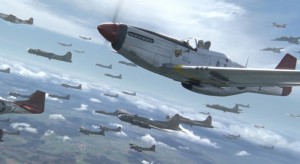 Ultimately the film fails because of the stiff world we are shown. This is director Anthony Hemingway's first feature film and the lack of experience is evident. The material is mishandled and nearly all the characters are two dimensional and shallow. Dialogue is laughable and many scenarios fell forced with no dramatic weight at all. The Tuskegee Airmen are a wonderful and compelling story. Too bad this story wasn't given a chance to fly.