DVD/Blu Ray Reviews
Published on December 26th, 2011 | by dvdpinson
0
Final Destination 5 available on Blu-ray/DVD 12/27/11
But it 12/27/11 on Blue-ray Combo Pack with UltraViolet Digital Copy and Download to Own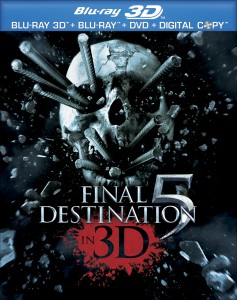 It should register as a zero on the surprise meter that "Final Destination 5" follows the patented "Final Destination Formula". Never in the history of cinema has a film franchise- not even a horror one- repeated the same exact structure to such a degree. ("Teen Wolf" 1 and 2 were the same movie, I guess and "The Hangover" took a lot of heat for being a prime example of "Mad-Lib/fill in the blank" filmmaking) Each "Final Destination" film are essentially identical movies with different, more elaborate death scenes plugged in each time around. It is either lazy concept or a brilliant one depending on your stance.
For those unfamiliar with the "Final Destination Formula" it goes like this:
1- Someone has a premonition predicting his or her doom. This time around it is a tightly wound, intense young gentleman named Sam (Nicholas D'Agosto). On the way to a corporate retreat, Sam foresees a terrible, gruesome bridge collapse that mutilates him and his friends. Here, as with all of the "FD" movies, we have the best scene in the film and it takes place during the first 20 minutes. It is an off balanced viewing experience when the opening is better than the climax but whatever. Trivia note: In Japan the film was called "Final Dead Bridge". It is a literal translation if nothing else…
2- Death is thwarted. After the vision, Sam grabs his colleagues and gets them off of the bridge before it falls to pieces. This way we get to see the best scene in the film twice! Sam saves himself along with his girlfriend Molly (Emma Bell), his cocky friend Peter (Miles Fisher) and a handful of others. But Death does not take thwarting lightly and their escape from disaster is short lived because…
3- Everyone dies anyway. In the order they would have died on the bridge no less. They die in inventive and elaborate ways that usually involves multiple possibilities. This time around the deaths include: Death by gymnastics, Death by Lasik surgery and Death by gun among others. I don't want to ruin it. Trivia note: The working title for the film was "5nal Destination". Too bad they had a change of heart. I get were they were going but I can't help but seeing the word "anal" when I look at it and I'm pretty sure that is not what they were try to convey.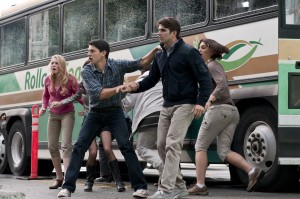 "Final Destination 5" is actually a pretty good installment for the series. The effects are great, especially the "Dead Bridge" and you get a sense the makers behind the camera put some effort into this go around. The film was directed by Steven Quale who has been a longtime collaborator with James Cameron, having worked as second unit director on a couple of small films entitled "Titanic" and "Avatar". This is his first feature film and he does the best with what he has to work with to be sure.
The DVD/Blu-ray combo pack features alternate death scenes that aren't too different from the original and a short making of called "Circle of Death, Your Final Destination" that explains that this is, truly, the final "Final Destination".