It's time for another look at highlights arriving on Blu-ray on DVD. There are some very interesting new releases coming your way, as well as a massive amount of older flicks making their high definition debuts. So if you can't make it out to the movies this week, be sure to give one of these titles a try!
Big New Releases!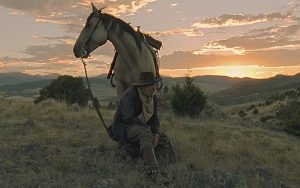 The Ballad of Lefty Brown – This western involves a kind-hearted but slightly slow-witted cowboy who works a ranch with his lifelong friend. When his pal is elected to the Senate and promptly murdered, Lefty sets out to take revenge for his buddy's death. However, the lead finds the task not only more difficult than anticipated after he ends up blamed for the murder. Reviews were quite good for this little independent feature. There were a few who found it a bit too old-fashioned. Still, most were greatly impressed by the lead performance and enjoyed the novelty of telling a story from the point-of-view of what would typically be a supporting character. It stars Bill Pullman, Kathy Baker, Jim Caviezel and Peter Fonda.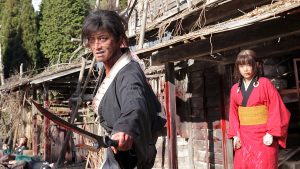 Blade of the Immortal – Cult film director Takashi Miike (Audition, Ichi the Killer, 13 Assassins) returns with another blood-soaked tale, this time set in feudal Japan and based on a comic book. It follows an immortal assassin who takes on the position of a bodyguard to a young girl determined to avenge the death of her parents. Critics were generally positive about the samurai action picture. There were a few criticisms revolving around the extended length and repetition in the story. Those write-ups didn't rank this title with the filmmaker's best work. Yet many found the high energy, over-the-top bloodshed well-handled and enjoyable to watch. The cast includes Takuya Kimura and Hana Sugisaki.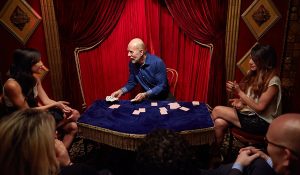 Dealt – This documentary details the life of one of the greatest card magicians in the world. What makes this person's story all the more remarkable is that the showman is completely blind. The feature shows how he developed his skills over the years, overcame various hardships and rose to become one of the best in his field. Reviewers really enjoyed what they saw. They called the subject a fascinating and talented magician and felt that his life and accomplishments would serve as an inspiration to a great many. Not only that, but they were also impressed with the card tricks on display.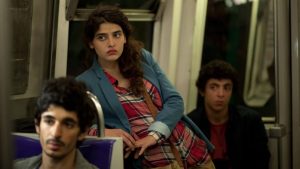 Nocturama – A group of teens are the focus of this French, foreign-language drama. The camera follows the characters as they move about the streets of Paris, setting out to accomplish a planned task. Once all is revealed and the incident takes place, the group take refuge in a lush shopping center, hoping to wait out and escape oncoming forces. Write-ups were quite strong for this thriller. Just about everyone was impressed with the technical skills on display. As for the script, a minority found the cold approach filled with artifice that didn't grip them emotionally. Others found it fascinating, suggesting that the style left its meaning open to interpretation. Finnegan Oldfield, Vincent Rottiers and Hamza Meziani headline the feature.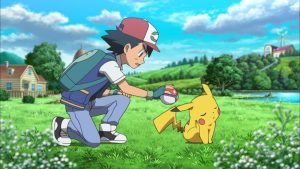 Pokemon the Movie: I Choose You! – This animated flick from Japan is actually a reboot of the Pokemon series. It tells the tale of a young boy celebrating a birthday and discovering that he is old enough to train catch and train little creatures. He picks one that should be familiar to fans of the series, and the story depicts their relationship and it progresses from antagonistic to friendly. Critics in this part of the world gave the film mixed notices. Those who enjoyed the movie complimented the animation and suggested that kids would appreciate it, while triggering nostalgic in older audiences. However, just as many complained that the movie was ineffective and just as nonsensical (if not more so) than previous entries.
Blasts from the Past!
Holy cow, there are so many classic releases in high definition it's hard to know where to start! Arrow Video are putting out a Blu-ray of The Bird With the Crystal Plumage (1970). Yes, this was actually released a little while back but it sold out quickly, making it a hard-to-find title in next to no time. The company are re-releasing it in a one disc, Blu-ray only version so fans of the influential Italian thriller will have another opportunity to pick it up. You can read all about this edition of the film right here.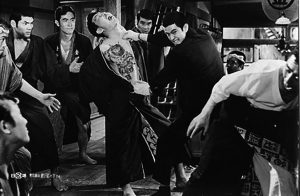 They also have Seijun Suzuki: The Early Years. Vol. 1 Seijun Rising: The Youth Movies. This is a Blu-ray & DVD combo set that contains several Japanese features from the director that are making their North American debuts on disc. The titles included are The Boy Who Came Back (1958), The Wind-of-Youth Group Crosses the Mountain Pass (1961), Teenage Yakuza (1962), The Incorrigible (1963) and Born Under Crossed Stars (1965). All feature troubled, tortured youths struggling to find their place in the world. Among the various bonuses, the set includes a film critic intro to each of the movies that gives some background as well as a 60-page illustrated collector's book with essays and production stills.
Arrow Academy have a Special Edition of Federico Fellini's Orchestra Rehearsal (1978). It's a pseudo-documentary about a film crew interviewing members of an orchestra and discovering tensions within the group. This Blu-ray release offers a 2K restoration of the film, a conversation with a film scholar about Fellini and the movie's significance, a visual essay on the movie and a gallery of promotional materials from around the world.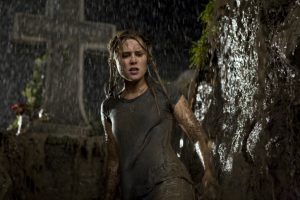 Shout! Factory are putting out a new Collector's Edition Blu-ray of Drag Me to Hell (2009). It's a great horror flick from director Sam Raimi (the Evil Dead series, Darkman, the Spider-Man series and many others) about a bank employee looking to climb the corporate ladder. After she denies an elderly woman a loan extension, the employee finds herself the target of a curse. Conflict escalates very quickly, leaving the lead in all sorts of exaggerated and horrific trouble. This release includes new 2K masters of both the theatrical and unrated cuts of the film, archived interviews with the filmmaker as well as cast and crew, TV spots, theatrical trailer, new interviews with the stars and composer and a still gallery. If you don't own the movie yet, it sounds like a decent way to introduce yourself to it.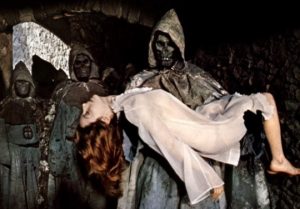 They also have a Blu-ray of the thriller, Games (1967). It's about a pair of twisted socialites who play horrible games on visitors. When one of their targets exhibits psychic abilities, the tables are turned and they become the ones being manipulated. The Blu-ray comes with a trailer and still gallery. The studio are also putting out Night of the Seagulls (1975) in high definition. This is the fourth and final title in the Spanish Blind Dead zombie series. This chapter follows a new doctor and his wife in a cursed village that comes under assault from the undead. It's a goofy little flick that should provide some B-movie thrills for zombie flick fans. The release includes an audio commentary the Naschycast podcast along with a theatrical trailer.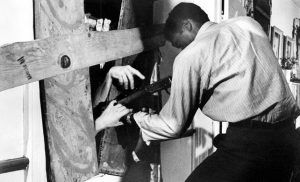 And there's plenty more. Criterion are releasing a Blu-ray of what is perhaps the ultimate zombie feature, Night of the Living Dead (1968). The George A. Romero classic introduced the modern flesh-eating zombie to the world and still stands as one of the greatest horror films ever made. It has been given a new 4K restoration and that was supervised by Romero before his passing and arrives with numerous extras. This includes multiple commentary tracks featuring the film's director, cast and crew. It also contains archival interviews, newsreels and publicity material. Of particular note are a series of new talks with performers and technicians, as well as the producers. Even more remarkable, this release features an early, unreleased work-print cut of the feature, a never-before-seen reel of dailies from the shoot and new programs about where the filmmakers got their start and an appreciation of the film with fans Guillermo del Toro, Frank Darabont and Robert Rodriguez.
If you're looking for more thrills, then you can also pick up The Silence of the Lambs (1991) on Blu-ray. It's another great film about a young FBI recruit and her attempts to track down a serial killer. She ends up visiting a brilliant psychopath in an asylum and attempts to earn his trust to assist her with the case. Criterion are delivering this Best Picture winning title with a new 4K restoration supervised by cinematographer Tak Fujimoto. It also comes with a 1994 commentary with director Jonathan Demme, Jodie Foster, Anthony Hopkins and the screenwriter. It also includes 38 minutes of deleted scenes, hours of interviews with the cast and crew and other bonuses.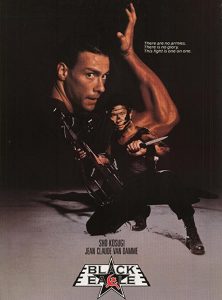 MVD have a 2-disc Special Edition Blu-ray/DVD combo of the action picture, Black Eagle (1988). It stars Jean-Claude Van Damme, and was shot just before he became an international star. In this early effort, he plays the antagonist, a KGB agent out to steal valuable laser technology from a crashed plane. The CIA's only hope is a heroic agent played by Sho Kosugi. This release includes the theatrical and unrated cuts of the feature, deleted scenes and several recent interviews with members of the cast and crew. Sounds like it could provide action fans with some entertainment.
And there's more. Kino have the cheesy family flick, Baby: Secret of the Lost Legend (1985), a bizarre effort that features William Katt, Sean Young, Patrick McGoohan and a really fake-looking, rubber dinosaur. Now you can watch it on Blu-ray with the best picture quality available, making the clumsy effects look even more amusing. This edition also includes some interviews with cast and crew as an added feature. They're also putting out a Grindhouse double-feature that includes Chaos (2005) with Sage Stallone and Don't Look in the Basement (1973). Additionally, the studio are distributing a Blu-ray of the Italian action B-movie The Last Hunter (1980), about a soldier who gets trapped behind enemy lines.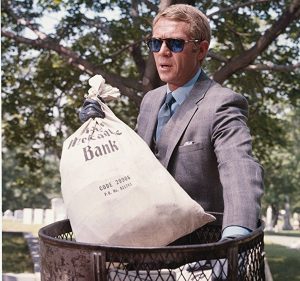 On a different note, Kino are releasing a 50th Anniversary Edition Blu-ray of The Thomas Crown Affair (1968) with Steve McQueen and Faye Dunaway. The disc includes a new interview with director Norman Jewison, as well as a talk with the title designer. It also features an on-set featurette and two commentaries, one with the filmmaker and another with film historians. They're also putting out the Kathleen Turner action/comedy, V. I. Warshawski (1991). It has been released before, but this version includes a new director commentary.
Warner Archive also have a notable release with the a Blu-ray of Leatherface: Texas Chainsaw Massacre III (1990). This one features another group of characters accidentally encountering the nasty Sawyer clan (which includes an early appearance from Viggo Mortensen) and trying to avoid ending up on the family's menu. Unlike many made-to-order titles from this distributor, this disc comes with plenty of bonuses, including a director commentary, documentary, deleted scenes, an alternate ending and trailers (the teaser being quite notable).
Finally, Mondo Macabro are distributing a Blu-ray of the low-budget horror pic, The Blood Spattered Bride (1972).
You Know, For Kids!
Here are some titles the kids might enjoy.
Baby: Secret of the Lost Legend (1985)
Ben 10: Season 1, Vol. 1
Dinosaur Train: Big Pond Adventures
Garfield: Nine Lives
Hey Arnold! The Jungle Movie (Nickelodeon)
PBS Kids: Outer Space Adventures
Pokemon the Movie: I Choose You!
On the Tube!
And here are the week's TV-themed releases.
Adam-12: Season 1
Animal Kingdom: Season 2
Ben 10: Season 1, Vol. 1
Broad City: Season 4
The Deuce: Season 1
Doctor Who: The Complete Peter Capaldi Years
Doctor Who Special: Twice Upon A Time
Dragnet 1967: Season 1
Full House: Seasons 1 – 4
The Gilmour Girls: Seasons 1 – 4
Hey Arnold! The Jungle Movie (Nickelodeon)
The Kids in the Hall: The Complete Collection
The Lazarus Man: The Complete Series
Mystery Science Theater 3000: Vol. XII
Quincy, M.E.: Season 1
The Sinner: Season 1
Three's Company: The Complete Collection
The Waltons: Season 1 – 4