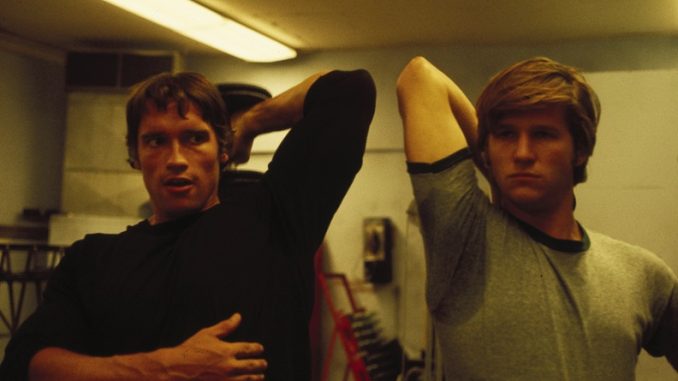 This title is currently available on Blu-ray from Olive Films (www.olivefilms.com – www.facebook.com/olivefilms).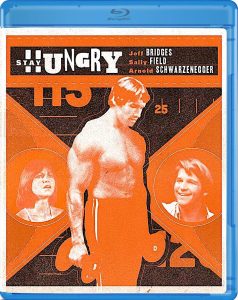 Did you know that Arnold Schwarzenegger has won a Golden Globe? He did, earning a trophy for Best Acting Debut in the eccentric drama/comedy, Stay Hungry. It's a strange accolade, considering the star had previously appeared in the 1970 movie Hercules in New York. One can only guess that it wasn't noted by the Hollywood Foreign Press, as Schwarzenegger had been credited under the name Arnold Strong. Whatever the reasoning, the oddly amusing, award-winning Stay Hungry is being released on Blu-ray for the first time courtesy of Olive Films.
The movie has a rambling, free-flowing, somewhat improvised feel. Craig Blake (Jeff Bridges) is the only son of a Birmingham, Alabama upper class family. After the death of his parents, he wanders his estate unhappily and without much purpose, eventually befriending some shady developers. Craig is tasked with buying a downtown gym, allowing his compatriots to raze the entire block and build a massive high-rise in its place.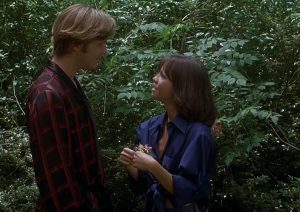 However, our protagonist is a bit slow to get down to business, preferring to hang out and befriend gym owner Thor (R.G. Armstrong), as well as employees Franklin (Robert Englund) and Newton (Roger E. Mosley). He's also introduced to Austrian strongman Joe Santo (Arnold Schwarzenegger), who is training for the upcoming Mr. Universe competition. Craig soon finds himself attracted to Joe's girlfriend, Mary Tate (Sally Field), complicating matters.
This feature comes from Bob Rafelson, producer of the TV-series The Monkees and director of Head, Five Easy Pieces and The Postman Always Rings Twice. And it certainly feels like a 70s movie. There isn't as much of a focus on firm story structure. Instead, events play out slowly, eventually introducing the unusual participants and the movies themes. All the characters are complicated and flawed; no one acts particularly heroic manner. The technique means that it takes a while for the story to get going, but it allows the various persons to come across as exaggerated but authentic.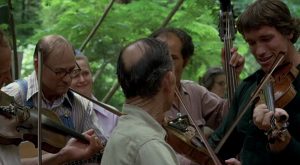 Schwarzenegger appears very comfortable in a notable early role, exuding confidence and charm. As expected, Bridges and Field are extremely likable and the movie benefits from good supporting performances. In fact, seemingly everyone in the movie went on to more and in some cases bigger productions. Of course, Englund ended up playing horror film icon Freddy Krueger, but the cast also includes appearances from Scatman Crothers, Joanna Cassidy, Joe Spinell and Ed Begley Jr.. There's a familiar face just about everywhere the camera happens to pan (and often decked out in garish fashions of the period).
The attempts to deal with class snobbery and themes of finding purpose and meaning in life are interestingly handled. The lead is given various philosophies by both Joe Santo and even his wealthy uncle. This movie doesn't judge the advice given or offer firm answers, instead asking viewers to think about the ideas being presented and analyze them in their own way. In a general sense, all it does is suggest that Craig needs to find something he feels truly passionate about in life and follow it.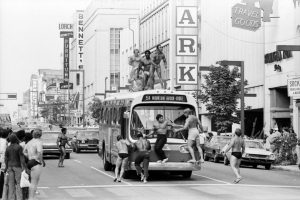 This is a completely unpredictable movie that veers in strange and unexpected directors. Frankly, I was never sure exactly where it was going and was often surprised by the results. The approach is fascinating and keeps one's attention, event if it does results in a few pacing bumps and bizarre tonal shifts.
For example, things get really dark towards the close of the film, with a drug-addled character attempting to rape one of the leads, followed by a violent and very dangerous-looking confrontation during the climax. As this is occurring, outrageous and comedic events transpire out on the streets. It's quite an odd jump considering the low-key tone seen previously in the feature. Even if it doesn't quite work tonally, it is certainly unique and something to witness. And there is some political incorrectness, which is to be expected from a film of the era.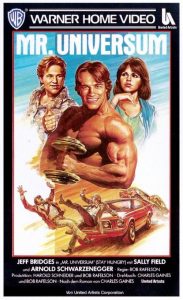 As for the disc, it is a solid upgrade from DVD. This isn't the best-looking movie ever made and there is a natural grainy structure to the original photography that is present in many scenes. Yet some of the sequences, including bits at the gym as well as the climax involving bodybuilders running through the streets of Birmingham, look quite clean and impressive.
This is a peculiar and idiosyncratic picture, but one that certainly sticks in the brain long after the credits have rolled. Stay Hungry isn't perfect, but it is a consistently interesting look at bodybuilding, featuring some deeper subtext thrown in for good measure. Those who enjoy the movie will be happy with the new and improved transfer.
NOTE: I guess it was released at theaters and on VHS as Mr. Universum in Germany (at least, based on that video box art).