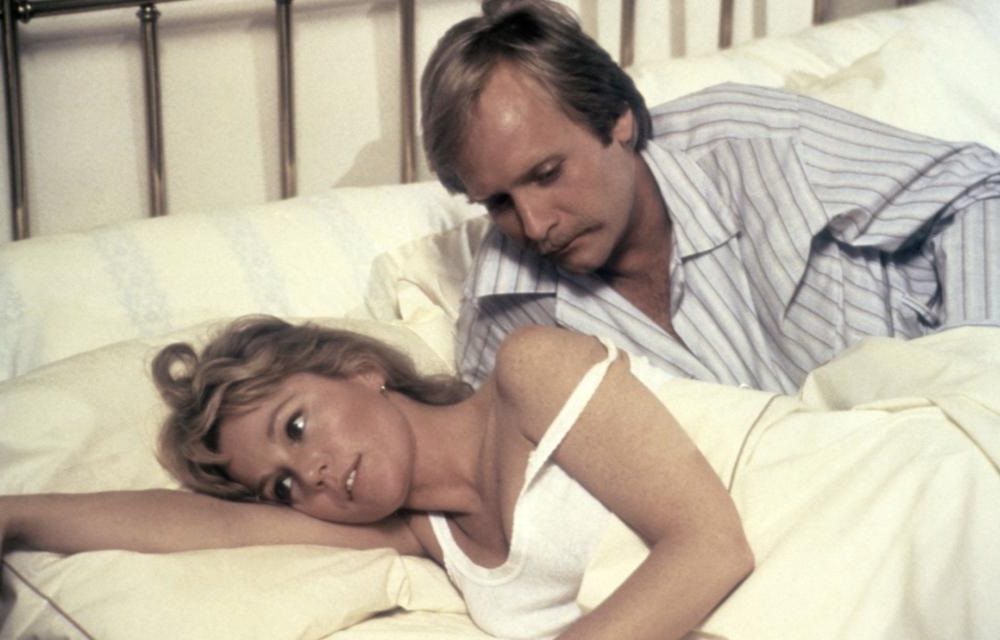 Growing up, I was always an avid movie watcher, but even I'll admit plenty of titles have slipped through the cracks. Serial (1980) is a comedy with a notable cast that I'd never even heard of until very recently. According to some sources online, it has aired now and again on HBO, but I suppose I've always missed it. Thanks to Olive Films, this out-of-print title is now being made available on Blu-ray and DVD.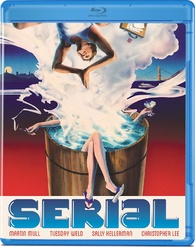 It's fascinating to watch, but probably not in way it was originally intended. Truthfully, this is a very scattershot comedy. More accurately, it's intriguing for just how out-of-date its views of the modern world have become. I remember 1980 and seeing its presentation in this satire reminds me just how much things have changed (for the better) over such a short period of time.
The story is told from the perspective of Harvey (Martin Mull). He's an average, traditional guy attempting to cope with a myriad of problems both within his family and from his friends and neighbors. As one character states, "In an insane society, the sane man must appear insane." The numerous eccentrics include wife Kate (Tuesday Weld), feminist Martha (Sally Kellerman), a spacey new-age minister Spike (Tom Smothers) and corporate stiff Luckman (Christopher Lee).
For Harvey, the trouble comes when Kate is influenced by her friends to question her husband's general negativity and their marriage. Even worse, his daughter joins a religious cult. Harvey soon finds himself separated and struggles to endure new social trends. As his sanity is pushed to the limit, the lead soon decides to take control of his life, leading to a wacky and chaotic climax.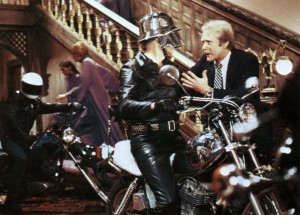 The comedy itself is intermittently funny. Mull is a fine and funny actor. As a result, some of the movie's wisecracks are amusing, as are a few of the more over-the-top scenarios (including some goofy wedding vows). There's a funny exchange between one of the characters and a maid, and there's even an impressive motorcycle stunt towards the end of the picture. Additionally, some of the targets (therapists who over-medicate and cults) are worthy of mocking.
However, more than half of the other subjects poked fun at as bizarre trends are accepted and commonplace today. This includes vegetarianism, organic foods, biking-to-work, dance-aerobics, dog grooming, civil unions (referred to here as pair-bonding) and open communication between couples. The movie attempts to be gentle with some of its satirical elements, but a good deal of it comes off as backward.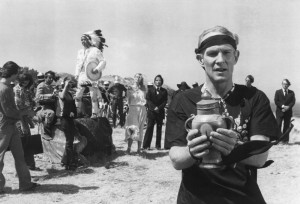 This is particularly true with some of the comments directed at female empowerment and gays. In a couple of cases, it feels ignorant and will induce winces from modern viewers. The movie has received comments about these elements and the criticism is valid. Shows of the era like Soap (1977-81) handles this type of material in a far more sensitive and effective way. Still, this is what is intriguing about watching the movie now – seeing so many things that are socially accepted today from the perspective of a less enlightened period.
The Blu-ray image quality is actually quite striking. While there is a light grain present (from to the 35mm film stock), the picture looks far sharper than expected. The numerous San Marin and San Francisco locales are really impressive. This is particularly true of all of the material photographed on ferries featuring the Golden Gate Bridge framed in the background. Compliments must be paid for the unexpectedly strong transfer – anyone who enjoys the film will be impressed with what they see.
I think the best way to appreciate Serial is as a time capsule. It is zany and has a few chuckles, but what's most interesting are the way new ideas are presented and poked fun at before they become commonplace and accepted. It really made me realize how different attitudes are today than they were in 1980. If you simply like the movie, you'll be thrilled with the disc, and if you're just curious then you may find it engaging – although on a completely different level than the filmmakers had calculated.