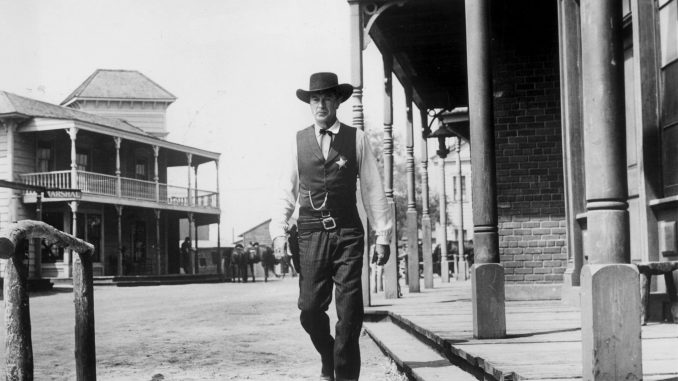 Note: This movie is being released on Blu-ray by Olive Films (www.olivefilms.com – www.facebook.com/olivefilms) on Sept. 20th.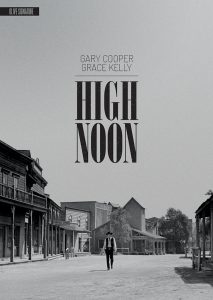 Often in this particular column, the movies being reviewed are, at the very least, a little eccentric and fall more under the category of forgotten or cult films. Today marks a bit of a different kind column. Olive Films have officially started a new offshoot line called Olive Signature. These Blu-rays will feature an emphasis on classic titles. Think of the Criterion Collection and you're on the right track. One of their first films is the famous and currently out-of-print Western, High Noon.
While this effort still seems to rub a few Old West enthusiasts the wrong way, from my perspective it's one of the best of its genre. This independent production is paced like a rocket with great editing, some very strong performances and twists on many Western film conventions. It's also filled with conflict and offers some strong and potent themes and ideas that are still relevant today. The movie ended up winning several Oscars and it's easy to see why; this is great stuff.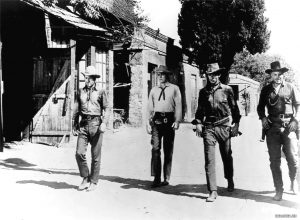 For those who unfamiliar with the story, it begins with a trio of thugs (played by Lee Van Cleef, Robert J. Wilke and Sheb Wooley) arriving at a small town in New Mexico. The group are waiting on a train bringing their leader, Frank Miller (Ian MacDonald). Nearby, Marshal Will Kane (Gary Cooper) is celebrating his marriage to Amy Fowler (Grace Kelly) and imminent retirement. Kane is soon informed that Miller (a man he arrested and sent to prison) is on a locomotive set to arrive in just over an hour… and that the criminal and his gang intend to shoot the protagonist dead immediately.
While the townspeople initially attempt to get the newlyweds out of town, Kane knows that he and his bride be hunted down by the gang no matter what. He resolves to stay, much to the vocal disparagement of his pacifist wife. At least Kane finds some solace in believing that his dedicated efforts over the years to clean up the town haven't gone unnoticed; he's sure that when the locals rise and stand with him to confront the outlaws, the murderous plot will be quickly stopped.
But that's not what happens. A deputy wants a promotion and make demands in return for assistance, a few want to see some sort of comeuppance come for the do-gooder hero and most others are simply too afraid to lend a hand. Compromised by fear or ambition, literally everyone finds a reason to abandon the ex-Marshal, leaving a lone, pained man walking the empty streets and facing his imminent demise.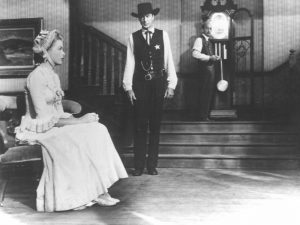 Director Fred Zinnemann's background in documentary serves him well here. The movie feels a bit more authentic than others of its period. It keeps fairly close to a real countdown as the confrontation draws closer; there are constant clocks appearing, emphasizing time winding down. Additionally, the film has a sparse look that accentuates the bleak situation; it's further heightened with black and white photography. The music is great as well, from the familiar theme to the constant beats and clicks like that of a timepiece, marking many passages of the score. This all manages to make the story movie at a more rapid clip than other titles or its era.
There are some great performances as well and a lot of familiar and faces in bit parts. Lloyd Bridges, Lon Chaney Jr., Lee Van Cleef, Jack Elam and Harry Morgan all appear, lending plenty of weight to their roles. And of course, Cooper doesn't say a whole lot, but his stiff demeanor and consistently hurt and downcast expression really help convey the disappointment in his friends and the townspeople. The actor won an Oscar for his convincing work. As it turns out, Cooper was actually in poor health and suffering from stomach ulcers during shooting. His discomfort was authentic and it adds to the realism of the movie.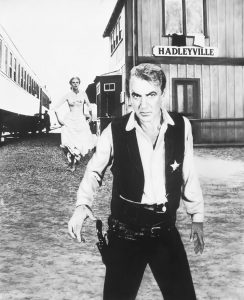 Of course, it's impossible not to note the politics on display. Writer Carl Foreman appears to infuse the screenplay with his own personal angst; he was a communist sympathizer and was summoned by the House of Un-American Activities the same year. Foreman was soon blacklisted from Hollywood and fled the country for England (where he would later write The Guns of Navarone and The Bridge on the River Kwai using a pseudonym). It's easy to assume that in real life the writer was betrayed and hard done by others that he thought would stand up for him; those experiences and emotions clearly inform the story and characters.
The only central individual who appears to be redeemed is bride Amy Fowler; and as written, Foreman manages to break some conventions with her part as well. Unlike traditional gender roles for females in Western pictures, Fowler grows significantly over the story and ends up a considerably more pro-active character by the close, eventually doing her best to cause trouble for the murderous gang.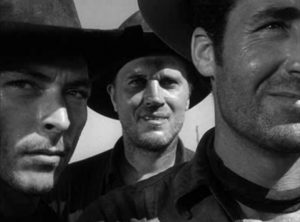 There are plenty of extras on the Blu-ray. Not quite as many as on a Criterion disc, but there's nearly an hour's worth of supplements that are appreciated and help put the movie in context for new viewers and fans alike. The featurettes include a discussion on the editing of the feature, another on producer Stanley Kramer, one that explains the "blacklisting" that was occurring in Hollywood at the time of production, a segment on the making of the film, an essay on its cinematic significance and a theatrical trailer. Of course, the highlight is the sharp and bright new picture restoration. The movie looks crisp and dynamic from beginning to end.
High Noon remains a landmark Western that not only delivered the gun-slinging goods, but also introduced more complex themes and new ideas into the genre. Not too many movies of its ilk manage to court controversy either, which is also an accomplishment. Thanks to the excellent new Blu-ray, this movie will continue to impress fans and newcomers for years to come.